It is often forgotten that mid-century modern design thrived beyond the Unites States.
This is no more so apparent than in Australia. The innovations brought forth by such figures as Neutra, Wright and Eichler were quick to take hold in the rapidly growing country, especially in the state of New South Wales, whose varied landscape made for an excellent place to explore the relationship between a home and its environment.
Here we have selected three homes that capture the peculiarities of Australia's foray into mid-century modern design: Harry Seidler's 1952 Thurlow House, built on the Sydney waterfront; the Gerry Rippon House buried deep within the woodland of Wahroonga; and Peter Muller's 1954 Bynya House celebrating Australian landscape on a beachside suburb of Sydney.
Do you live in a mid-century or modernist-inspired contemporary house and want to be featured on Mid-Century Home? Contact us with some photos and a short description of your house at: [email protected]
Modernism is a term used to describe a movement in architecture that started in the mid 1930's. Modernist architecture is sleek, sexy, it's flat roofs, sloped roofs and glass towers, steel frames and concrete columns.
Ever wanted to feel like you were floating through a blue gum tree forest whilst enjoying the comfort of your own home? This peculiar objective was the main aim of this Australian home in Sydney designed by architect Gerry Rippon in 1969. The architect set out to design and build his own private luxury tree-house (the Gerry Rippon House), deep within the woodland of Wahroonga in Northern Sydney.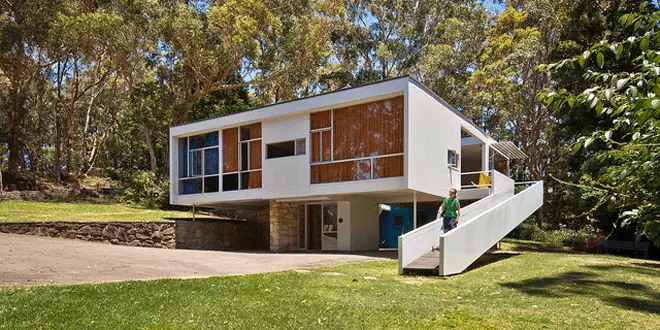 Harry Seidler's Rose House is the first and probably most known work of architect Harry Seidler. This great example of Mid-century Modern Australian architecture was built close to Sydney and had very special clients, Seidler's parents. Two houses were built on the same property: the Marcus Seidler House and the Rose house.