It is sometimes difficult to have a modernist house really integrate with its surroundings, especially given that the overwhelming majority of houses must be built near other structures which do not fit in with the modernist aesthetic. This is especially so if the house is set in an area listed in the National Register of Historic Places, as is the case with the Mohle Drive Residence, situated in Central Austin.
[tabs type="horizontal"]
[tabs_head]
[tab_title] Related Books [/tab_title]
[/tabs_head]
[tab]
[one_third]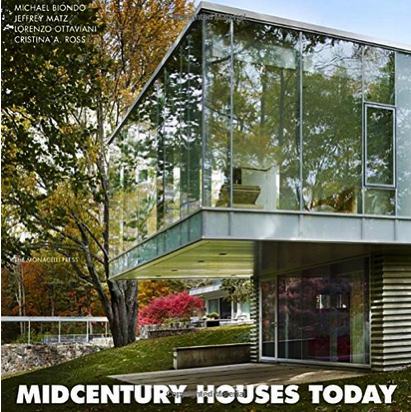 [/one_third]
[one_third]

[/one_third]
[one_third_last]
[/one_third_last]
[/tab]
[/tabs]

But while it is true that modernist design has tended to consciously diverge from the demands of historical contingency, there are other elements which complicate matters of definition. More than deviating from tradition, the modernist impulse requires that a building corresponds to the needs of its users and communes with its context.
Completed in 2006 by Burton Baldridge Architects, the Mohle Drive Residence achieves the requisite blending-in without overindulging in the pressure to behave according to tradition (i.e. how things have always been done), and in the process delivers a house that enhances the family life of the users. This is quite a feat considering the apparent hostility initially expressed by the surrounding community.

As detailed on the architects' website, the house comprises a street-front glass volume—housing kitchen, dining and living functions—in collision with a more private "dorm" volume housing 3 bedrooms, an office and a den. Sliding glass doors open out onto patch of decking, allowing the family to eat outside on the no abundance of warm evenings enjoyed by Austin's inhabitants. A few metres away from the outdoor dinner table stands a tree, no doubt present long before the house, a nice reminder of its thoughtful integration into the pre-existing natural surroundings.
SEE MORE: The Olnick Spanu House: A Tribute to Modernism

The house is a textbook modern evocation of the mid-century modern style. It is clearly evident in the abundance of light in the house and how the rooms are organised. The windows and wooden trellis panelling divide up the space so that there is no emphatic delineation of outdoors and indoors and the whole house lights up well into the evening.
There is, however, also a notable sensitivity to the neighbouring architectural style. This is clear to see in the wood panelling covering the exterior of the Mohle Drive house closely corresponds to that of the neighbouring, distinctly traditional style of housing.
According to the Baldridge Architects, the house has also managed to achieve another important requisite of the modernist house by becoming the fulcrum of social activities in the surrounding community. As they explain, "Despite initial concern from the community, the house (which sits in the middle of its block) is well loved and often serves as the center of neighborhood social activities."
SEE MORE: Eichler Neighbourhoods. Total Community Design
Photos via Baldridge Architects

Integrating with the community and bringing about sociability is a cornerstone of the mid-century modern house. And so, ironically, it is to history that we must look to find the kind of analogy for what has been achieved here. This is a new house which could just as easily have been built by Joseph Eichler in the 1950s. Do you live in a mid-century or modernist-inspired contemporary house and want to be featured on MidCenturyHome? Contact us: [email protected]