Bush House makes good, solid house building look as easy as anything. Completed in 2012, and located in a bushland in Margaret River in Western Australia, the project comes courtesy of architect Paul O'Reilly of local firm Archterra Architects.
The most immediately striking element of this contemporary home design is its large roof, which juts out way beyond the central structure it rests upon, in the process offering plenty of outdoor shade and a lovely, blurred transition from indoors to outdoors. A single plane, rising steadily from one side of the house to the other, the roof provides a really emphatic sense of unity to the overall design.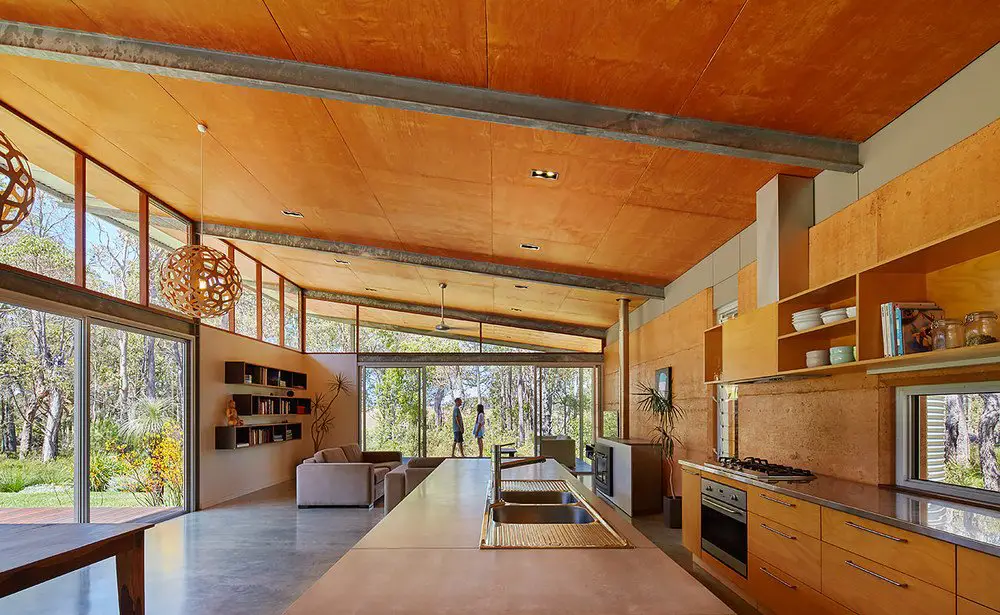 Yet it's striking appearance is not just an aesthetic flourish. The roof rises up to the north side while all of the rooms face in this direction. Consequently, the owners can enjoy wide-ranging views of the forest beyond but also to take full advantage of the warming winter sun and keep out the more intense heat in the summer.
This is just one of the features that speaks to the focus on sustainability in this contemporary style home. In a similar vein, the layout has been arranged to optimise the flow of air through the building in the summer months. Meanwhile, hot water is provided by a solar heater mounted on the roof, which is also accompanied by a 3kW solar array on the ground.
Many of the materials are also sustainably sourced. For instance, the Australian Hoop lining of the ceiling comes from plantation forests, and the jarrah decking throughout the house was recycled from the roof beams of an abandoned warehouse.
They are also sustainably treated, insofar as they have been chosen for being low maintenance. This is most notable in elements such as the rammed earth wall, the zincalume steel framing, and the Australian Hoop celling lining, which was finished in linseed oil.
But all this talk of the sustainability should not distract from the main fact that this is a really beautiful design: open, breezy and already pleasantly lived-in.
Do you live in a mid-century or modernist-inspired contemporary house and want to be featured on Mid-Century Home? Contact us with some photos and a short description of your house at.
Selling?
Drop us a line if you want to advertise a mid-century house for sale!
Regardless of whether you are the owner or the real estate agent, we would love to hear from you.
Photos Douglas Mark Black