Even before setting foot in it, you know this Mid-Century Homes is going to be a delight. The minimalist façade, composed of simple slats of wood, painted in a gentle combination of light blue and white painted wood, is as fresh as they come.
Located in St Helier's, New Zealand, at the end of a quiet cul-de-sac, the home was designed by Vladimir Cacala in the 1960s. Born in Prague in 1926, into a prominent furniture manufacturing family in Prague, he and his family felt compelled to leave the country when it moved towards a socialist economy after the war.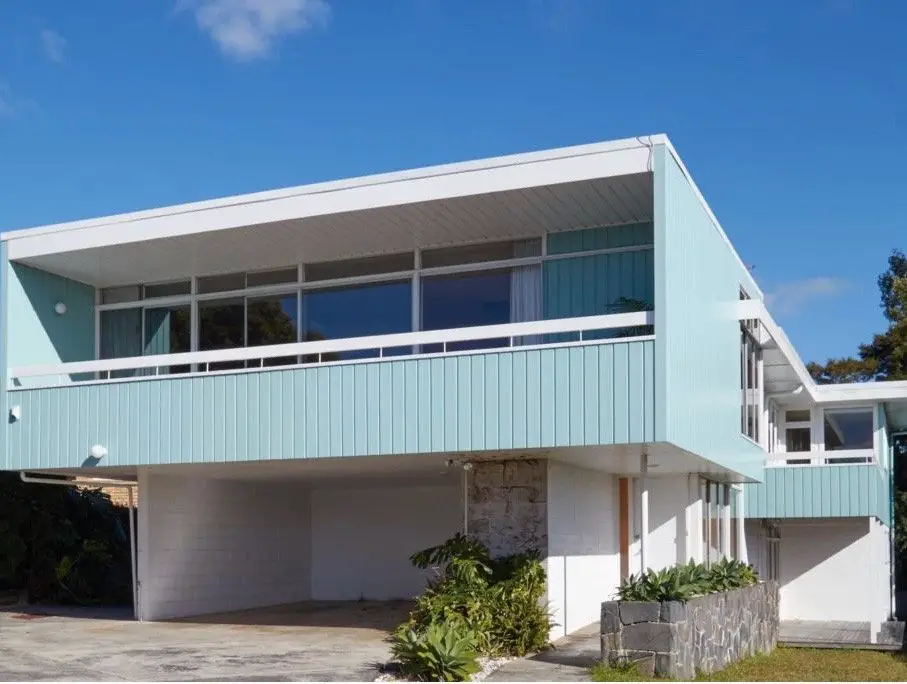 Moving first to Melbourne, he eventually settled in Auckland, where he was one of the early proponents of modernist design operating in New Zealand. This modernism concern is clear to see in this particular mid-century home.
Moving from that delightful façade to the home's interior, minimalist furnishing continues to be the order of the day. But it's a minimalism that's not without its idiosyncrasies. This is best demonstrated in the kitchen, where cabinets are coloured in an irregular pattern of light yellows and the same light blue found in the façade.
Such special attention to the colour palette is also evident in the hallway leading to the stairs, where the smooth floor is coloured in the same brown as the wood panelling, the stairs, the window frames and the Danish modern cabinet in the foreground of the picture.
READ ALSO: The Golden Valley Mid-Century Ranch Is A Cosy Family Retreat
It's a really elegant composition, and its execution is only improved by the few things that disrupt the barrage of brown: the stone wall, and the windows looking out onto the garden.
Wood panelling can be found throughout the mid-century modern house. It really lends a high class feel to the whole space, with the richness of the textures really emphasising that minimalism, when practised as well as this, needn't be bland in the slightest.
Do you live in a mid-century or modernist-inspired contemporary house and want to be featured on Mid-Century Home? Contact us with some photos and a short description of your house at.
Selling?
Drop us a line if you want to advertise a mid-century house for sale!
Regardless of whether you are the owner or the real estate agent, we would love to hear from you.