This A. Quincy Jones home was built in the 1950's in Prairie Village, Kansas. The home needed a refresh and the owners were excited to bring in Studio Bild to design and fabricate custom casework based on the original design.
We chatted with the owner, Jacquie Gering, to find out more about the undertaking.
First of all, could you tell us a little bit about your background?
"I am a textile artist and my husband is an Educational Leadership consultant. I love design and though art has been my career for the last ten plus years I started in education, having been both a teacher and administrator."
What drew you to midcentury style?
"I've always been kind of a vintage addict and grew up finding cool things at vintage stores, garage and estate sales and dumped on street corners and alleyways.  I discovered midcentury design in those places and became enamored and as I moved from home to home learned more and started collecting. Living in Kansas City I did my best to learn as much as I could about how midcentury design manifested itself in our area."
How did you come to live in your house?
"Discovering and learning about Kansas City's midcentury builder, Don Drummond opened up a whole new set of information for me and I fell in love with the homes he built here with iconic midcentury architects. We stumbled onto this house in 2018. I knew when I first stepped into it that I wanted to live there.  It was in rough shape then, but had great bones and the design was perfection. I wanted to be a caretaker of this amazing home."
What do you think was so special about this period in American design?
"For me midcentury modern design is all about function, clean lines and simplicity. There is beauty in that simplicity that I respond to and want to be a part of."
What do you know about the architect who designed your house?
"Our house was designed by A. Quincy Jones and Frederick Emmons. The design is the Castilian plan and it was built in 1958 by Don Drummond.  The Castilian is a quintessential Jones and Emmons H-plan, with terraces facing front and back. Our house is post and beam construction and the modified "H" floorpan has a public living and dining wing, a private wing of bedrooms and baths with the kitchen in the middle."
What are the advantages/struggles of living in a midcentury house?
"We live in one of the coolest houses in the city.  That's pretty fun. The design is functional and beautiful and the house is so easy to live in. One of the challenges of living in a midcentury home, especially one with a unique design both inside and out is that not much is standard, so replacing a broken window can be a challenge and maintenance and upgrades can be pricey if you do it right."
"Materials used in the interior or on the exterior that are lovely and special are hard to replace or repair. It's also a bit stressful living in a home that is historically important. We feel a responsibility to take care of it and maintain the design integrity of the home. Living in a home like this is not for everyone especially if you need things like walk in closets, gigantic bedrooms or bathrooms the size of a small house."
What's your favourite part of the house and why?
"I love how this house lives.  Good design is everywhere.  We have seven sliding glass doors in the house and so we live inside and outside easily. The house has wonderful light, but it's not harsh or intrusive."
"Even with most of our walls being glass, the house is so private because of the design. We are one with the nature that surrounds us. Storage is everywhere in this home and even being built in 1958 it has more storage options that many contemporary homes."
Have you had to renovate any part of the house?
"We have done significant, strategic remodeling of the house. We have repaired everything that was deferred maintenance to make sure the house is structurally sound. That included replacing all of the sliding glass doors and windows except the clerestory windows."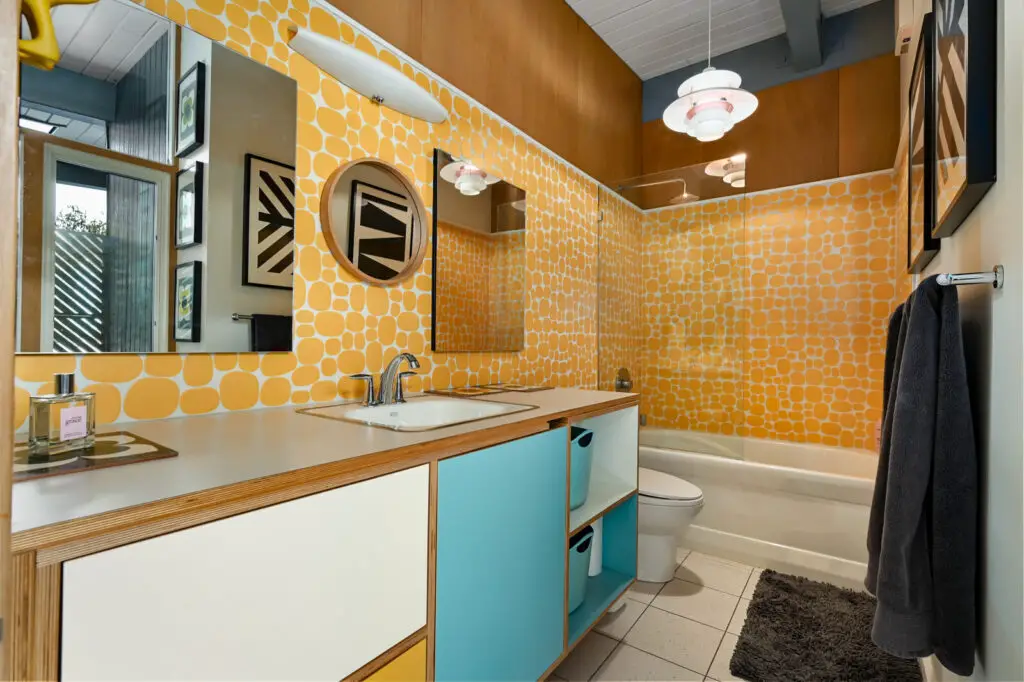 "We have painted inside and out, replaced all of the floors and fully remodeled the kitchen. We kept the footprint of the kitchen almost exactly the same as the original design though we did open up the pass through a bit to get a better connection to the dining room, but we didn't go fully open concept because it didn't work for the design of this house."
"We have also remodeled the master bathroom to reclaim its midcentury feel with modern amenities.  We have continued to upgrade the landscaping to create a lush, natural environment perfect for outdoor living and entertaining."
Finally, we were eager to discover what tips Jacquie had for others interested in buying a midcentury modern house.
"Find out as much about your house as you can. Ask questions about materials used, changes that have been made etc. That will help you in your buying decision. After you buy, live in your house before you change it. You can't know a house until you live in it for awhile and that will help you make the best decisions you can about how to remodel."
Jacquie was also keen to point out how important it is to tap into midcentury experts in local areas or online.
"Be a learner and work with people who know this design style and how to work with it.  The design/build team at Studio Build have been an invaluable support and guiding force for us as we have worked to make our house the best it can be."
Photos by Jean Bai and Rina Movsisyan