As I wrote already a couple of weeks ago, this month I'm dedicating special posts to special houses owned by very special persons: collectors of mid century modern art/design.
This post is dedicated to a couple and their Parisian house in the magic Montmartre neighborhood.
Caroline Wiart and her husband Patrice Galiana have lived in this Parisian house since they met, she is an interior decorator and he's a collector; they could have not find an area that suits them better.
They were actually living in the house next door and when they heard that this one was up for sale they just went for it.
Caroline did the interior re-decoration, choosing white resin flooring, white paint for the walls and big windows and absolutely no curtains to make everything as neutral and bright as possible and emphasize their collection of photographs and designer objects. To enjoy as much as possible the view of the garden -and the Moulin- was the other reason.
Caroline and Patrice are 'serious' collectors and only buy pieces whose history they know. Clearly the French, Italian and American mid century modern masters are their favorite considering the amazing pieces of Jean Prouvé, Serge Mouille,  Charlotte Perriand, Gino Sarfatti, Enzo Mari, Achille Castiglioni, Ettore Sottsass as well George Nelson and Charles and Ray Eames that decorate their house.
On the walls there are photos by Araki, Klein and Samore or else modernist prints by unnamed artists from the thirties. Even in their twelve year old daughter's room, there are Bertoia chairs and a vase by Gaetano Pesce; as if to say that it will do her no harm to grow up surrounded by beauty, to learn to love it. Caroline and Patrice like to think of this house as a living museum, continuously evolving.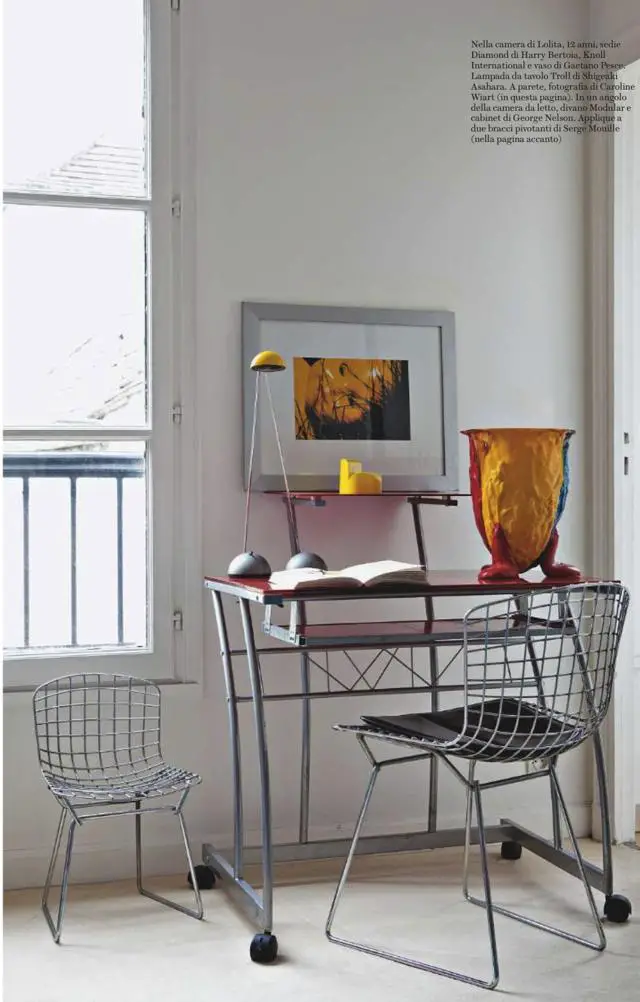 All the pics in this post come from my favorite magazine when it comes to interiors, design and architecture: Case Da Abitare.
It's an Italian magazine but all the articles are translated in English as well.
I love this magazine and I got a lot of inspiration from it over the years.
For all these reasons I strongly recommend you to check at least one issue; you will not regret it!
You can quickly get a digital copy here.