When the Burtons asked Marmol Radziner to design their vacation house in Mendocino County they wanted a very simple project made of replaceable materials.
A clearly mid century modern inspired element of the project is its aim of preserving and improving the natural beauty of the property by placing the building in a careful and unobtrusive way. Clearly the modernist principle of integrating indoors with outdoors perfectly suited the project.
The house has an L-plan with its main volume oriented east to west and arranged in an open plan.
The living room, kitchen, and dining room extend themselves towards south onto a covered patio with an outdoor fireplace and pool. The deep overhangs -sealing off the entire length of the house when the Burtons are not in- keeps the heat out of the rooms and provides protection from rain; making the outside livable even in extreme weather conditions;  a very mid century modern architectural element.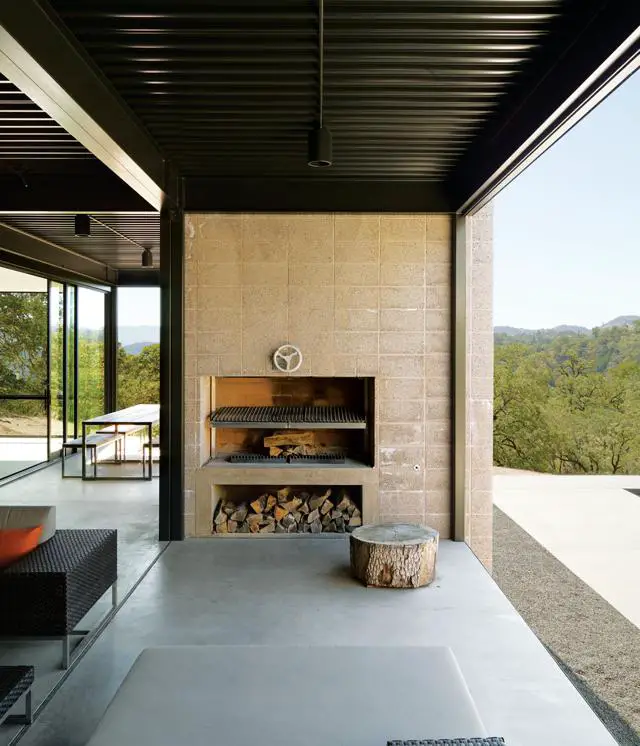 As they are passionate about cooking, the Burtons asked to instal a wood-fired oven in their kitchen and to have a custom Grillery fireplace-barbecue built into the concrete block wall.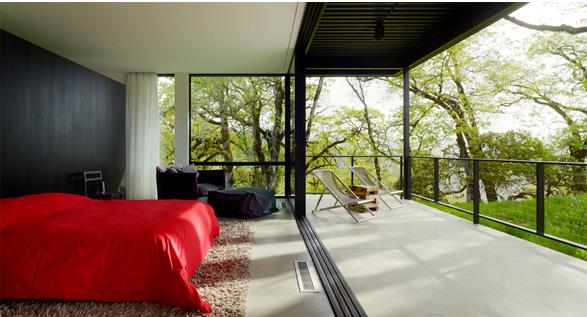 The master bedroom extends to the north, following the edge of the hilltop and ending in a private deck that gets the morning light from east.
What do you like the most about this house? Let me know in the comments below and feel free to check the Mid Century Homes section to see more!