The Anderson Residence makes wonderful use of its surroundings. Located in Palos Verde, California, and overlooking the Pacific Ocean, Aaron G. Green Architects' have created a home that perfectly articulates the rough nature in which it is situated.
A rustic colour palette is perhaps the most tell-tale sign of this approach. The brown hues of the Frank Lloyd Wright-influenced house continue from inside to outside and are repeated through wood, stone, and fabric.
In the living room area, a rich mild dark polished panelling covers, complimented by sofas upholstered in a light, creamy brown, all held together by a coffee table replicating the polish of the wood panelling. The wood panelling continues throughout the open plan area, featured on kitchen cabinets covered by a beautiful reddish brown granite worktop. Meanwhile, the ceiling throughout the house is plastered in a warm buff coloured texture.
All this brown wonderfully replicates the textures prevalent on the cliffs and the beach that the house overlooks. The house itself beckons towards these natural elements, with the arrow-shaped twin roofs emphatically pointing in two different directions towards the sea. While the house is lovely, what is most lovely about it is its focal point: the beautiful natural world outside.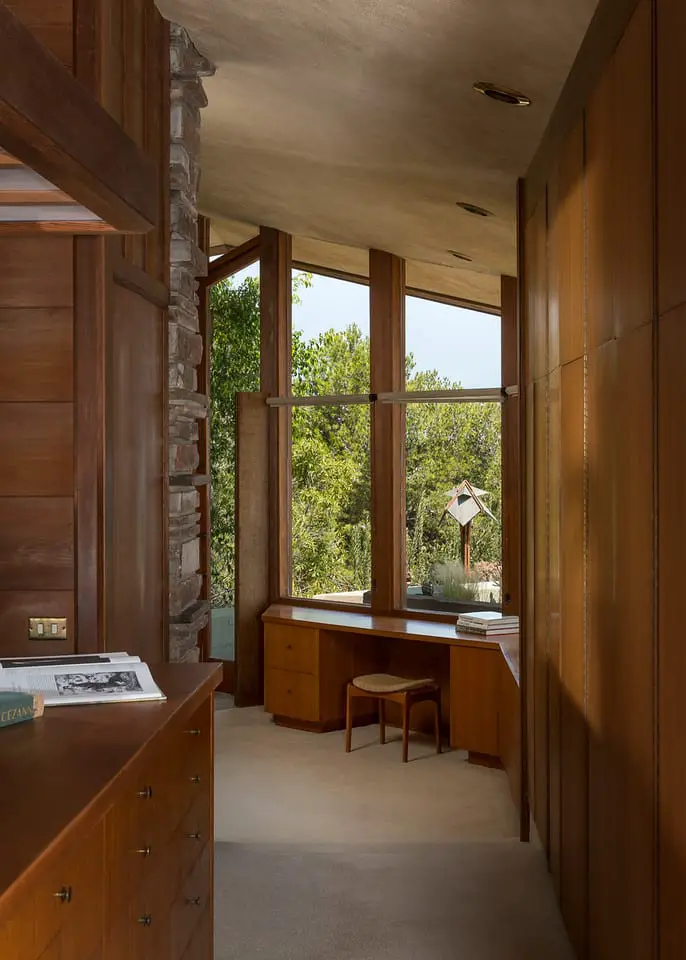 Photos via Lance Gerber Studio