The Freedom Ridge Estate certainly lives up to its name. Resting atop a ridge with stunning views over rich meadow pastures, this gorgeous Frank Lloyd Wright style Prairie Ranch lies perfectly immersed within its surrounding nature. Thanks to more than ten acres of mature forest, the Ranch remains hidden from the rest of the world, allowing the property to enjoy all the freedom in the world. 
Designed by architect John H. Howe, it comes as no surprise that this midcentury ranch carries the stamp of Mr. Frank Lloyd Wright. Howe worked together with Wright for twenty seven years and is often referred to as the "right hand" of Frank Lloyd Wright.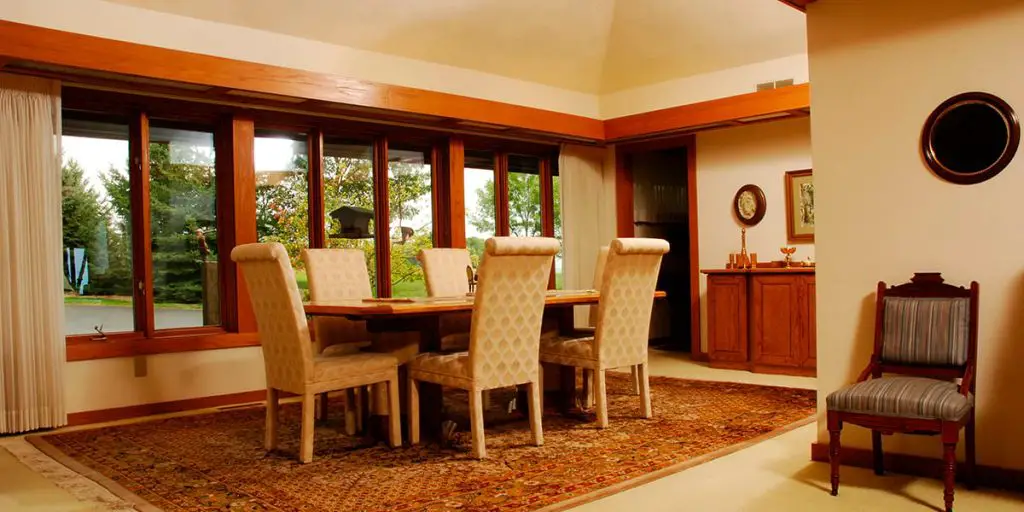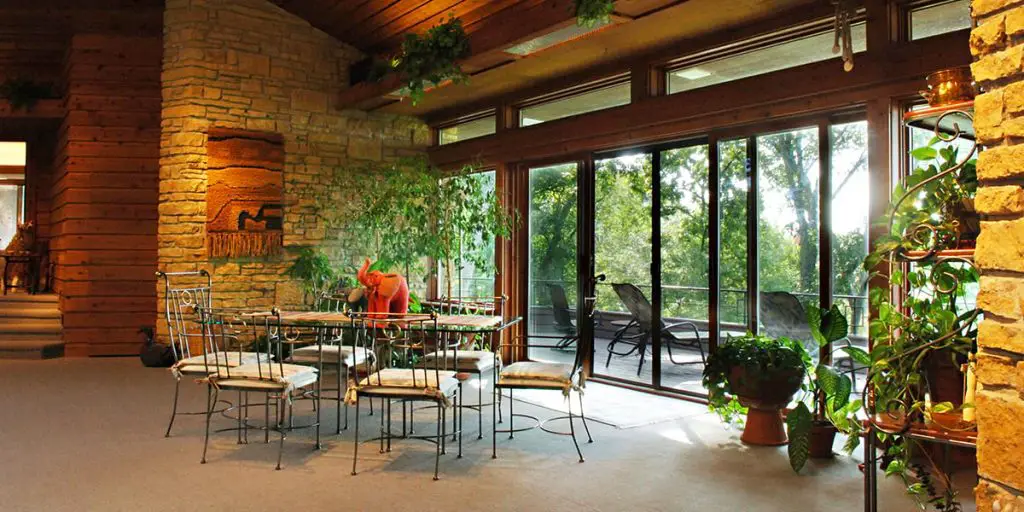 The Freedom Ridge Estate is enormous. Stretching over 10,000 square feet, this 27 acre property was Howe's last as well as largest design, accommodating all the luxuries of modern living. In addition to five bedrooms, nine bathrooms, and a two-bedroom apartment ideal for guests, extended family or a caretaker, the property includes a garden room and formal as well as informal spaces for entertainment.

The common spaces are wide and open, flowing seamlessly from one to another. The design features allow wheelchair users to comfortably move around the home.
For lovers of nature, this property falls nothing short of Utopia. The fields and surrounding forest not only provide playing fields for local deer and turkeys; they also provide the perfect grounds for outdoor activities for families and friends.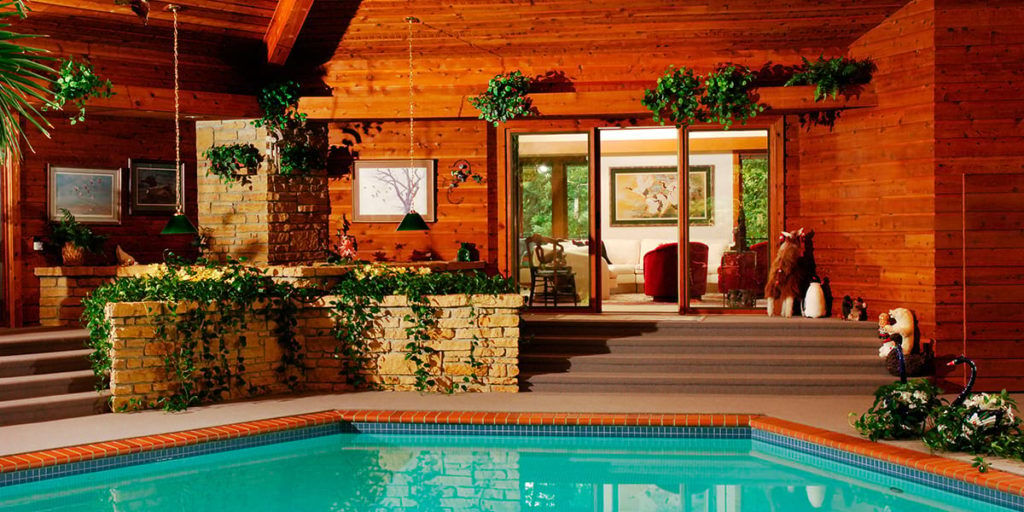 Previous homeowners said of the place, "In the summer, hiking or riding our mini bikes into our own woods or over to Nature Conservancy's 8000 acres of pine forest among natural rock formations almost next door made for a perfect afternoon adventure. Winter picnics were a must for weekend company.  We always kept several snowmobile suits and boots, so that our city friends could comfortably enjoy going out into the woods, gathering wood and building a fire for hot dog roasting."
An extensive porch wraps around the building, granting access between inside and out from all sides. All around, large windows paired next to sliding glass door emphasize a strong indoor/outdoor connection.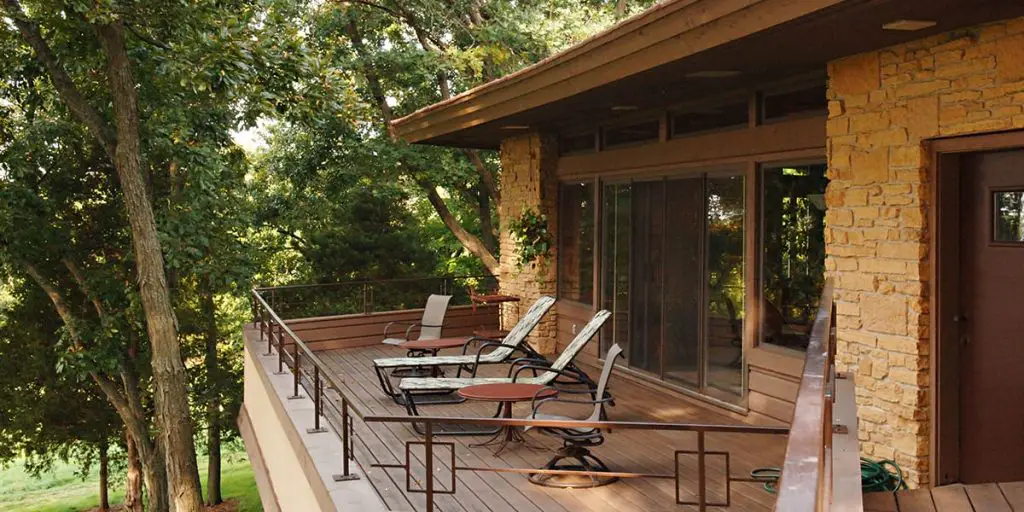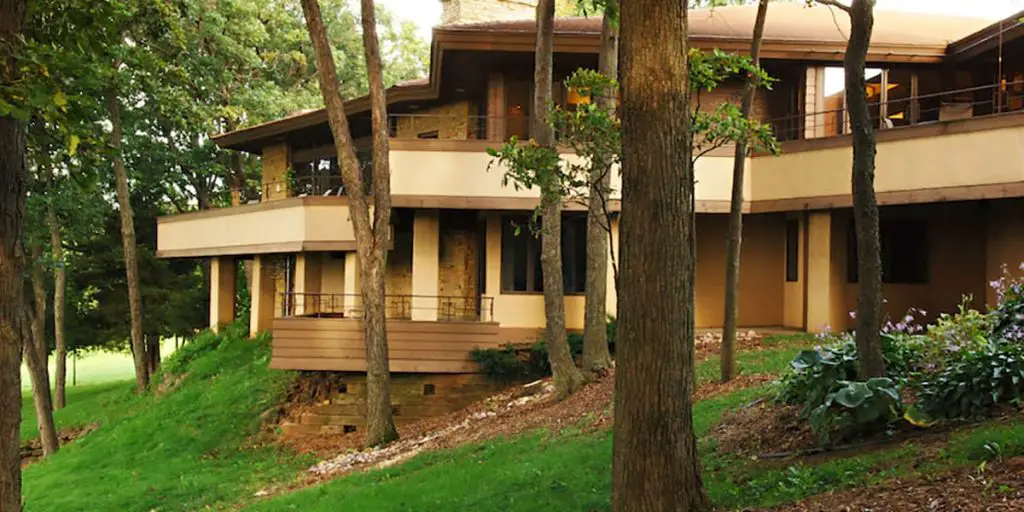 Back inside, a vast garden room equipped with a swimming pool brings the mood back into spring season during the cold and dark winter months. The spacious area features walls of stone and hardwood-lined ceilings, which carry a natural and rustic feel. Walls of windows allow natural light to pour in throughout the day, and there is more than enough room for tropical plants to enliven the space.
The original clients of the home were so pleased with Howe's design that the only change they ever made to the home, the addition of a sliding glass door in the eating area, was reverted back to its original form a couple of years later.

The homeowners explained about Howe, "He was so committed to Wright's ideas and style that the Master is seen in almost every angle of the house… The house is perfect for living and entertaining. One area flows smoothly into the next,  and steps are never a problem."
The Freedom Ridge Estate, located in North Freedom, WI, is now on sale! More details below.
A word from the real estate agent:
"Magnificent Prairie Style residence designed by John Howe, Frank Lloyd Wright's 'right hand man" for 27 years, who incorporated Wright's concept of Organic Architecture throughout.

"
Adam Golub | Scan Studios
House Specifications:
5 Bed | 6 full baths and 3 powder rooms | Indoor pool, spa, game room
and much more
Lot Size: 8,000 acre
Bid Starting Price: $525,000