Fombertaux House is a home that really stands out. Situated in East Lindfield, New South Wales, it was designed and built between 1964 and 1966 by architect Jean Fombertaux of Oser Fombertaux & Associates, to serve as his own home.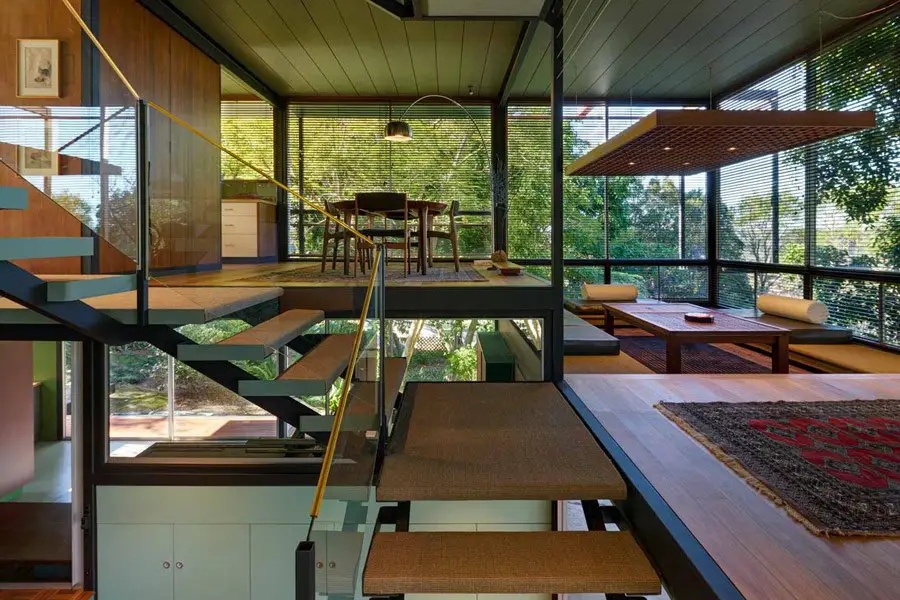 Perhaps the most striking element of the building is the structure itself. Looked at from the outside, a series of steel supports raise the main volume just above the trees, while at ground level space is left for perhaps the most minimal garage we've ever seen (if you can even call it a garage!).
The overall appearance is of a house turned upside down. With the fewest rooms on the bottom two levels, and the main living area on top.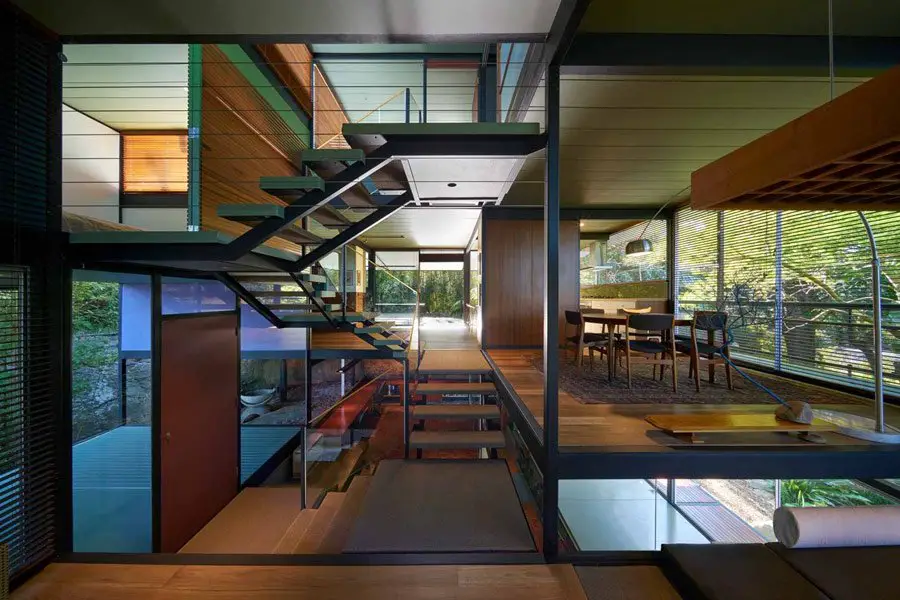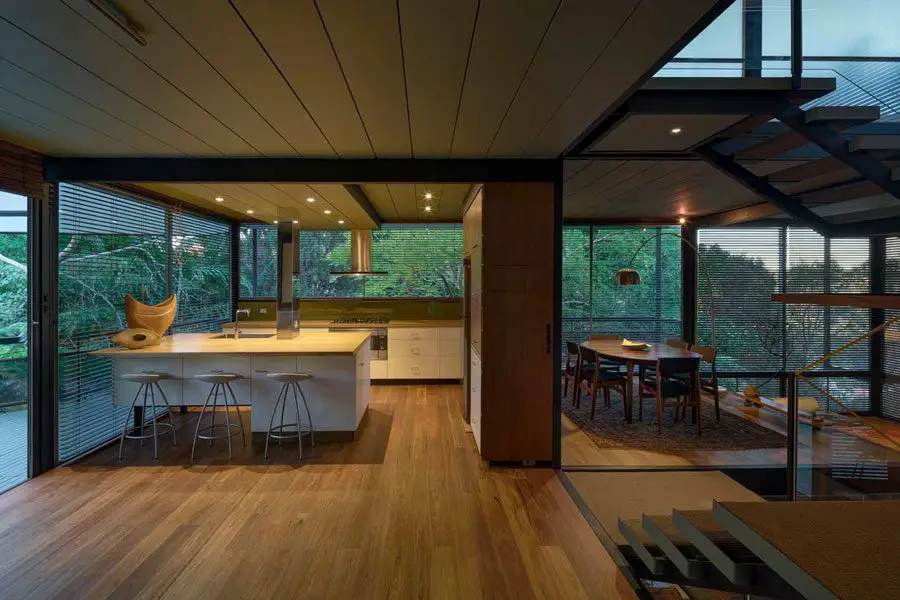 Looked at from the inside, this unusual structure allows views from every point in the house and light in from all angles. If this were at ground level the sheer lack of walls might make the house seem a little open, but being level with the trees, such an exposed central living area remains quite private.
To realise this ambitious structure, Fombertaux enlisted the help of the engineers, Taylor Thomson Whitting. Together, what they have managed is a real feat of engineering. This is best illustrated in the photograph taken from below, where you see the whole structure seemingly resting on a large boulder.
The photograph, captured by Michael Nicholson, really nicely illustrates the powerful contrast between the technical and distinctly modern structure and the rough nature in which it sits.
Mind you, what could come across as an overly technical façade, is softened rather well by the exterior panels which are coloured in a pleasant indigo colour. The colour choice situates the top level firmly in the scenery, or, more specifically, the sky.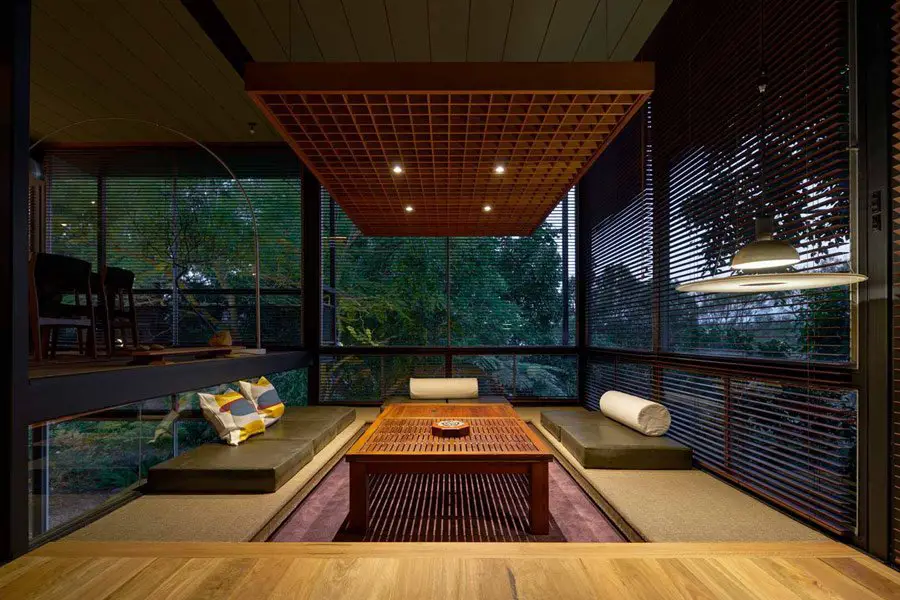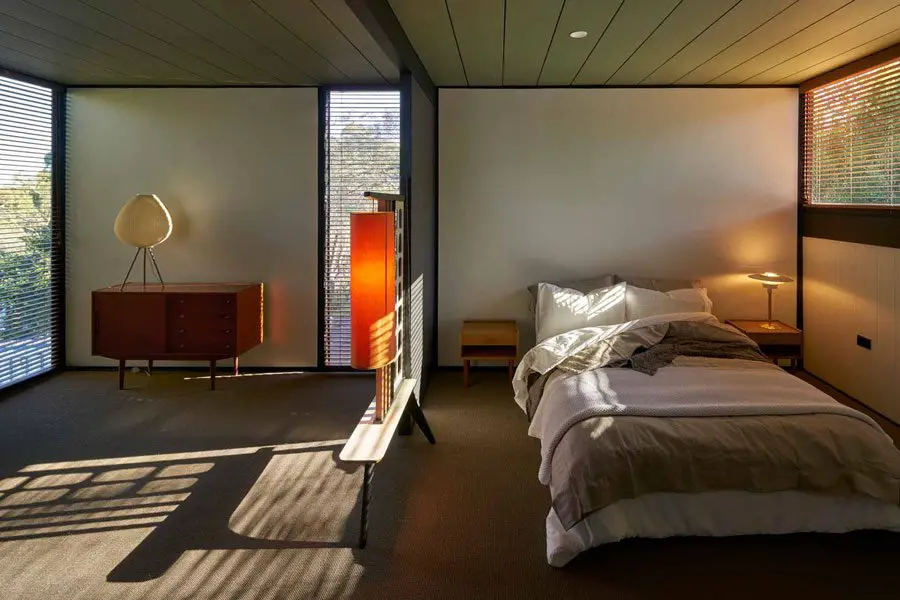 Meanwhile, the interior displays a notable Japanese influence. Known for their lightness and simplicity, the qualities of the Japanese interior are clearly in evidence throughout Fombertaux's design, particularly in the seating area just below the kitchen.
The home was restored by Andre Fombertaux, Jean's son, who has lived and worked in the house for much of his life. Just looking at the pictures you can tell it has and will continue to be lovingly maintained.