Text by Sans-Arc
This project is comprised of a 127square meter family home in the leafy 'garden city' suburb of Ainslie, in the ACT – Australia's Capital Territory. The building envelope blends in with (and was dictated by) its heritage context, the interior is unexpected; centred around a courtyard, it is bright, open, and highly efficient.
Falling in the Wakefield Gardens Housing precinct, the land was purchased by the client after the ACT Government's Mr Fluffy buy-back scheme, in which the government acquired and demolished homes that had used the infamous asbestos insulation. Heritage overlays limited the house to 127 sqm (as per the original dwelling) and required the near-exact external appearance to be replicated.
These unique site conditions created a challenge for Sans-Arc when asked to design a family home for a modern lifestyle. With a modest budget and a compact footprint, they saw this as an experiment in a more attainable type of architecture, that which is more accessible, more affordable, but still underpinned by good design and best practice.
The major design move was to introduce a courtyard within the footprint, bringing light into the centre of the house, visual connection between rooms and increased natural ventilation. The material selection aims to be modern yet timeless and adaptable to suit future generations and future use of the home.
A raked ceiling with exposed rafters increases the sense of scale over the living and dining spaces, blackbutt floors create a warmth throughout and colour and texture is used throughout to interest and contrast. Three bedrooms, two bathrooms and an open plan kitchen/living/ dining space wrap the central courtyard.
The integration of storage in bedrooms and the rear entrance, along with a carport were non-
negotiables for the clients. These aspects were essential to creating a space for them to lead and maintain their busy lives. Circulation space was reduced by wrapping the hall around the courtyard, where it becomes usable space in the kitchen/living/dining rooms.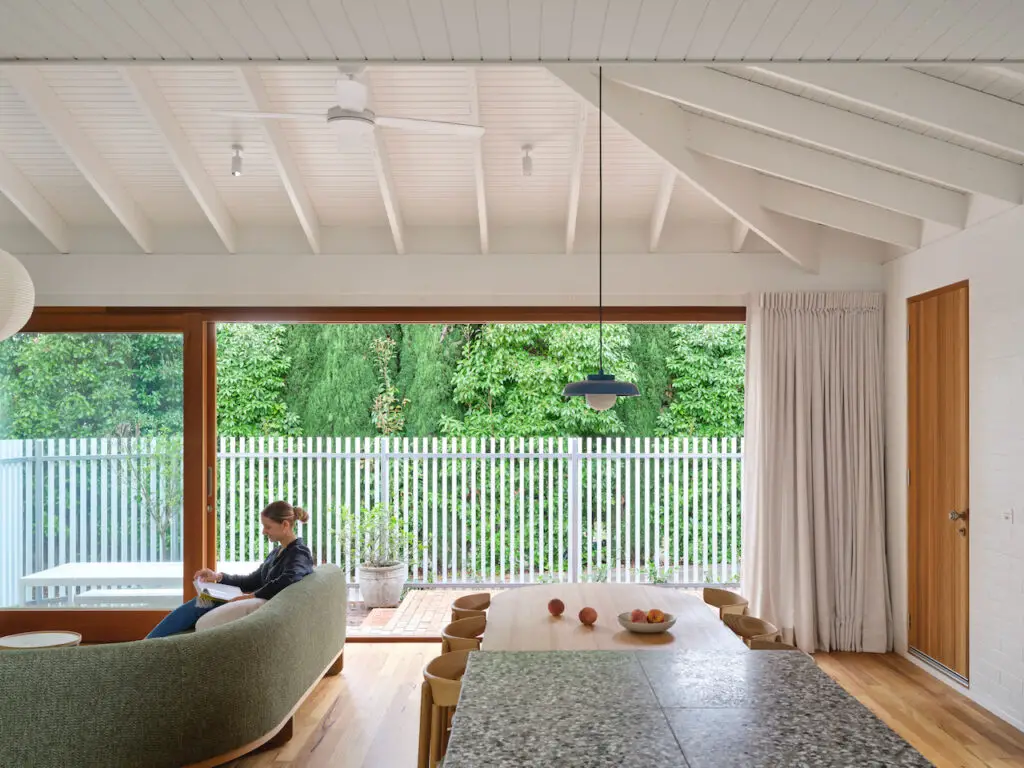 To achieve openness and to counteract the small footprint, the courtyard increases visibility, and adds a layer of privacy, greenery, and light to the home. The Wakefield Gardens Housing Precinct incorporates generous setbacks, within a green and leafy suburb. The exterior largely mimics that of the original dwelling on the site; a painted white brick exterior, terracotta tiled roof and arched entranceway.
The major variation from the original dwelling is the set-back from the northern boundary, where sliding glass doors open the interior to a sunken outdoor dining space. The interior aims to be a little unexpected for Ainslie, light filled, open and connected, warm and bright, modern, but in a heritage location.
Photos by Anne Stroud