Text by Dalecki Design
The owners of 'The Ash' came to Dalecki Design looking for a carefully considered, passive solar home. As a young, growing family, it was imperative that the home was not only environmentally functional and sustainable, but supported the family as they grew through the different stages of life. Working closely with the clients, Dalecki Design was able to create a 4 bedroom, 2 bathroom 'Green Home'.
One of the most important considerations for the new homeowner's was the synergy between the indoors and outdoors. The whole house has been designed to wrap around a central courtyard and alfresco/pool zone, which is visible as soon as you walk through the front door, creating an immediate connection.
Given that the home's footprint covers a considerable percentage of the block, rooftop gardens have been utilised to create a 'green home', providing additional surrounding landscaping, with every room of the house, both upstairs and downstairs looking directly over exterior greenery.
Cascading plants surrounding the alfresco and balcony have been utilised for multi dimensional landscaping and to enhance the connection to the outdoors.
The selected material palette further promotes an indoor/outdoor connection, with feature brickwork flowing from the interiors to the exteriors working to blur the line between the two. Concrete flooring and feature walls complete the simple internal palette, whilst timber cladding has been utilised alongside brick and block work externally to add a textural dimension to the simple form of the home. 
Dalecki Design has created an extremely functional layout, with no large distances to travel between living spaces. Wherever the homeowners are, they are able to site everything within the home, creating a sense of connection. The two levels of the home provide a clear separation between the children's wing upstairs, complete with three bedrooms and play zone and the luxurious master suite and living/entertaining zone downstairs.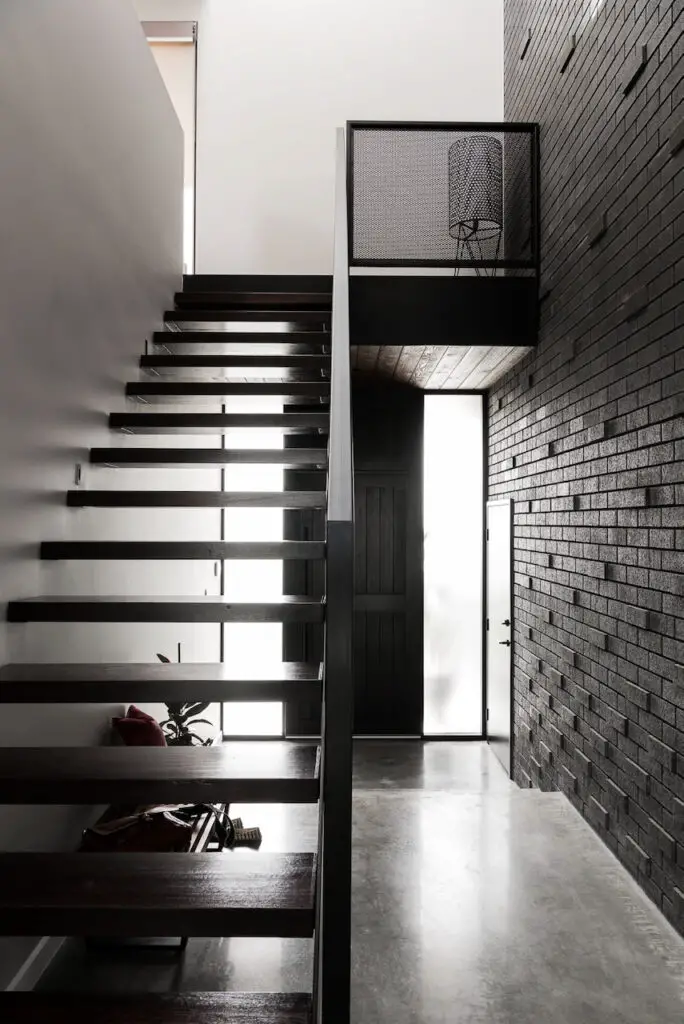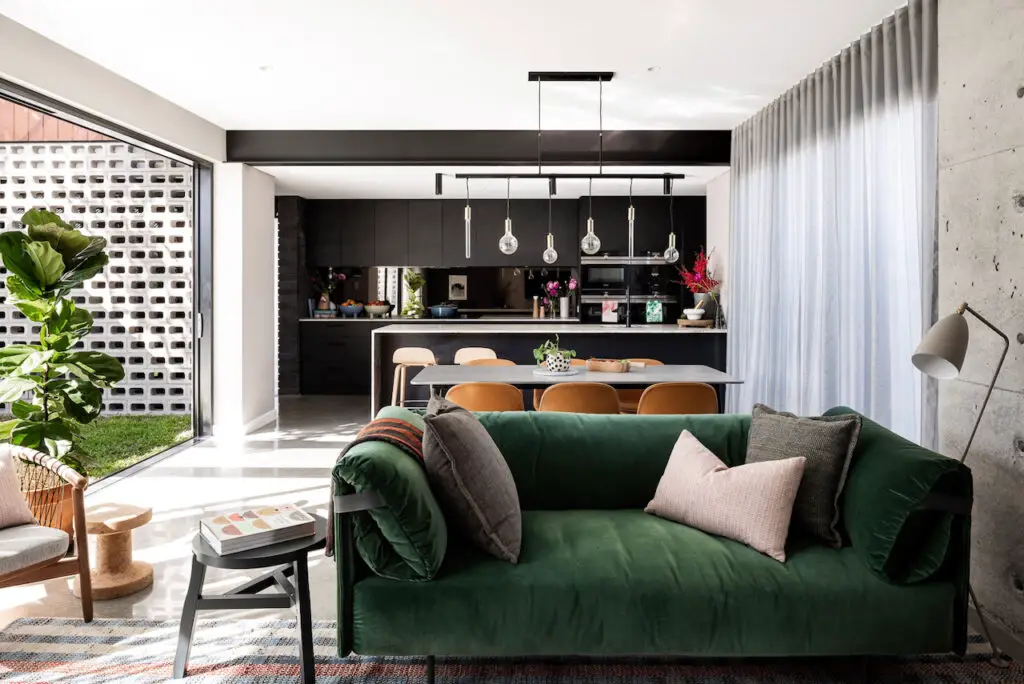 Downstairs, large, north facing openings correctly shaded work to harness winter sun directly onto the thermal mass exposed concrete slab, whilst the pond on the southern orientation of the house assists in cooling Summer breezes before they travel through the home.
The alfresco area has been pulled away from the main living zone of the home, further allowing the north sun to penetrate the home and exposed concrete slab. 
At the heart of the home, a two and a half storey entry void, with north facing clerestory windows, harnesses the Winter sun to heat the exposed brick feature wall. This beautiful natural light also floods the centre passage, brightening a traditionally dark area and creating a light, bright home that the owner's were looking to achieve.
Photos by Dion Robeson