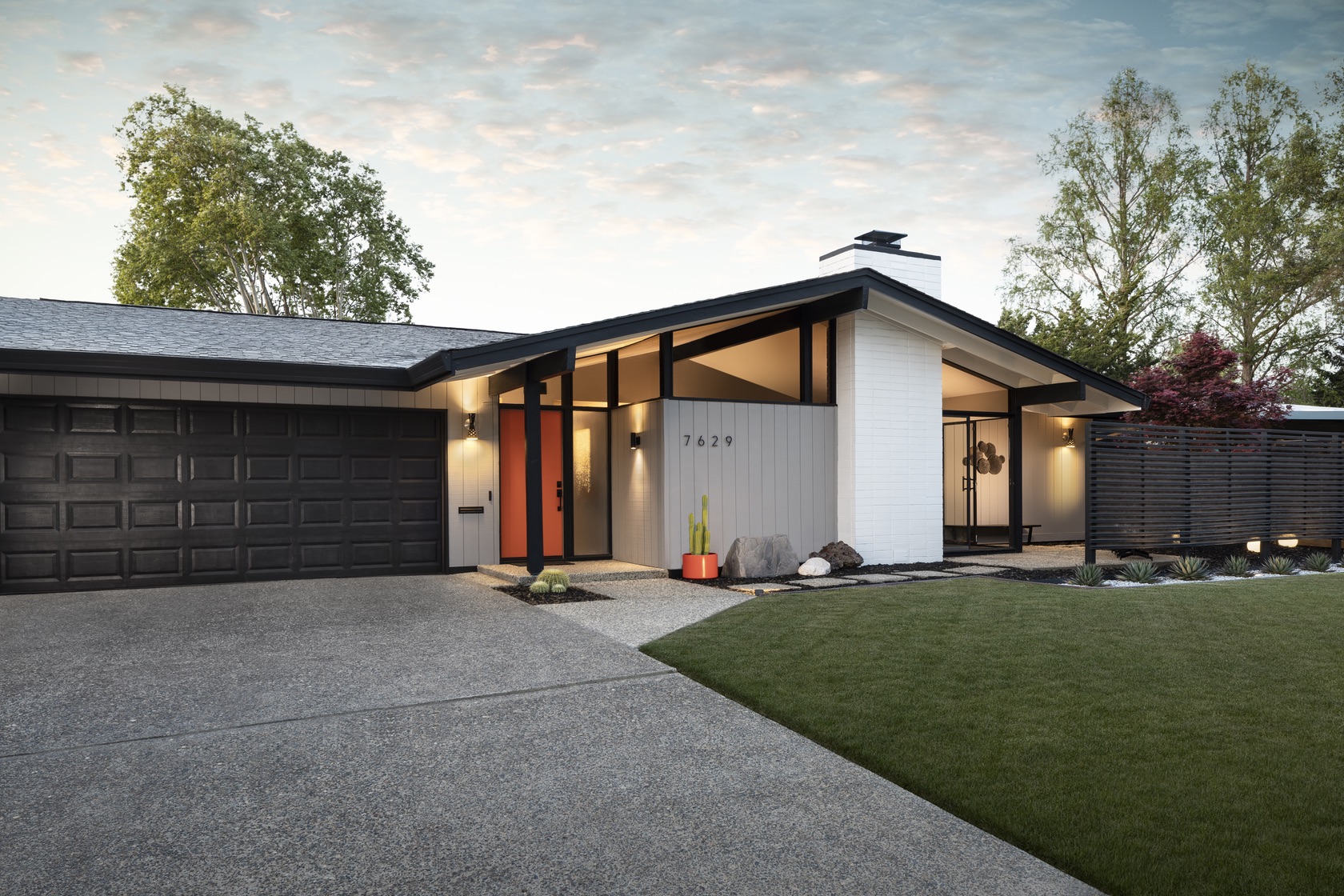 In the fall of 2016, after a two year search, graphic and interior designer Robert Maurer acquired his stunning 1974 Streng Bros. "Transitional Plan" home designed by Architect Carter Sparks.  With much time, care and passion invested, Robert has been working on his midcentury home since the start. The results? A perfect fit mod-home in Citrus Heights, Sacramento County of California. Today, Robert shares with us the story of his passion project.
First of all, could you tell us a little bit about your background?  
I am Robert Maurer, a graphic and interior designer originally from Canal Fulton, Ohio. I studied graphic design at the Art Institute of Pittsburgh where I began my career designing for exhibits and convention spaces. My passion for design brought me to Sacramento, CA where I continued my career as a graphic designer. I am now the co-founder and Creative Director of Commuter Industries, and creator of the home renovation and MCM lifestyle blog, Mid-Century Maurer.
How did you come to live in your house and what drew you to the midcentury style?
I have been an enthusiast of midcentury design for most of my life. Even growing up, I was drawn to vintage toys, cars, cookbooks, and furniture from that period. While my first home was limited to typical new construction cookie-cutter features on the exterior, I designed the interior with a distinct midcentury aesthetic. 
My pursuit for a midcentury home spanned about 2 years. The inventory of available midcentury homes in Sacramento was scarce at the time, and competition was fierce. To best position myself in this competitive market, I sold my home and moved to an apartment while I continued my search. Working closely with my realtor, I designed personalized brochures asking MCM homeowners if they would be willing to sell their off-market homes. I received a handful of responses, which led to great conversations about midcentury design and architecture, but unfortunately, no buying opportunities. At last, in the fall of 2016, I pounced on a new listing and went into escrow just 2 days after the home was on the market. 
What do you think was so special about this period in American design?
Design in the midcentury era focused on beautiful, uncomplicated solutions that harmonize with their surrounding environment through the use of simplified shapes and natural materials. There was an undeniable spirit that defined midcentury optimism — to make exceptional modern design accessible to everyone at a reasonable price. I feel this approach toward design is why midcentury style has stood the test of time, and resonates with so many people today.
What do you know about the architect who designed your house?
My home is a 1974 Streng Bros. "Transitional Plan" home, designed by Architect, Carter Sparks, one of Sacramento's most well-widely recognized and celebrated architects. 
While his designs for Streng Bros. Homes remain his largest body of work, Sparks also designed commercial and civic buildings, along with dozens of custom homes for individual clients. These one-of-a-kind homes ranged from modest, low-slung concrete block and plywood structures, to expressionist forms employing hyperbolic roofs and complex beam patterns, to larger redwood and glass cathedrals.
Sparks was particularly inspired by Frank Lloyd Wright, and admired how Wright's structures blended with their surroundings and embraced nature's forces and elements. Like Wright, many of Sparks' custom homes often included site-specific furniture and light fixtures. Sparks' designs incorporated large expanses of glass, wood, rock, and other natural materials; he sought to create homes which "were honest and had integrity."
Information about Carter Sparks used with permission from Sacramento Modern (SacMod.org).
What are the advantages/struggles of living in a midcentury house?
Working on my midcentury home has been a passion project from the start. As with most things in life, anything worth doing is going to require significant effort, patience, and time. Living in a midcentury home, or any home of historical significance, is a different experience, requiring a certain level of effort, commitment, finance, and passion. 
Some of the struggles I've faced so far have included dry rot issues, and sourcing original fixtures and finishes. However, the advantages far outweigh the struggles in my mind. My home has been a continuously changing sandbox where we are able to work out creative concepts, ideas, and techniques that we learn from, hone, and ultimately incorporate into our residential designs. The work on my home is never done, and that is part of the appeal. 
The simple, refined architecture and timeless design of many midcentury homes creates an engaging blank slate that allows for lifelong opportunities to try out new ideas and colors, upgrade features, swap out decor items, rearrange layouts anywhere inside and outside the home. I wouldn't trade the experience of living in a midcentury home for anything. As the relationship with my home continues to grow, I find that the more time and care you put toward your home, the more it gives back.
What's your favourite part of the house and why?
There are many features of my home that resonate as favorites, but having the original kitchen cabinetry intact is the most significant. It's the space everyone gravitates toward, and holds great importance to me. However, in my search for a midcentury home, an untouched kitchen proved to be a bit of a unicorn.
Though cabinets in my home had been painted white, I was determined to strip them of their paint and restore them to their original glory. It was a painstaking process that involved weeks of work — stripping, sanding, staining, oiling both inside and outside — a project not for the faint of heart. 
Just as I had hoped, the beautiful birch was beneath the paint, which we restored to give a distinct warmth and vintage quality to the space. A complimentary turquoise tile extends from the black quartz counters to the cathedral ceiling, giving a greater emphasis on height and a focal point for the large room. The end result of this restoration is stunning, and truly captures the original integrity at the heart of the home.  
Have you had to renovate any part of the house? If so, which area(s)? (Can you also share the contractor/s you worked with?)
As a homeowner, restoration and renovation have been top priority since getting the keys in 2016. With a specific midcentury vision in mind, I have been documenting every step of the process on my blog, Mid-Century Maurer. I had major plans to restore and renovate the house, which continues to be an ongoing endeavor. Whether the project was inspiring, informative, costly or complicated, I wanted to capture the moments that shaped my vision for the home. With the exception of new drywall mud, and concrete floors, Glen and I have performed all work on this home ourselves. The following is a breakdown of the areas we have focused on to date. 
Please visit midcenturymaurer.com for lengthy information including prior to move-in, interior, outside front as well as outside rear renovations and contractor information.
Last but not least, do you have any tips for people interested in buying a midcentury house today? What should they pay attention to and why?
The demand for midcentury homes is at an all-time high, so finding what you're looking for will most likely take quite a bit of time and persistence. For anyone looking to purchase their own midcentury home, I recommend starting with an open mind to see past the things you may not like. Don't look at a house in its current condition, but really dig in and ask "what can I do here to make this place amazing?" While a home search is an exercise in creativity and possibilities, it is also important to make sure that you are not changing so much that the home begins to lose its original integrity. Once these significant architectural gems are heavily modified, reversing those changes can be very costly, or altogether impossible.
You'll seldom find a home that checks all of your boxes, so before you search, create a list of must-have items that are not decor-related such as square footage, number of bedrooms, storage needs, and floorplan. Then, drill down to specifics like kitchen size and footprint, room layouts, flow, lot size, and what opportunities there are for an additional storage or ADU structure, landscaping, etc.