Text by KIN Architects
Transforming their clients' treasured mid-century modern house into their forever home provided the opportunity to preserve its iconic form and frontage, while improving functionality and connection to the outdoors.
As a shared goal between architect KIN Architects and client, the retention of the mid-century home in suburban Brisbane was a cornerstone of the design process. The house was not raised, and its modernist floating box form remains unchanged, maintaining its relationship to the street.
Through a considered renovation, the layout which once felt disconnected was replaced with functionality that optimised living spaces and blended inside with outside.
Working with the existing 2100mm floor-to-floor heights required a mindful approach for the lower level; the incorporation of a sunken lounge into the space creates a greater sense of volume among the surrounding service areas, resulting in a refined retreat that seamlessly links the existing pool with the house.
Upstairs, an outdoor room features easy living spaces upon polished concrete, inviting the Brisbane climate into the home and forging a connection to the rear garden. The adjoining hobby room, complete with a library, desk and storage, is dedicated to reading and Lego building; a quiet space to unwind, tucked away from the common areas.
These new spaces provide additional areas for the clients to live, relax and entertain, as well as allowing a richer and more natural enjoyment of the gardens and landscape.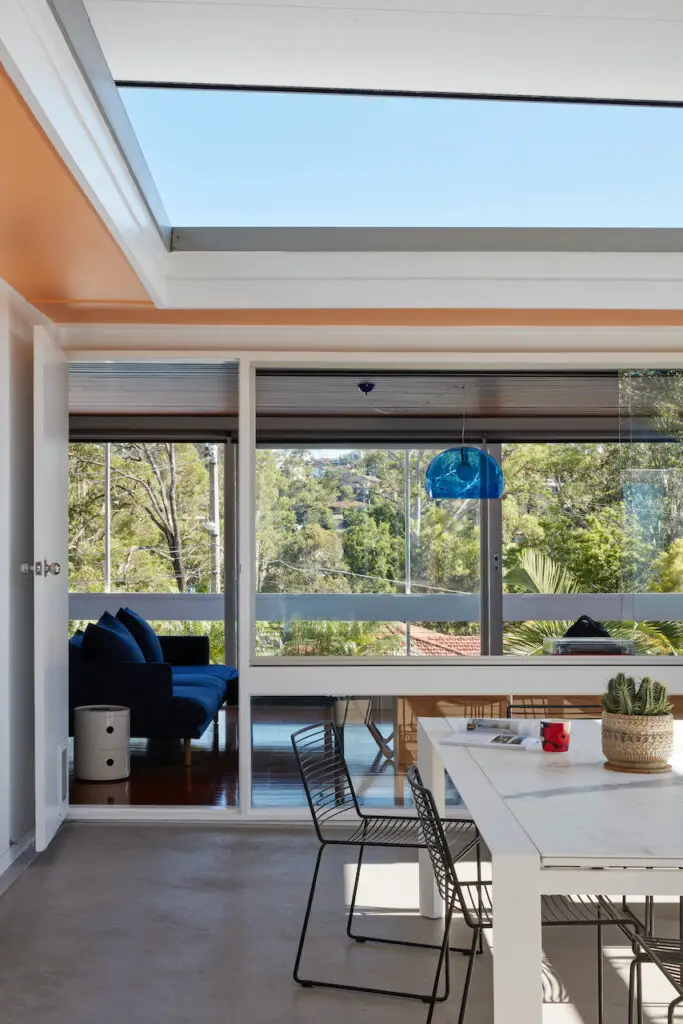 Thoughtful design choices inside have maintained the house's charming aesthetic. The client's desire for high quality and colourful finishes is expressed in the bespoke details woven throughout the house; vibrant colours both accentuate and delineate the new living spaces, and are coupled with a variety of tailored material choices, from the terrazzo bathroom tiling to the brass entry plate in the sunken lounge. 
The finishes, combined with the house's unaltered, floating box form, are an enduring tribute to the original mid-century character. Easier access to the outdoors and a cohesive aesthetic throughout has delivered a lasting and sustainable home for the clients to meaningfully inhabit and enjoy.
Photos by  Christopher Frederick Jones