After vowing to never go down the full renovation road again, Melissa Norris and her husband found themselves in the middle of a complete midcentury home renewal. The couple sought a home near the ocean and fell in love with a beautiful 1959 home in Texas Gulf Coast. Doing mostly all the work on the home themselves, Melissa's home has been shaping into a personalized midcentury sanctuary with a strong connection to the outdoors. Today, Melissa tells us the story of her home.
First of all, could you tell us a little bit about your background?  
My husband and I are both in education. We recently moved to the Texas Gulf Coast from Kansas where we had done our first renovation project. The small project in Kansas quickly turned into a full home renovation. We aren't classically trained renovators, but we do a lot of research and learning along the way. We swore we would never do a full home renovation again, but here we are… I think it's in our blood.
How did you come to live in your house and what drew you to the midcentury style?
When we decided to move, we just knew we were going to move into a newly built home. However, we quickly learned the new builds available didn't emit the character and uniqueness we longed for in our new (to us) home. Plus, the newer homes were in neighborhoods further away from the ocean. We wanted to be close to the water, in a unique home that we could still put our personalities into and really make our own. Texas has a plethora of midcentury homes and we completely fell in love.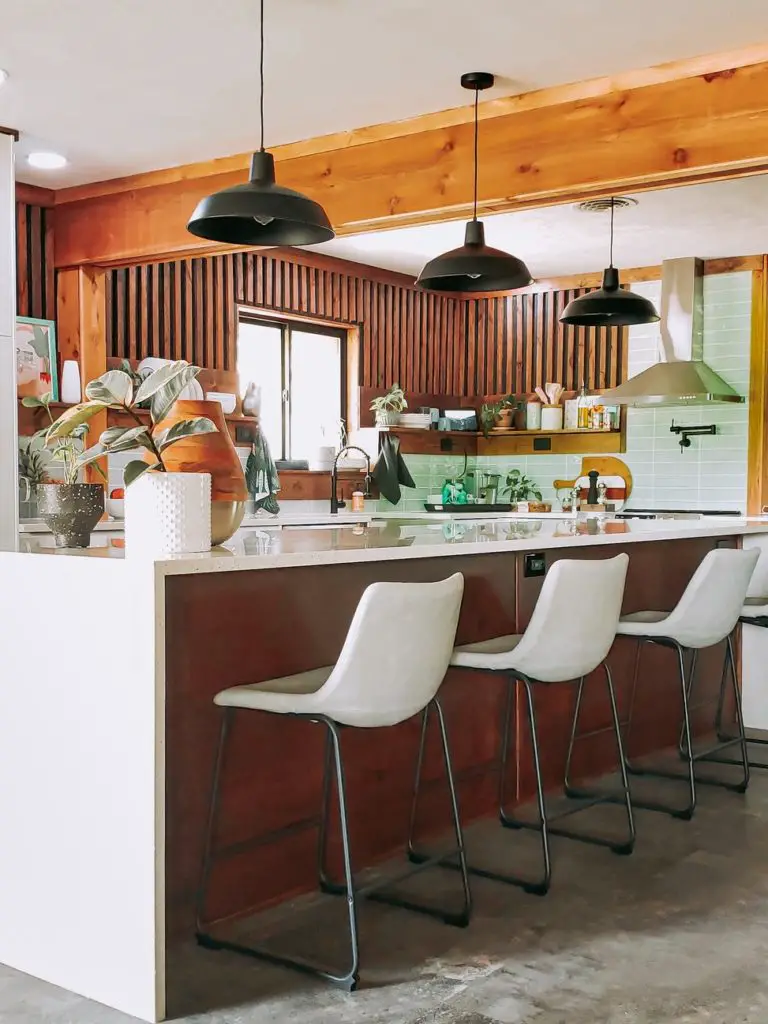 What do you think was so special about this period in American design?
Hands down, what makes midcentury homes so special, is the unique design incorporated into each home. From the outside, many of the homes in our neighborhood look sort of boring and similar. However, when you walk in, the homes have so much character. There wasn't a cookie cutter to build these homes–they were well thought out and personalized with a focus on the outdoors.
What do you know about the architect who designed your house?
I haven't found very much information on our architect other than it was built in 1959 and we purchased the home from the original owners. 
What are the advantages/struggles of living in a midcentury house?
One of the struggles of rehabbing the home is simply sourcing materials. The tongue and groove used for our soffits doesn't exist anymore, so we have had to improvise for our repairs. However, one of the advantages has been superior craftsmanship and style.
What's your favourite part of the house and why?
We absolutely fell in love with the huge sliding doors along the back of the home and the backyard. It is next up on the improvement list and it will definitely be the cherry on top!
Have you had to renovate any part of the house? If so, which area(s)? (Can you also share the contractor/s you worked with?)
We are renovating the entire home and doing almost all of it ourselves. We did have a box store install our black Pella Impervia windows. We LOVE the windows, but the company was terrible to work with. If we didn't have to deal with Windstorm insurance, we would have done the windows ourselves too.
Last but not least, do you have any tips for people interested in buying a midcentury house today? What should they pay attention to and why?
If you have ever been curious about midcentury modern homes, you should definitely have a realtor show you a few. They are BY FAR the most unique and beautiful style of homes. The built-in furniture, the connection to the outdoors, the materials used… they are all a beautiful dance that really have to be experienced in person.