Boomerang House in Portland, Oregon, underwent a full remodel by Giulietti Schouten Weber Architects. The firm is dedicated to creating spaces for people that value the significance of design. We had the chance to speak with the architects of this renovation to learn more about this project and its challenges and end result.
Do you have any details on the client brief?
"The project included a whole-house renovation while maintaining the original midcentury modern feel. The clients wanted to create a direct connection to new outdoor living/rear terrace, covered entrance walk and a new detached garage  Opening the kitchen up to the living and dining was a primary interior goal and required removing walls, creating new kitchen layout and adding wood screen at the entry."
What mid century influences did you want to include?
"We're influenced by local Portland MidCentury architects like John Storrs, Van Evera Bailey, and Pietro Belluschi."
What do you think was so special about this period in American design?
"Clean simple horizontal lines on the exterior, a simple palette of materials and generous walls of glass for daylighting, contrasting with unadorned wall planes."
What were your challenges for this project?
"The clients loved the original house, and we didn't feel the need to change what we also loved about the house.  Our strategy was to improve the plan at the interior, and improve the livability of the outside spaces so it could be used year-round."
What in your opinion are the best features of the home?
"The covered entry walk connecting the original midcentury modern home with the new detached midcentury modern garage. It really helps define the entertaining terrace while also screening from guest parking.  We love how the cedar in both the screen wall and canopy ceiling warm the walk up to the entry."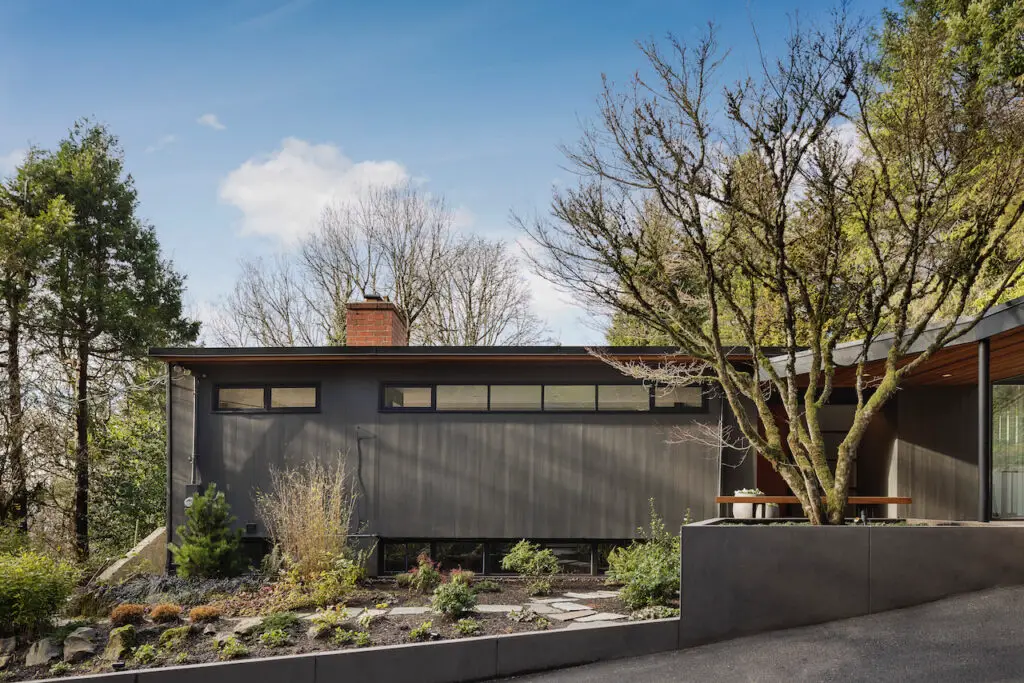 Last but not least, do you have any tips for people interested in buying a midcentury house or building a new home with midcentury design elements? What should they pay attention to and why?
"Our best advice would be "Less is More" in midcentury modern renovations and trying to keep a restrained color palette as well as restrained plan that allows flexibility to move furniture around and families to grow into the spaces."
Photos by Chuck Schmidt