Architect and Creative director of Lamas, Samuel Lamas, is a Brazilian architect who studied Italian and worked alongside renowned architect Massimiliano Fuksas. Lamas' work is clearly inspired by Modernist principles which are evident in Casa 28, one of his most striking projects in the city of Brazilia, Brazil.
Samuel will tell us how he believes that Modernist principles dealt with the essential issues of human life.
Brazilian architects influenced heavily the 20th century architecture. How do you think Brazilian modernist architects differed from their counterparts in the rest of the world?
I love the sensuality of Brazilian modern architecture. The connection between architecture and the lush nature certainly contributes to that.
Some concrete buildings, like the Brasilia Cathedral, have such a fluid and organic design that becomes aesthetically light.
Who visits the Itamaraty palace in Brasilia can also recognize the harmonious interaction between urbanism, architecture, landscaping, furniture and art. It is a piece of art from an urban scale to objects. It represent our search for an authentic Brazilian identity.
READ ALSO: Modernist House in Santiago Is a Delight to Behold
The Modernist principles still inspire many young architects, why do you think is that?
Modernist principles dealt with the essential issues of human life. Simplicity was conquered with much effort. I thinks that is a big source of inspiration.
Why do you think it's important to continue designing houses/buildings that conform to modernist design principles?
I believe that when we focus on the essential issues, on the real human needs, we contribute to a more just and sustainable world.
Who is your favourite Brazilian, or not, architect up to today and why?
Oscar Niemeyer.
I was born in Brasilia. All the affective relations of my childhood took place in pilotis and "superquadras". His projects have a geometric reasoning that contradictorily reach fluidity and the spaces often offers us a pleasurable sense of freedom.
Can you tell us about the approach you had for the Casa 28?
There was a 5000-square-metre plot surrounded by beautiful plants and trees. The intention for this project was to offer a family an enhanced connection with nature. A comfort house, designed for humans as an extension of the arid and lush landscape of the Brazilian savannah.
What was the first question you asked to yourself when you got the assignment?
How can this house belong to this place?
How important was the contribution of your clients, if there was any?
The clients were my parents. My father, the engineer Ruy Lamas was responsible for the construction of the house.
I was lucky for the opportunity to learn from him about constructive issues and important details that make the architecture more functional and solid.
ALSO READ: Architect Jose Juan Rivera Rio's Modernist Casa Caucaso
In our first partnership, we built a house that every architectural element constitutes its functioning. For this project, the shape of the spaces follow the function but also follow the desire to experience pleasure in living.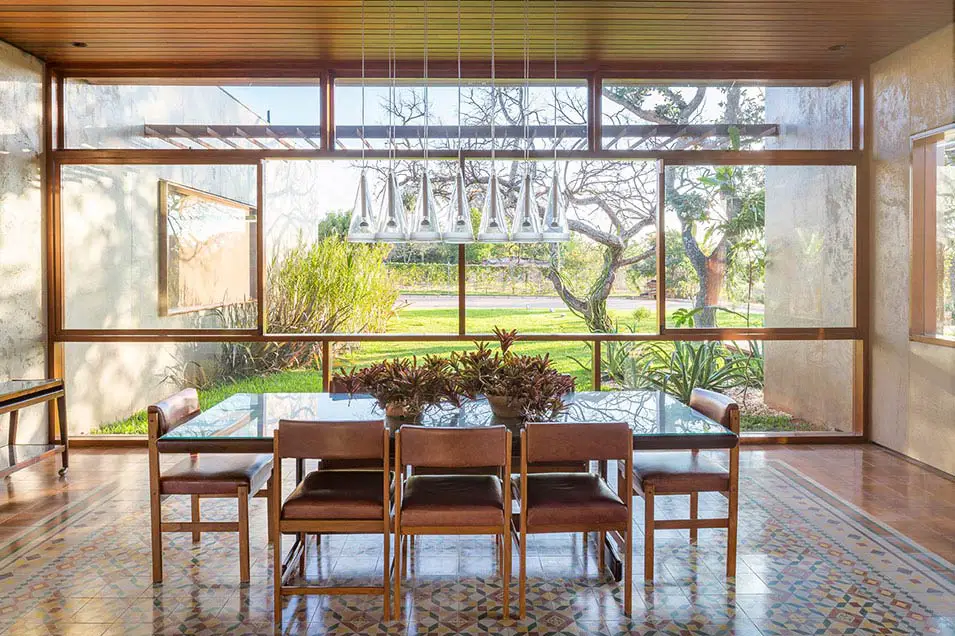 What was the biggest challenge you had to overcome in this project?
We decided to try out new materials and techniques not yet used in Brasilia to achieve the landscape colors. The polymer mortar that lines some walls, for example, took several tests to get a satisfactory result.
Rainwater collected by the coverage is directed to an underground reservoir serving the garden irrigation during dry period. It was a challenge to create a water-collecting mesh and keep the coverage aesthetically delicate.