As modern style homes go, Casa MS is incredibly open to the outdoors. Built by Studio Arthur Casas, it is located, around 100 kilometres west of São Paulo on the Fazenda Boa Vista golf resort.
This openness is most obviously manifested in the main living area, which centres on a roof that cantilevers from a solid central support. This arrangement allows for a large space with no walls, overlooking a shallow pond. It's not unlike a veranda, except the space is so large, and so open, you can't really call it that.
Besides this, one of the main standout features of this contemporary home design is the wood. This design has done some really interesting things with a variety of wood features.
Take the staircase. We've come to associate wooden staircases with a more classical design approach, but not in the case of this floating staircase, which lacks a handrail on one side, while on the other there is simply an indent in the wall for support. This asymmetrical yet remarkably stripped-down design is really eye-catching.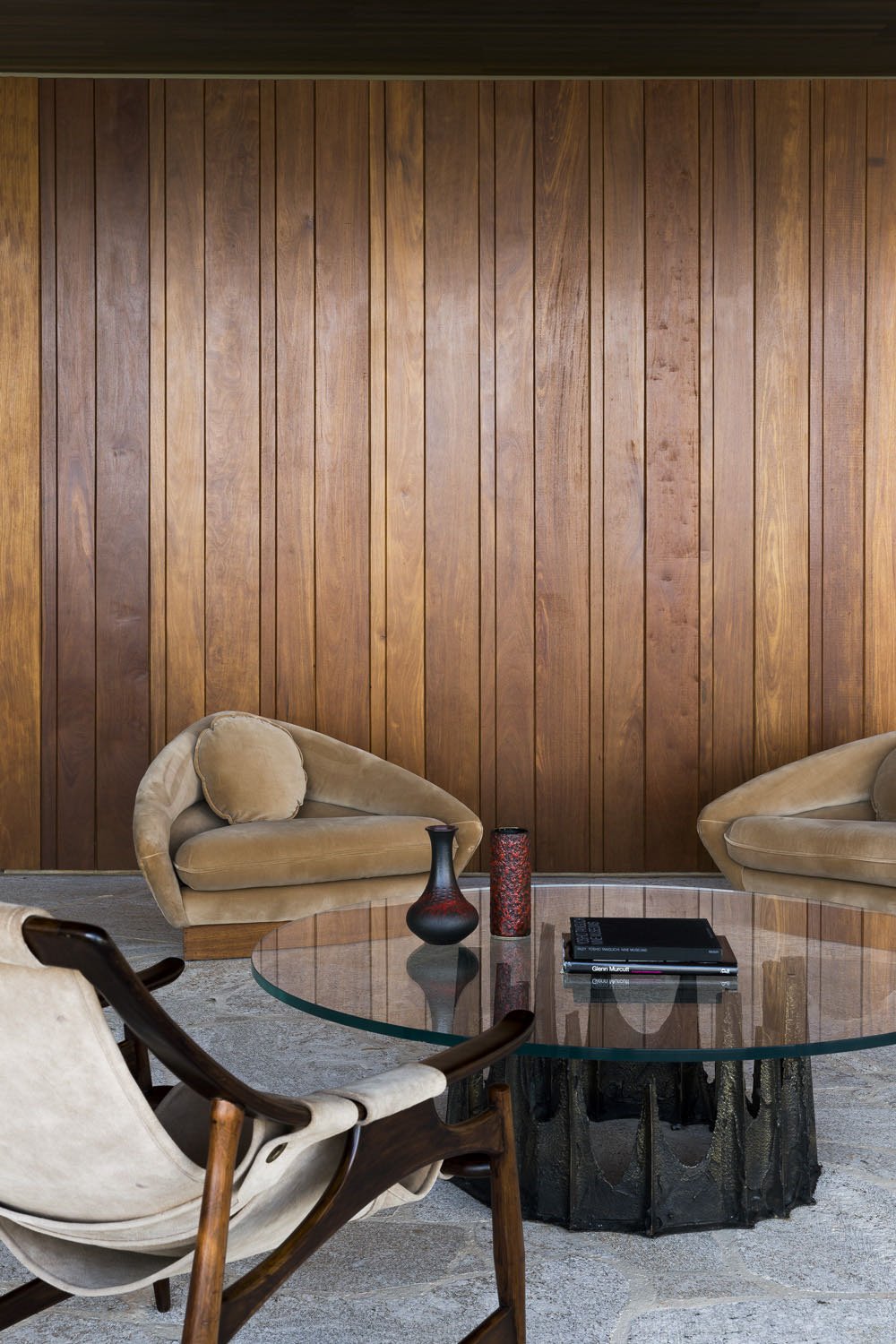 Another great example of woodwork is the dining table in the central living area. The table is smooth and highly polished, but it still bears many of the traces of the original piece of wood from which it was derived. The effect is kind of like driftwood, where the sea has worn down the rough edges of the original raw material.
This liquid form is carried forth to the dining chairs, to the extent that they look as if they were slowly whittled down from an original block (though that's surely not the case).
One final aspect of the woodwork worth noting are those large wooden shutters which line several sides of the building. Their effect is well displayed in the master bedroom, where they allow for openness during the day and a cosy privacy when the night time comes.
All the while, their scale minimises the amount of detailing in each room, as well as on the façade. As a result, this façade is remarkably simple, especially when the shutters are completely closed, just a band of wood for the ground floor and first floor, and a line of white brick between them.
This alternation between white brick and wood panelling is a motif throughout the structure. You can see it displayed in a more asymmetrical (and more interesting) way in the courtyard. Here, white brick walls jut out in different directions, with the wooden shutters filling in the gaps.
READ ALSO: A Modern Residence is at One with Nature
Since the contemporary style home is built on a vast horizontal plane, stretching across the top of a small hill, there is quite a lot of opportunity to play with the structure's composition. The result is a house not unlike an abstract sculpture. All in all, it's a delight to behold.