We often cover the work from Klopf Architecture. The company specializes in remodels of mid-century homes, often Eichler houses: focusing on the dwellers needs and respect of the original architecture.
Their roots go deep into the Californian Modernist tradition, which they respect and try to push forward at the same time.
Today, John Klopf tells us about their philosophy and what implies to remodel an Eichler house.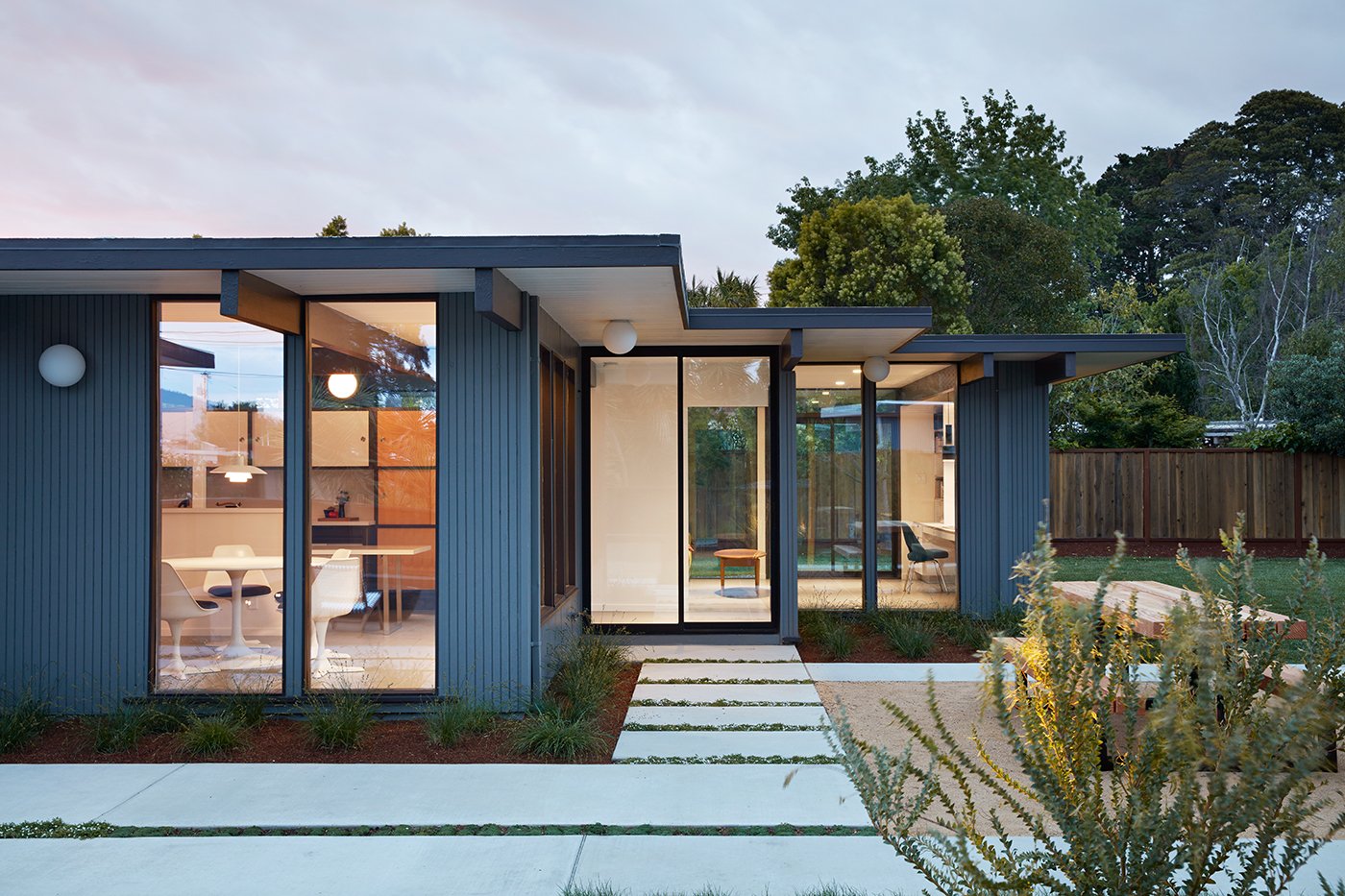 Eichler Addition Remodel in San Mateo, CA
Your studio is based in California, how much has the environment influenced your work?
Our design style is rooted in the culture, aesthetic, and climate of California. There is a large modern influence in the Bay Area and Silicon Valley that dates back to the mid-century modern period.
We have an indoor-outdoor climate in many areas much of the year, we get no snow along the coasts, and this area has beautiful natural light and spectacular views from so many vantage points. My opinion is that the best way to take advantage of all those conditions is with a modern home design.
The architects who have gone before us, like the Case Study architects and other Mid-century modern architects, experimented a lot here in California, not only because of the conditions listed above, but also because the culture on the west coast was open to new ideas and experimenting. We have inherited both their sense of openness and exploration.
Some of our clients grew up in Eichler homes or even inherited their houses from the parents.
You specialised in Eichlers remodel, how different is working at those houses compared to 'normal' ones and why?

It's hard to list all the differences, are way too many, so I'll give you the top three differences. 
"Normal" homes are conceived as boxes with holes poked in them to let in a little light and air, while Eichlers are conceived of as a series of horizontal and vertical planes with completely "open" walls that allow the exterior to blend visually, and sometimes literally, with the interior space.
The indoor / outdoor feeling in these homes has to do with the exterior materials running through from out to in to out, the walls of glass, the way that roofs overhang and the ceiling is continuous from the interior to the exterior with only a minimal break at the (small) window frame, and the way many homes have courtyards or atria that become "interior" outdoor living spaces. 
Eichlers and Mid-century modern homes were meant to be what Le Corbusier called "machines for living." In other words, they were designed with the occupant in mind, to fit the needs of Mid-century families.
This allows us, as architects, to consider the original goals, not just the literal aesthetic, of the architects and the homes, and update them by pushing these concepts further.
Eichler Homes in particular, have many technical challenges based on their post-and-beam, minimal construction type. Not only are the alignments and clean lines important to make the design work, there is also no attic, no basement, no crawlspace, and many areas that have nothing but a sheet of glass for a wall.
Running utilities and designing structural upgrades to make the houses comply with today's standards can be a real challenge. In "normal" homes, windows can be about in the center of a wall and look fine, wires can run in the attic, and ducts under the floor.
Homeowners can go to the local box store to buy rolls of insulation and insulate their attics. In Eichlers, architects and contractors need to be a little more creative about these technical requirements to preserve the design intent when updating the homes.
Which is the project you are most proud of?
The house you featured in: "A Remodelled Eichler in Palo Alto by Klopf Architecture" takes the concept of openness and minimal detailing to the next level.
We removed the walls (both solid and glass walls) on both sides of the main space and replaced them with a folding door system.
To get the space completely open on both sides, we also eliminated the chimney and moved the kitchen out of this space to an adjacent "bonus room." The result is an open-air pavilion-like feeling, as the courtyards on the sides of the house open straight through the main living space and out the other side to the opposite courtyard. 
The clients wanted their house to have a cleaner, updated, sophisticated feeling. They appreciate modern architecture and art, and have a very minimal lifestyle. Also, they wanted the house to be really open. 
Throughout the design and construction, we used minimal detailing, clean lines, alignment with the beam bays, and good quality materials at every turn. By respecting the original vision behind the house, but updating it, we achieved what the clients were looking for. We're proud of the project, and the clients say they love living there.

If you could choose an ideal project, what that would be?
We have an ideal client, more than an ideal project: a client who appreciates the modern style.
Those who would tear down a small mid-century home and replace it with a large non-modern home in order to maximize the lot don't usually call us, and that's fine!
Of course we do hear from clients interested in putting up a modest new modern home where a tired, dilapidated older modern home stands now. If the client is also interested in sustainability / energy efficiency, that is certainly a plus.
So, perhaps a modern, net-zero energy house would be our target project, but probably that has more to do with the fact that a client who wants a modern, net-zero energy house will probably be an ideal client for us.
Where do you think architecture will be in 20 years?

Architecture in California is marching toward net-zero energy use. Within 10 years, all new homes are likely to be required by code to use net-zero energy. So that is a trend that will probably continue along.
In terms of style, Californians, at least in the Bay Area and Silicon Valley, seem to appreciate modern design more and more each year. We noticed people starting to invest in the Eichler Homes back near the turn of this century but it's snowballed since then, especially since the end of the recession. While I have no idea if this will or won't continue, I hope it does!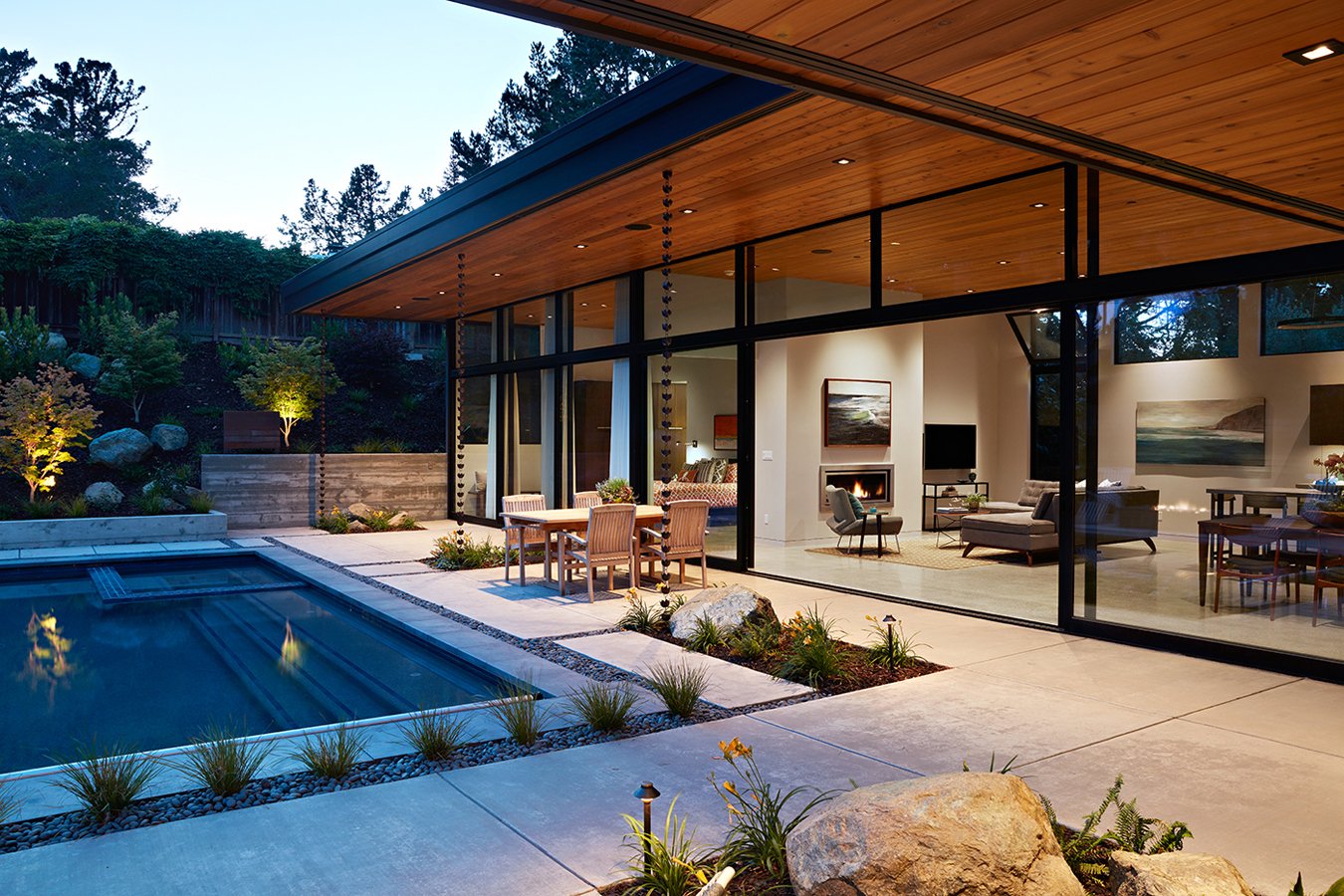 Glass Wall House – San Mateo, CA
Mid-century modern house remodel in Hillsborough, CA
Mid-century modern house remodel in Hillsborough, CA
Photos via Mariko Reed and Michael O'Callahan