Marika Broere and Tony Hillebrandt weren't initially looking to buy a Frank Lloyd Wright house. Instead, they were hunting for a waterfront cottage in a suitably quiet area. However, as many of our other readers have experienced, it was love at first sight for the couple after their first viewing of the Eppstein House.
After purchasing the property, they began a long and costly research process to restore the house to its original design and decor.
In life, some people are meant to become guardians of architectural masterpieces such as the Eppstein House.
Find out more about Marika and Tony's love, enthusiasm and passion for their property. A passion which only true architecture enthusiasts can understand.
First of all, could you tell us a little bit about your background?
We are Marika and Tony are a retired couple. Originally from the Netherlands, we came to Canada 13 years ago.
What brought you to living in one of this Frank Lloyd Wright masterpiece: the Eppstein house?
We had been looking for the "Canadian dream" (a waterfront cottage) for quite a while, but couldn't find what we were looking for. At a certain moment Tony found this house for sale on the Internet: when he was really looking for a cottage close to the largest car museum in North America, in Gilmore.
As we often make art and architecture a goal for the many travels that we make, we almost immediately jumped in the car and drove to Galesburg, a seven hours drive. Three days later we made an accepted offer on the house.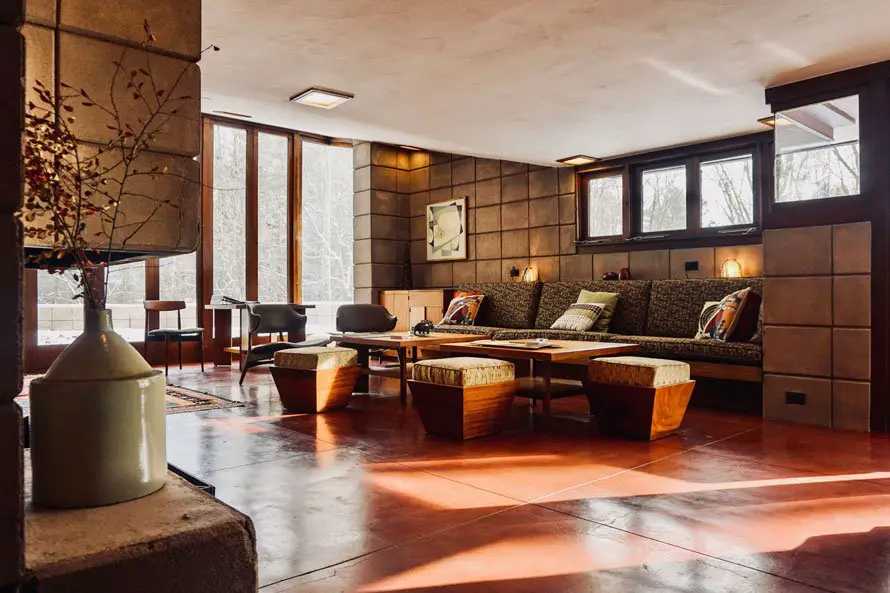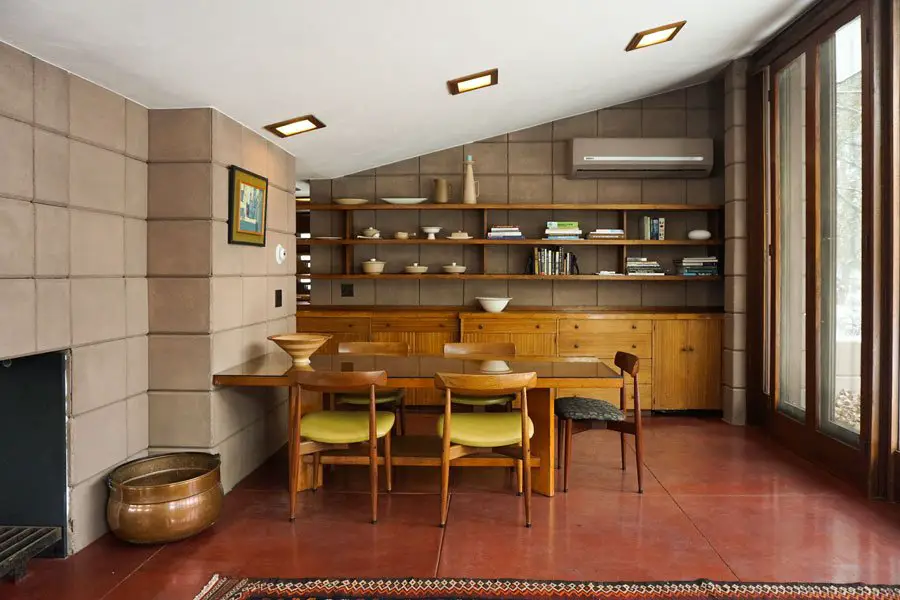 As owner, what do you think is special about this house, and Frank Lloyd Wright work in general?
What we admire in Frank Lloyd Wright is that he kept reinventing himself. There was always progress. He never took the easy way out by copying previous designs. Every design was unique and new.
Even in the Eppstein house, that seems deceivingly simple, one can't escape the spell. Walking through its rooms, is a real adventure.
Wright was a genius at understanding how to position a building towards the natural light. The sunlight 'plays' with the house, it strikes the various materials in different ways. The polished concrete floors, the mahogany furniture and walls, the textile blocks (all in natural earth tones) reflect or absorb the light in a different way. A feast for the eye!
Do you feel a responsibility for living in a house designed by such a famous architect?
Of course, it's a huge responsibility.
We brought the house back to how it was meant to be. Our biggest challenge and dilemma was how to protect the house from the humid Michigan summers and the long winters. The Eppstein house had suffered massively from the climate in the past.
The previous owner had already addressed many issues and had taken care of important aspects. We finished what he started. A very important decision we made was to install climate control in every room.
READ ALSO: Quintessential Frank Lloyd Wright in Minneapolis, the Olfelts Residence
Have you had to renovate any part of the house? If so, what area and what was the most challenging part of the process?
We haven't renovated the house, meaning we have not upgraded any part to fit the time that we live in. Instead, we have restored the house to what it was supposed to be: a house that can now be seen as a Frank Lloyd Wright mid-century gem.
The house is furnished and decorated as if people moved in in 1951 and moved out a decade later.
We used many pieces from our own (large) collection of books, vintage records, art, and collectors items, as well as time period correct furniture. Some items we have purchased from a lovely store called Pick in Kalamazoo, MI. We wanted the furnishings and decor to blend in with the original colors and materials of the house.
What are the advantages, and struggles, of living in a historical house today?
We wish we could live there full time, but we can't. We are happy to be (new) Canadians. We are in the house for long periods during the year but, when not there, we rent out through a trustworthy short-time rentals website.
This measure serves three purposes: we share the pleasure of living in this Frank Lloyd Wright architecture gem with other enthusiasts. Also, the house is kept in good shape when heated or cooled by the renters and the rental income helps us recover some of the immense investment that we made.
READ ALSO: Frank Lloyd Wright's Bachman-Wilson House, A Mahogany Marvel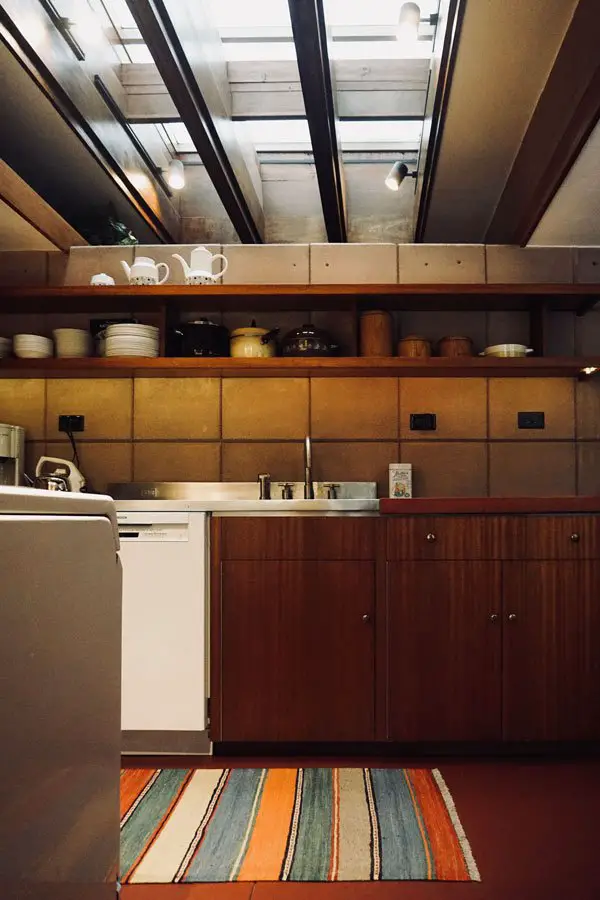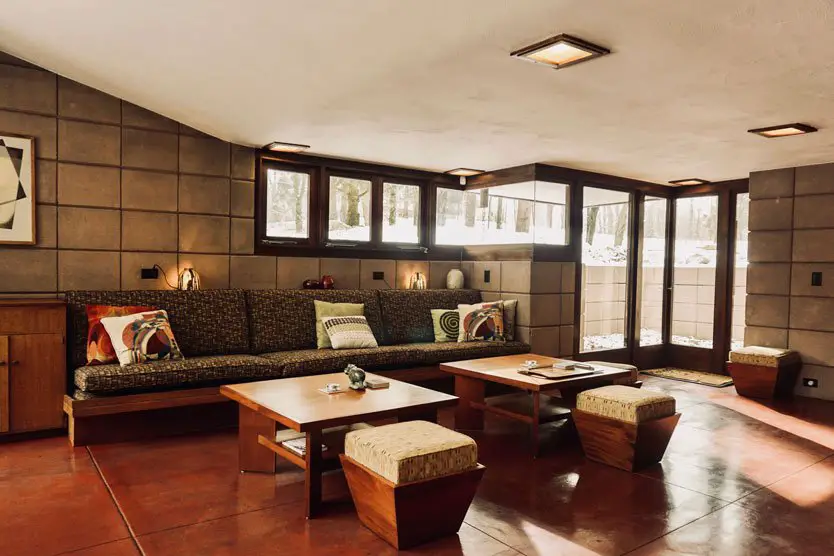 READ ALSO: Frank Lloyd Wright's Sol Friedman House Is Pure Usonian
Do you feel constrained in your interior design choices because of the house heritage?
Absolutely. We were careful to use the correct materials. Mahogany where cabinets and walls needed restoring, bathroom tiles from the 1950's, Maharam upholstery and even the electricity outlets are original from the period.
We'd have loved to install modern, stainless steel appliances in the kitchen. But we decided for a 70 years old stove, instead. The children of the original owners, confirmed that they had almost the exact same stove when they lived there!
There were no beds in the bedrooms, so we purchased period correct teak beds. The best of all, is that the blueprints were on file for the original Frank Lloyd Wright dining chairs for this house. Bill Heffernan, our very dedicated carpenter, is re-making them one-by-one.
Last but not least, if you could ask one question to Mr. Wright, what would you ask?

Please, design me a house!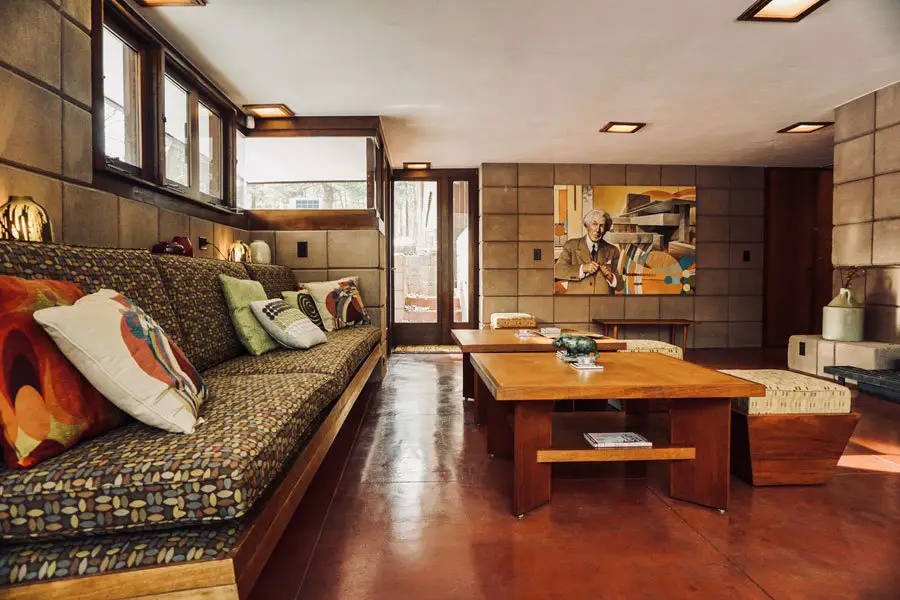 Photos by Tim Hills Trystcraft