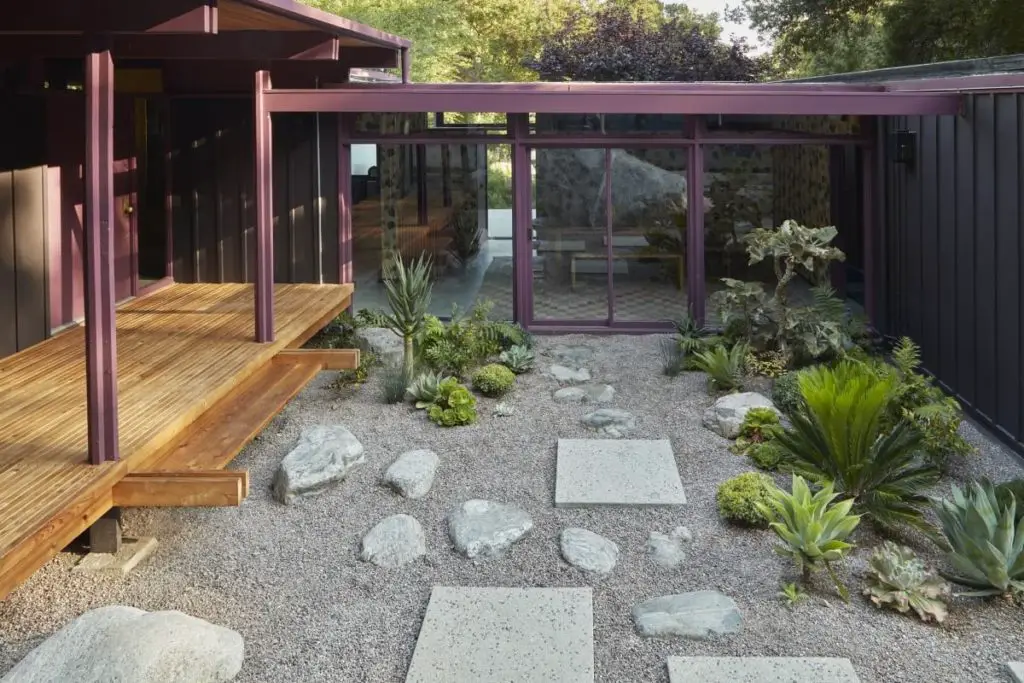 Midcentury modern architecture leans heavily on the concept that good design must be accessible, functional and follow an indoor/outdoor connection. The same could be said for midcentury modern landscape; outdoor spaces, just as much as indoor spaces, serve as areas to be used for leisure and activity. Los Angeles-based Terremoto restore and renovate gardens with an unconventional take on landscaping. Today, co-founder David Godshall tells us about the Purple Drank Project for a midcentury bungalow in Altadena.
First of all, can you introduce yourself?
My name is David Godshall and I'm a principal + co-founder of Terremoto, a 14-ish person experimental-ish landscape architecture office that's split between Los Angeles and San Francisco.
What was the overall vision – look, feel and functionality – for this landscaping project?
To make a garden that felt at complimented the architectural sensibility of the house, accommodated the needs of our wonderful client (young family), and explored new possibilities of what it might mean to make a Japanese garden in California.  
What inspired you during the project design process?
The site was profoundly impactful in that it sat nestled in a grove of existing, established, exquisite Coast Live Oaks (Quercus agrifolia), and in addition to the botany, it had a geological element that we rarely get to experience. Giant outcroppings of boulders drift through the site, thus the mineral aspect of this little garden is explicit and present in a way that's quite rare. The presence of these boulders only pushed us more directly towards the idea of creating a Japanese garden within a Californian context, as geology is typically a major feature of Asian gardens.      
In your opinion, how does this home celebrate the midcentury modern principle of integrating the outdoors with the indoors? What details were added to make spaces relate to one another?
In this project we framed views – the large glass windows of the home look out, in all cases, to the garden. Thus we acknowledged these viewsheds, and planted sculptural plants of various qualities in highly articulated compositions to make the garden a strong, welcoming presence within the home.
 How does the landscaping fit into the surrounding natural environment? 
About one third of the plants on this project are native, and all the plants are wholly regionally appropriate and low water, and of course, no invasive species. We protected and preserved the Oaks during the course of the project, abstained from using any chemicals, and decreased the amount of impermeable surface underneath their canopy.   
Which materials and plants were used and why?
The concrete is exposed aggregate concrete which marries well with midcentury modern homes. The decks and fences are cedar – we do our best to not utilize tropical hardwoods in our projects, and favor locally sourced woods (in this case, cedar comes from the Pacific Northwest) instead. The plants are a hybrid mixture of natives and regionally appropriate perennials and succulents that need little maintenance, and that work together from a texture and color perspective.
How long did the landscaping project last? Any major setbacks, and if so, what?
About 10 months. No major setbacks other than the typical issues related to landscape construction – things always take a bit longer than expected and cost a bit more than the client wants them to – but at this point we've got a thick skin about things like that, and in this case we had a patient and trusting client.
What is your favorite detail of the landscape and why?
Honestly, the inner courtyard around that huge existing boulder came out really nicely.  The boulder does a lot of the heavy lifting, (pardon the pun) aesthetically speaking, but the hardscape (designed by Rachel Tucker of Terremoto!) elegantly dances with the big behemoth. 
What advice/recommendations would you give to someone looking to renovate their yard?
Plant natives! Keep it simple and wild.