In Westwood California, just a short distance from Beverly Hills, American architect John Lautner designed and built the magnificent Sheats Goldstein Residence. The organic architectural style is a trademark for Lautner, building the residence into the sandstone ledge of a hillside creating thus a cave-like atmosphere out of concrete, steel, wood and glass.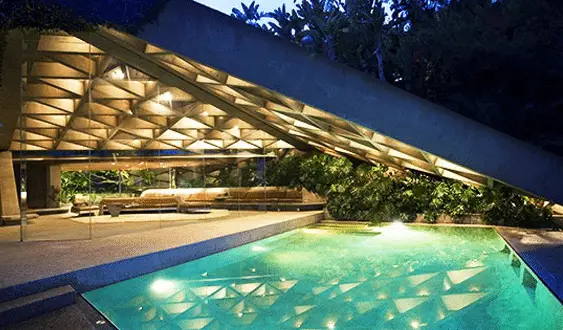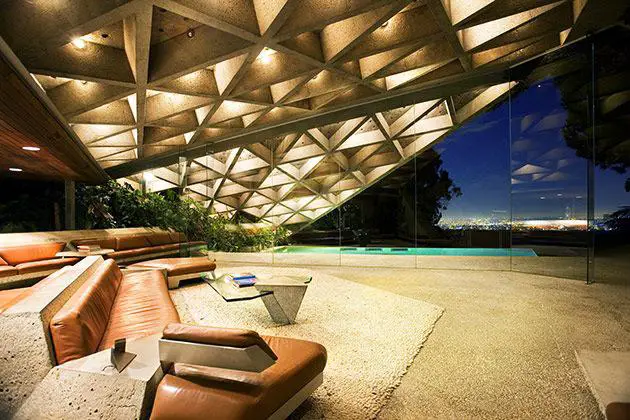 Originally built in 1963 for the Sheats family, the house was purchased later on by businessman James Goldstein who commissioned John Lautner a series of remodeling that lasted a better part of two decades. The Sheats Goldstein Residence is one of Lautner's best know work throughout Los Angeles California.
In the clever hour glass design, five bedrooms and four and a half bathrooms are concealed from the entrance giving the living room open access to the terrace and swimming pool area. The living room features open space that carries the interior to an unobstructed view of the city of Los Angeles outside.
The bulk of these rooms is hidden by the perspectival trick of the triangle narrowing to the dining room, where the observer is unaware of the number of rooms hidden between the diverging perimeter glazed-wall passageways on either side.
The use of cross ventilation winds ensures sufficient flow of cool, tempered California breezes making the use of air conditioning unnecessary. Modern updates like heated floors and heated swimming pool is achieved by using copper pipes throughout.
All of the furnishings enhance the house and are completely related so that the aesthetic of the forms is a function of the whole. John Lautner himself designed the complete interior for the Sheats Goldstein Residence including windows, lightings, furniture and everything is extensively detailed.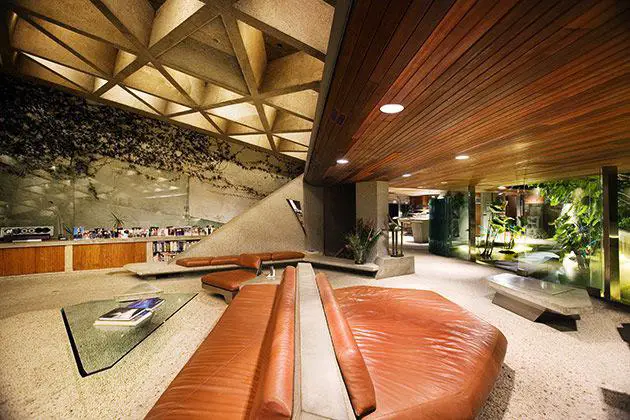 The interior is speckled by moving lights on the ground, giving the impression that one is walking in a primeval forest, made possible by 750 drinking glasses set as skylights into the concrete of the roof.
Generated from the chimney is the great triangular cowered roof, which covers the front of the living room and part of the pool, angling the focus of the living room to the view. The roof, in its angular geometric form, is representative of a wild space, a place in a forest or natural grove. This house is a true masterpiece of art and modern comfort.