This mid-century modern house, designed by John Andre Gougeon and later restored by Antonio Aguilar, is understated in its modern style. This is because it had to partially conform with the traditional ranch houses that surround it in the East San Gabriel Valley in Southern California.
When built in 1963, it was one of several that the architect was financed to build, though only one other went ahead due to complaints from nearby residents about their unfamiliar design features. This is despite the fact that Gougeon had considered these pressures carefully, and had tried to create houses adjusted to local tradition.
Fortunately, it now sits comfortably within the area with no compromises to its vibrant and distinguished modern character. Features which eliminate boundaries between the natural and built environment are an essential part in creating this mid-century architecture style.
READ ALSO: 3 Mid-Century Eichler Homes Renovations Blend Old and New
Glass walls open up the living rooms and kitchen to the expansive garden and patio layout, and in the bathroom they visually extend the already 'open shower' into the garden, creating a remarkable sense of free space, while still maintaining discretion through the adjacent outer wall.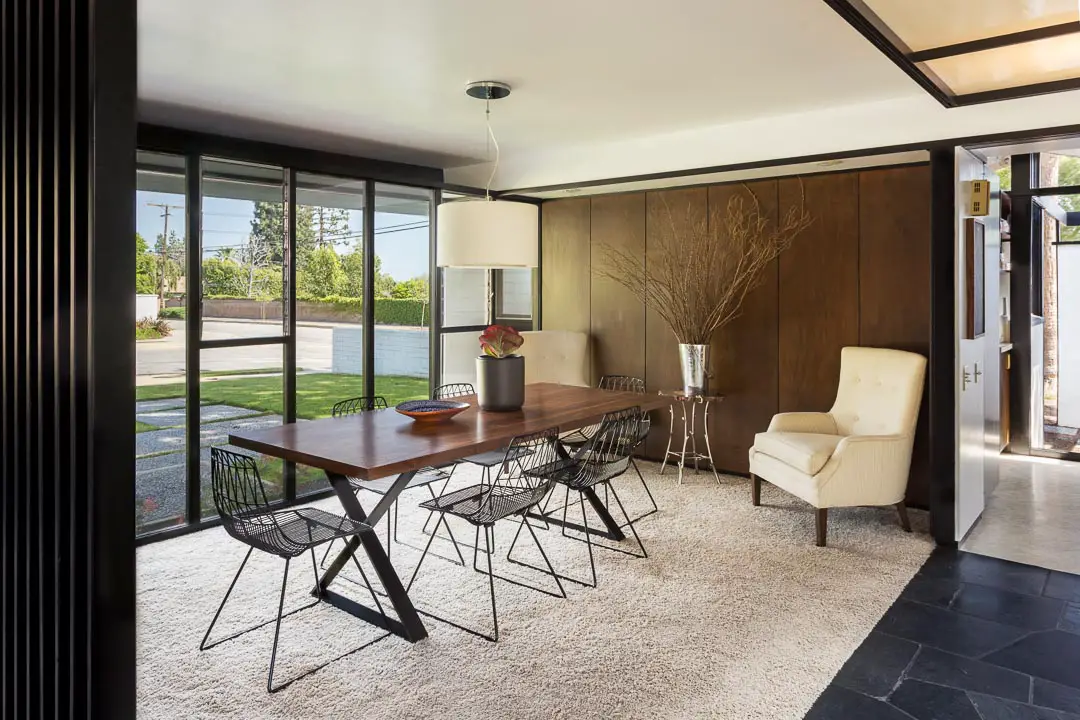 The abundance of windows also encourages fluid indoor to outdoor living. They are often adjacent to natural building materials, such as in the bedroom and near the porch, exemplifying the continuity between the natural and built environment.
ALSO READ: Richard Neutra's Transparent Singleton Residence
They also combine with other raw  artificial materials to create interesting compositions where several artificial and natural features come together, such as in the living room, where exposed brick, glass, trees and natural furniture all coalesce.
These exposed structural elements are mostly continuous between the inside and outside of the house, giving it a sharp, bracing quality.
Many of the beams extend far beyond the outer walls, and are wholly visible, making for subtly angular patterns of metal and shadow. These are echoed by the irregular shapes of tile which reach through the house from the front hallway to the back patio.
All this fits in well with the subtle folds and peaks of the hills above. And while it may have caused a stir at first John Andre Gougeon's design now sits respected and serene as a fine example of tactful contemporary home design.