This contemporary style home is a joy to look at. Located in Austin, Texas, it is the product of a collaboration between local architects, Wilmington-Gordon and Alterstudio Architecture
Turning to one half of the partnership, Wilmington-Gordon are quite particular in their approach. Emphasising an integrated process in which there is one architect-project manager working on each project, their website demonstrates a clear love for the process of house building itself.
READ ALSO: Lightness Is The Theme For This Modernist House In Menlo Park
Indeed, while it offers the usual information you would expect on an architect's' website, their tone is much more light-hearted. On the page listing their projects, they name the houses with a view to the pictures being consumed by a broader public, with titles such as "Vibrant Farmhouse", "Dazzling Refresh", and the home we are discussing here, "Dynamic Estate".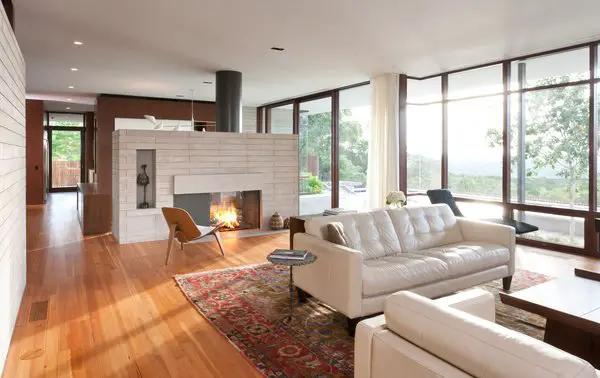 READ ALSO: The Mid-Century Inspired Benedict Canyon House is Full of Idiosyncrasies
True to its name, Dynamic Estate is a very impressive build. This is particularly clear in the finishing, with materials put together in a noticeably clean and precise manner.
The first instance where we noticed this was in the presence of a motif that appears throughout the house: thin planks, arranged vertically, placed close together and stained in a dark brown polish. This conspicuously neat design feature can be spotted in several clusters of the home's exterior, but also in the hallway, living room and dining room.
This panel effect is also echoed in the bathroom tiles, although in this instance the tiles are a light cream colour. Having it mirrored in this way is a really effective way of demonstrating the thought that has gone into the overall design.
This contemporary home design also makes excellent use of its surrounding environment. The view from the dining table is absolutely marvellous. Likewise, an outdoor dining space also overlooks another impressive view of the landscape beyond.
In the Wilmington Gordon's mission statement, the company head, Ken Burger, signs off with the phrase "Build well". With the Dynamic Estate, they've certainly lived up to that creed.