This house is big. Covering a vast plot of land in Benedict Canyon, Los Angeles, it's contemporary home design is the product of design restorer and Resurrection Vintage co-founder Mark Haddawy
And given its scale, the mid-century architecture style reaches elements it doesn't normally occur, such as a basketball court. For instance, surrounding the court are a series of floodlights, made up as blocky, decidedly functional modernist streetlamps. Likewise, the layout of the court, too, is distinctly minimal and sleek as courts go.
Yet the basketball court is not the only sports feature in this contemporary style home. In one corner of the vast central living area, a beautiful pool table sits atop a Persian rug.
This is complimented just across the way by a piece of motor racing-themed on. But unlike the kind of kitschy aesthetic normally displayed in sports-themed art, this piece is much more attractive and thoughtful.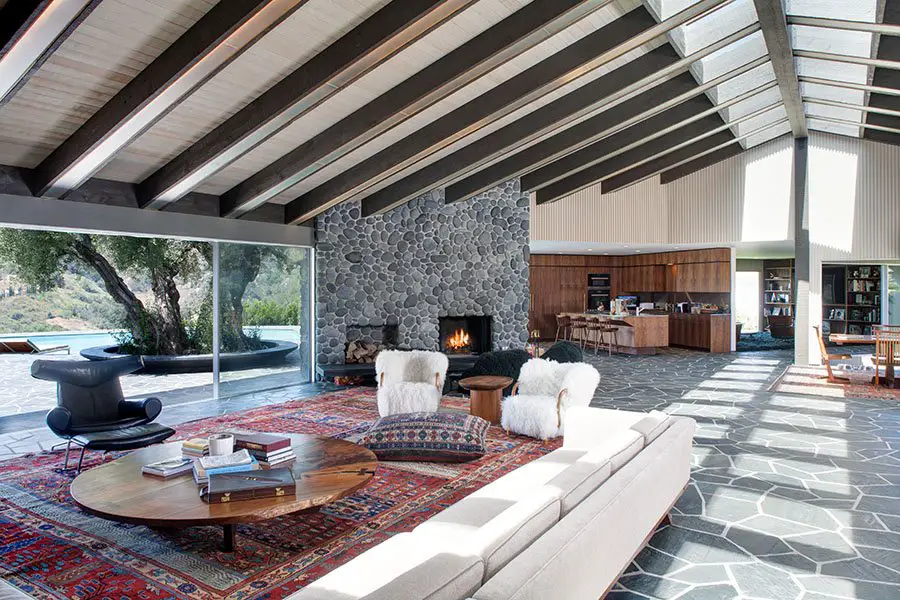 The owner has really expressed their personality throughout much of the rest of the interior design. This is perhaps most obvious in the variety of textures and patterns present in the materials across the build.
A wall of cobble stones around the fireplace and an irregular floor tile pattern, in the central living area among the more notable instances of this, but such curious textures and patterns are present everywhere.
All this is capped off by a lovely furniture selection. In another side of the central living room, there are several chairs upholstered with a curious shaggy material in either black or white, accompanied by a rug in one corner made of a similar material.
Meanwhile, in that same corner, sat on that same rug, mid-century modern furniture represents with an Eames lounge chair, upholstered in teal-tanned leather. It's a striking colour choice that really underlines how confident the owner is in their own taste.
ALSO READ: Mid-Century Modern in The Woods: Henry Hoover's Germeshausen House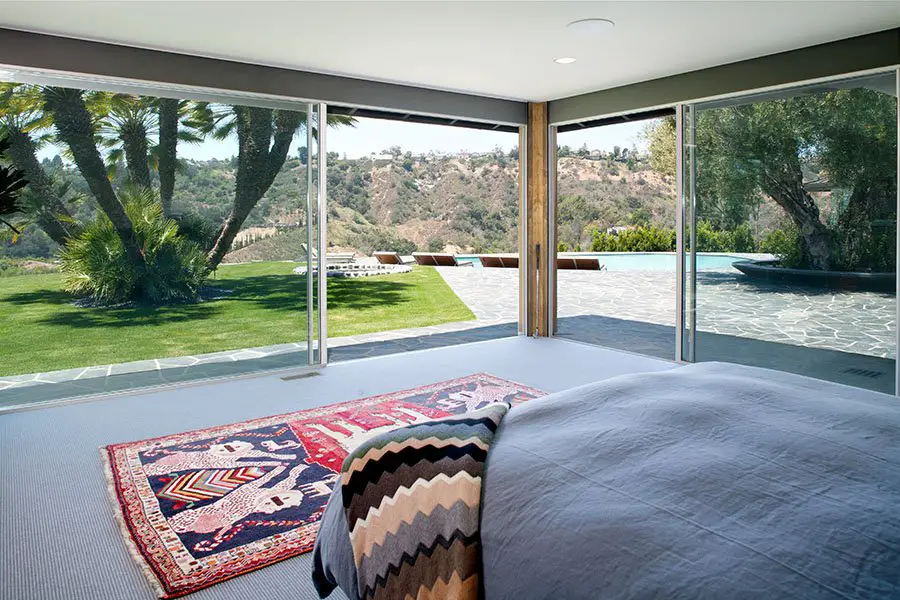 Conversely, these are the sort of touches that make a house less easily saleable, but all the better for it. After all, a home is a home first, and the best ones who express the needs and interests of their particular inhabitant.