This house in Atlanta, Georgia, is all about the landscaping and the materials. Originally designed by Robert Green, it is, like the recently-covered Anderson Residence, clearly inspired by Frank Lloyd Wright, whom Green served as one of the great architect's last apprentices.
From the very beginning of the front garden you are faced with a hulking beast of a mailbox, with the box itself sandwiched between two large slabs of granite, themselves supported by a further two. The same granite slabs are used as stepping stones, leading visitors up the path to the home's front door.
The door itself is weighty, with the circle detail conveying a clear East Asian quality to the design. This is a taste of things to come, as when you enter the house you are faced with the same solid, deep brown-polished wood throughout, in the supporting beams, the hardwood floor and, most of all, throughout the beautiful kitchen.
The design of the front door is replicated in the door to the back garden. Here the home's supporting beams jut out as any good Wright-inspired home should, providing a lovely continuation of the indoor interior, with wood all over.
Do you live in a mid-century or modernist-inspired contemporary house and want to be featured on Mid-Century Home? Contact us with some photos and a short description of your house at: info@midcenturyhome.com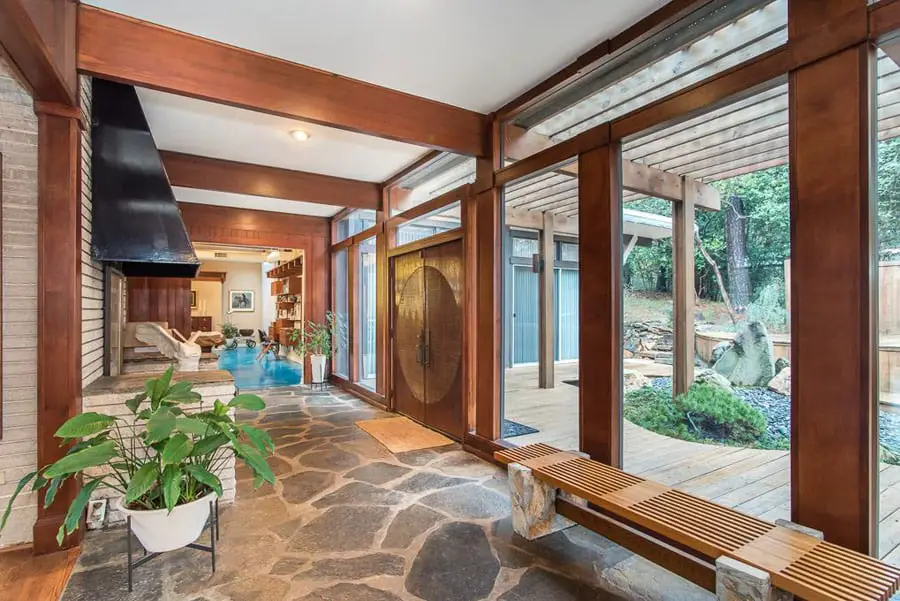 Photos via Bedgood and Associates