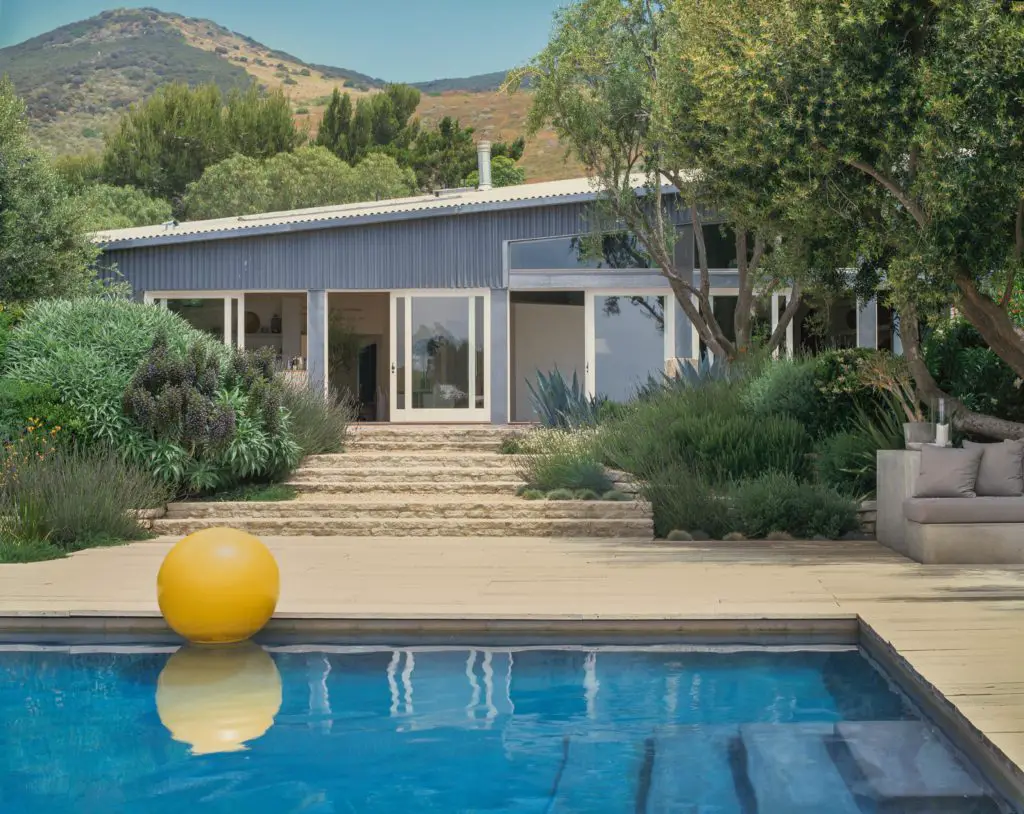 Landscape Design shapes our everyday life. Case in point: The Tin House Project. Landscape Architect Scott Shrader spawns fresh and sustainable garden designs, a passion which he has been pursuing for the last 28 years. Scott's unique approach to garden design makes sense of the environment and his personal touch complements the natural surroundings. The Tin House in Malibu started out as a simple tin structure in a meadow. Today, Scott shares with us the story of the Tin House and the various phases which took place over a 7 year timespan.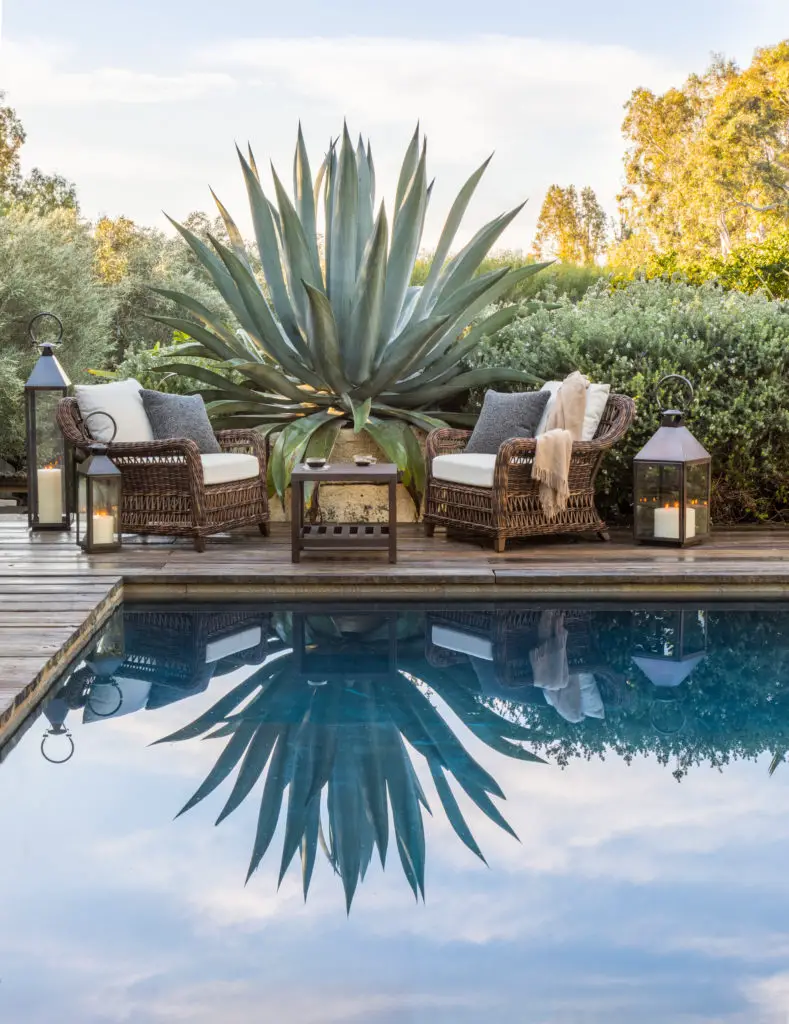 Can you introduce yourself?
I grew up on the Palos Verdes Peninsula in Los Angeles, which was originally designed by the famous Fredrick Law Olmstead who designed Central Park and many other famous landscapes. I was lucky to have my hands in the dirt from a very early age. My father owned orchards in Fallbrook, inland of San Diego. I spent a great deal of my youth on his properties tending to the orchards and cultivating a large organic garden with my Grandfather. 
I'm a landscape designer and contractor with a Master Degree in sustainable landscape architecture. I've been practicing those techniques over the years which have now become fashionable, such as organics, water conservations and recycling, and planting plans most appropriate to their environment with a focus on native and/or compatible plantings.
I've had Design/Build practice nearly 28 years and it's not just my job but my passion. I decided to become a Landscape Contractor so I could build my creations and have full control.
I have traveled all over the world working in Croatia, Australia, Germany, Hawaii, and Wyoming, but most of my work is from Beverly Hills to Malibu focusing on custom homes, ranches, estates, and wellness retreats.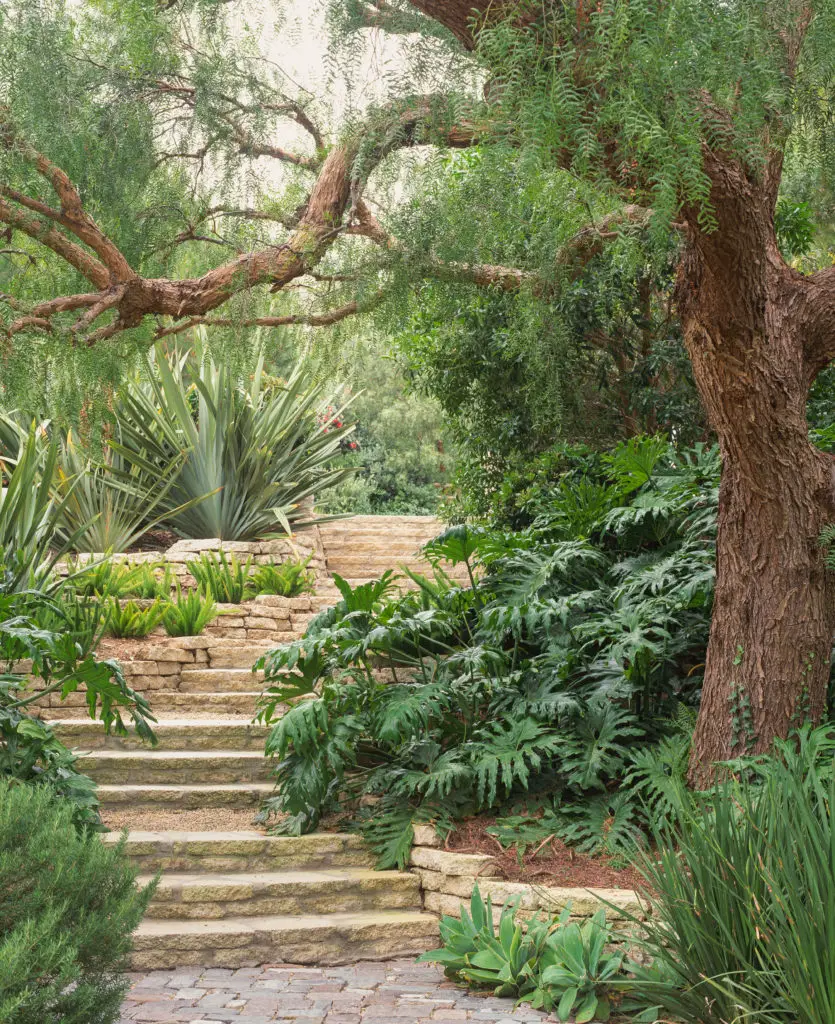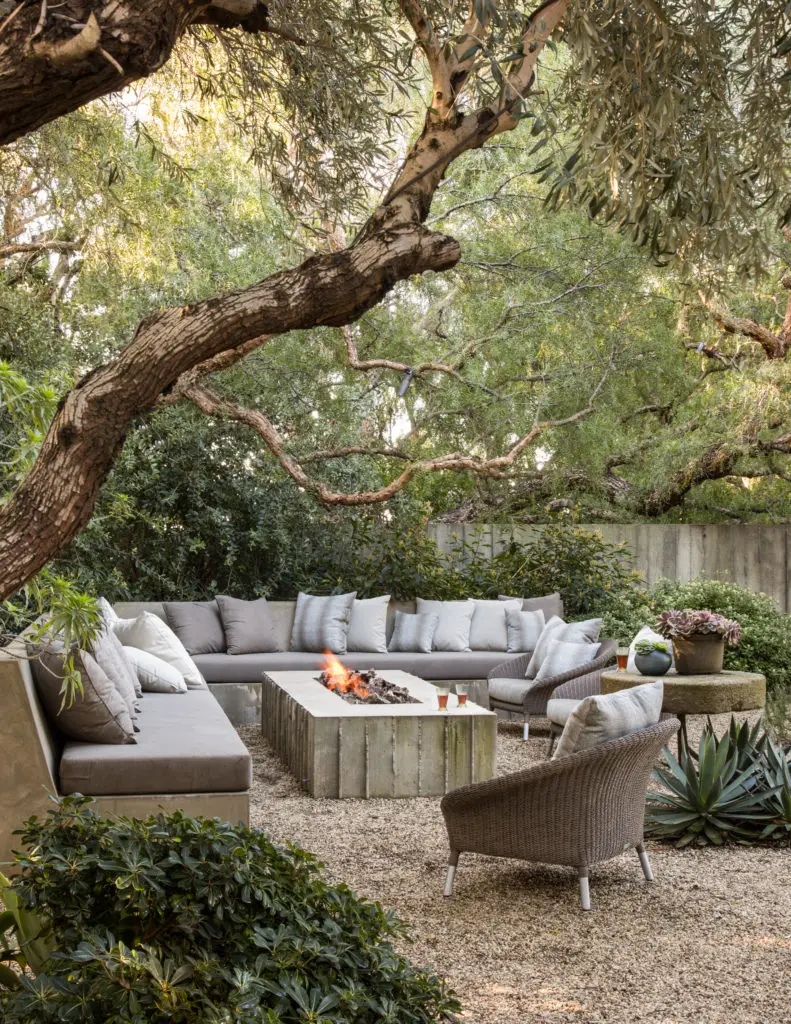 What was the overall vision – look, feel and functionality – for this landscaping project?
The house was originally built by Frank Gehry for Ron Davis in 1972. Basically Ron Davis gave Frank the roof line inspired by his work and Frank filled in from there. This house was known for attracting artists and where the movement Light and Space began in California. 
When my clients purchased the property over 20 years ago, it was an abandoned property and mostly dirt with a few larger California Pepper trees and Pines. 
The original house was basically a tin structure out in a meadow, my job was to turn this painting studio into a sustainably focused property meeting my clients desires for horse, organic gardens, and an open/native oriented planted property.
The property sold after about 7 years and I reworked the property to fit the new owners. There was no interests in horses, so I expanded the organic gardens up to the equestrian rink and created a "Family Fun Zone" for the new owners that included a large outdoor kitchen with a pizza oven, trellised outdoor dining and lounge area, including a large lawn for playing games with family and friends. It went from a couples dream spa like home to a family home that used every inch of the property.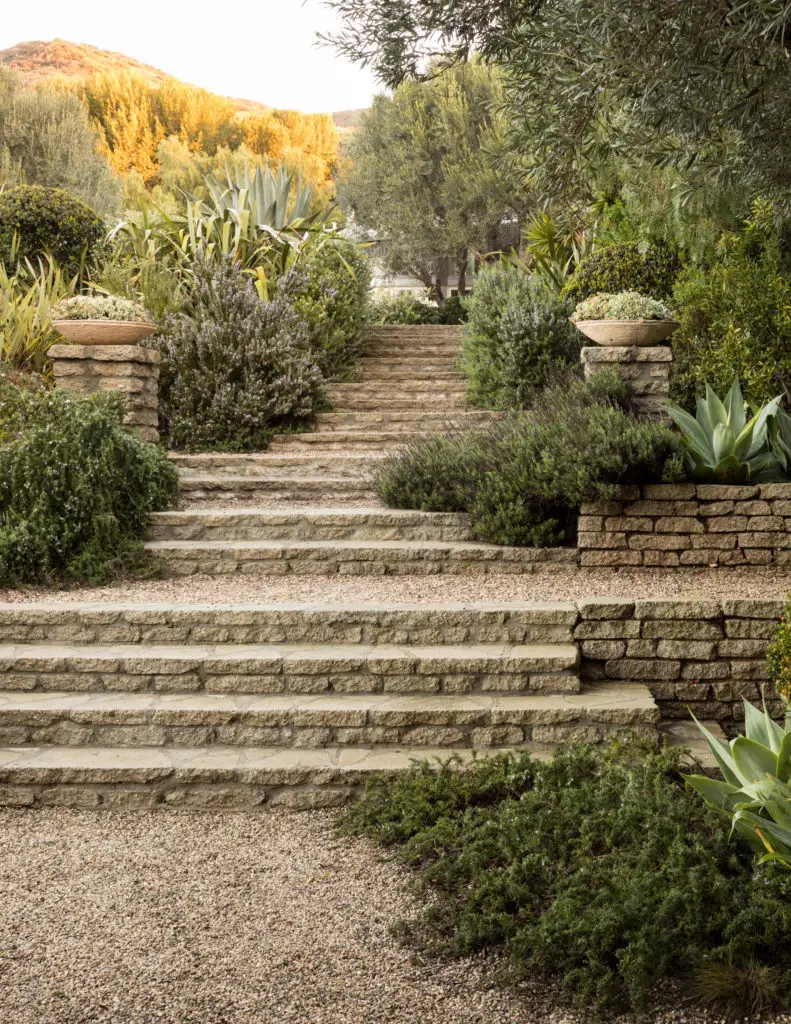 What inspired you during the project design process?
I think the simplicity of the house – it had such simple lines so I tried to keep the design simple and clean. I also wanted to work in a sustainable palette and create a look and feel that felt very spa-like without any harsh or bright colors. Working with Michael Lee who did the interiors, we started using lots of scaffolding for the interior floors and brought that feeling around the pool. 
I also brought in the use of several board form concrete walls which were embedded with the scaffolding. Lots of repetition in materials including the hardscape and the plant material.
In your opinion, how does this office celebrate the midcentury modern principle of integrating the outdoors with the indoors? What details were added to make spaces relate to one another?
As I mentioned above, the idea was a limited palette. Often midcentury homes carried the interior materials outside, blurring the lines between inside and out. It was my effort to create gardens that not only gave the house protection and privacy, I tried to create exterior environments that made it possible to keep people outdoors.
Through the use of comfortable furniture, shady pockets, and lots of moments to lounge and entertain family and friends, the property became mostly focused on the exterior and the house became the open shell in the middle of it.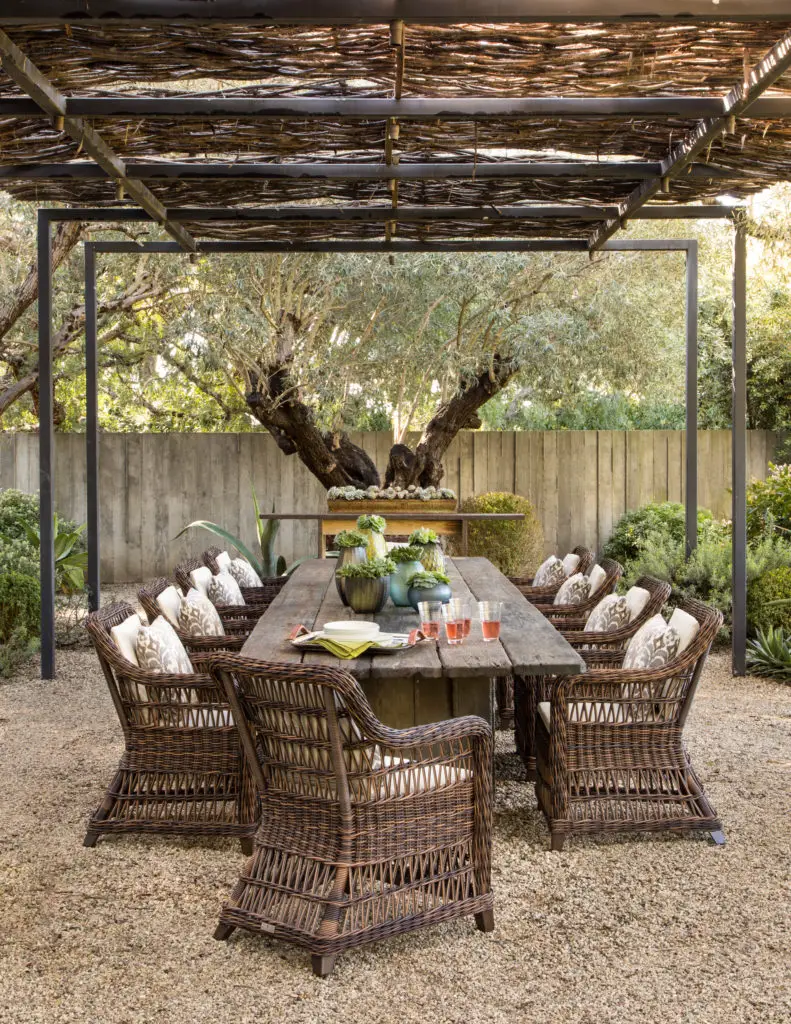 How does the landscaping tie in with the architecture of this home? 
Initially, it was how the site was graded to help create these level areas for practical uses such as riding horses, housing livestock, parking, pool lounging and organic gardening. Through these series of leveled spaces, connected by recycled broken concrete walls and steps, the exterior flowed effortlessly from the central core of the house. 
How does the landscaping fit into the surrounding natural environment? 
The site was planted with a series of California Native and Compatible trees and shrubs. Mostly these materials were planted in large quantities and massed together which help to simplify the landscape given it a natural and organic feel while also being modern at the same time – very similar to the original house.
Which plants were used and why?
We planted a series of mediterranean trees such as Olives, Metrosideros, Pine, and Pepper Trees which all take low water and can handle coastal conditions. The shrubs included a variety of Mediterranean plants again and included Rosemary, lavender, coppertone loquat, dwarf olives, pride of madeira, lions tail, and agave. Again, the purpose was to mass these plantings to create a soft, spa like organic and modern feel.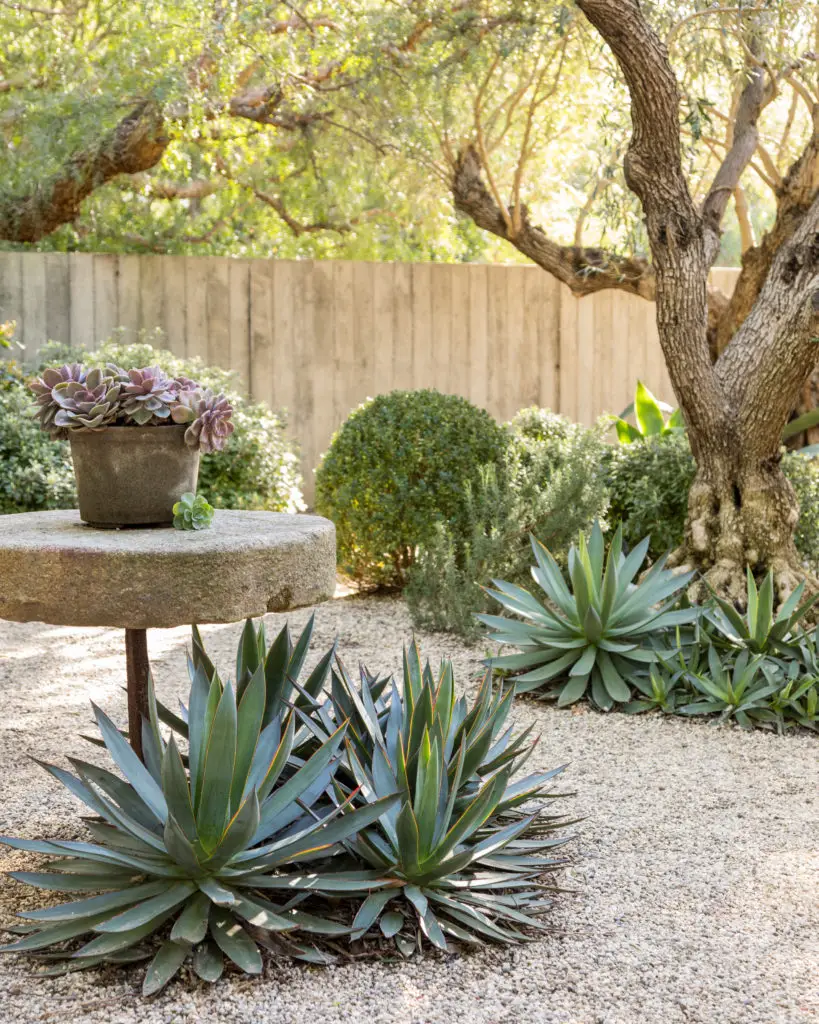 How long did the landscaping project last? Any major setbacks, and if so, what?
I worked on the house initially for a few years for my first clients. We added phases over the 7 years but most of the work took place in the first 2 years. Once they sold the property, I came back and worked on it again for a good year, creating more outdoor living environments and extensive organic gardens for the second owner. The property was sold for a third time and I was in the middle of connecting this property with another 4 acres next door the client purchased and the Malibu Fire of 2018 took the house and adjoining property.
What is your favorite detail of the landscape and why?
I really loved how Michael and I played with the scaffolding through the interior and exterior. It was something I had not seen before and really blended nicely with the clean lines of the house while bringing in an organic feel and gray/beige coloration which helped embody the spa-like feeling of the property.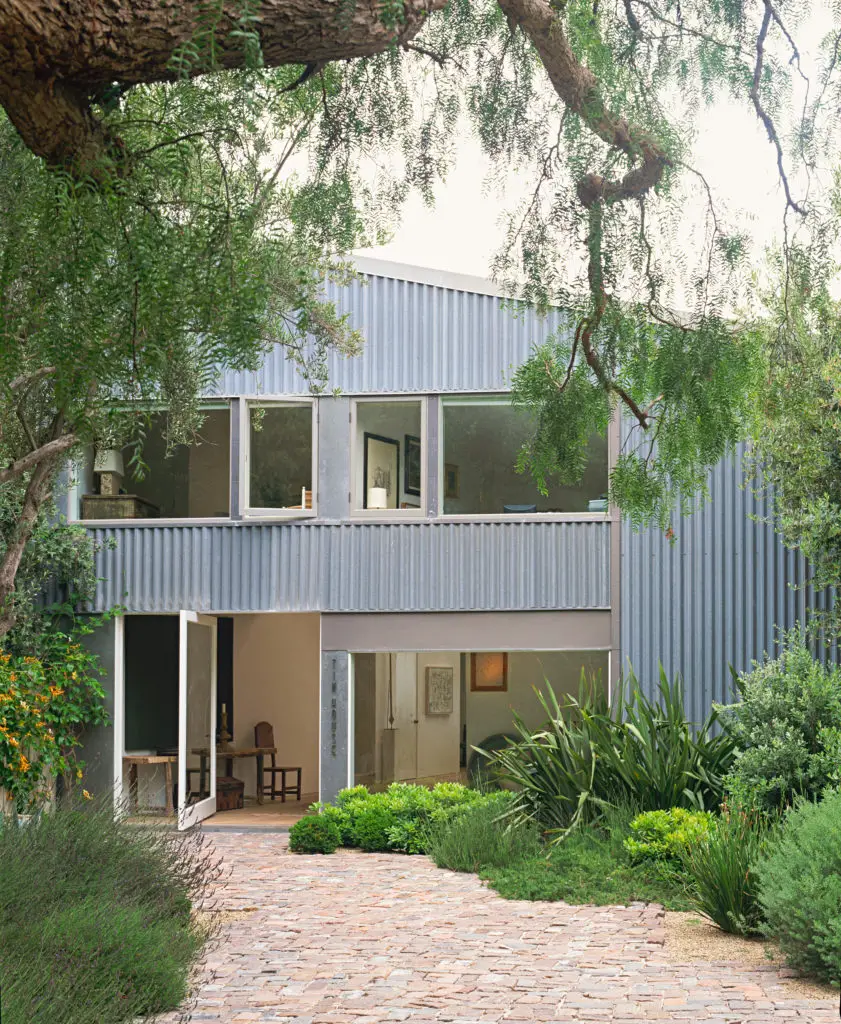 What advice/recommendations would you give to someone looking to renovate their yard?
a. Gardens are not like interiors, they change over time and one needs to understand that concept. When an interior room is installed, the sofa and chairs don't grow and change during the year. Understanding the concept of change and maturity is really important when planning a garden.
b. Always understand the environment you're planting in. Coastal, mountains, and deserts, all have their very specific requirements and needs. Think about the plants as a group of friends that you have invited to a party when thinking about a plant palette. Some like to drink, some prefer to not and stay dry. Some need lots of room to express themselves, while others like a comfortable corner and prefer the company of many others. Some like to sit in the full sun while others prefer the shade.
c. It's most important for me to start from inside a home and work my way out. I need to first understand how the house flows and how I can hopefully encourage access and more outdoors though simple connections. Once a good understanding of the architecture is completed, one can then explore on how to emphasize its strengths and help soften harsh or missing. 
d. Always consider maintenance and water usage. Gardens mature over time and need water to make this happen along with good maintenance. Have a clear understanding of both with help to maintain a garden to its fullest.