Sometimes the natural environment of a location presents a perfect backdrop for designing a landscape to sync with a home. This was the case when Landscape Designer Julie Farris of XS Space began her collaboration with Khanna-Schultz Architects on a house in Watermill, NY. Situated within a gently wooded area, the landscape and plantings complement the modern home design, which all together present a weekend retreat for unwinding. Today, Julie shares the Watermill Project with us.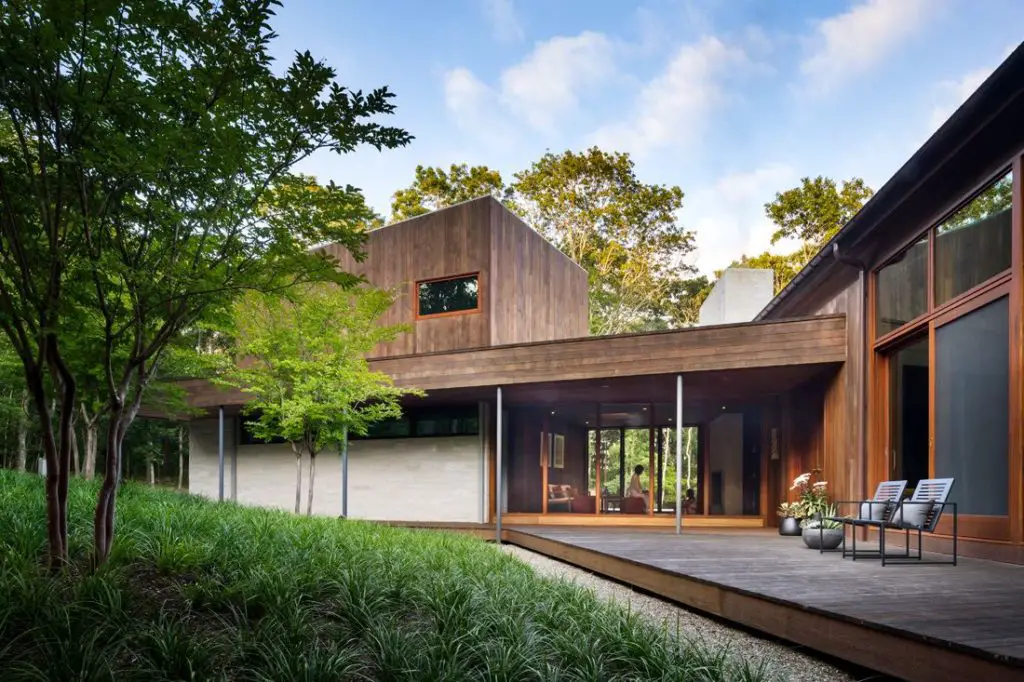 Can you introduce yourself?
My name is Julie Farris and I am a landscape designer living in Cobble Hill, Brooklyn. After graduating from Harvard's Graduate School of Design I worked in several larger firms in NYC before starting my own Studio, XS Space. When I first started my studio, I created various Public Art landscape installations in New York City, and collaborated with both The Public Art Fund and The NYC Department of Parks on transforming vacant lots into multi-media verdant spaces.
Now as there are fewer vacant lots to transform, my work is mostly residential in Manhattan, Brooklyn and the Hamptons — which I love. I've also had the incredible opportunity to work with an architectural firm, Sharon Davis Design, on projects in developing countries such as Rwanda and Nepal. More recently, I launched a new site, Landstylist, in order to make thoughtful and regenerating landscape design more accessible, with a more affordable DIY approach.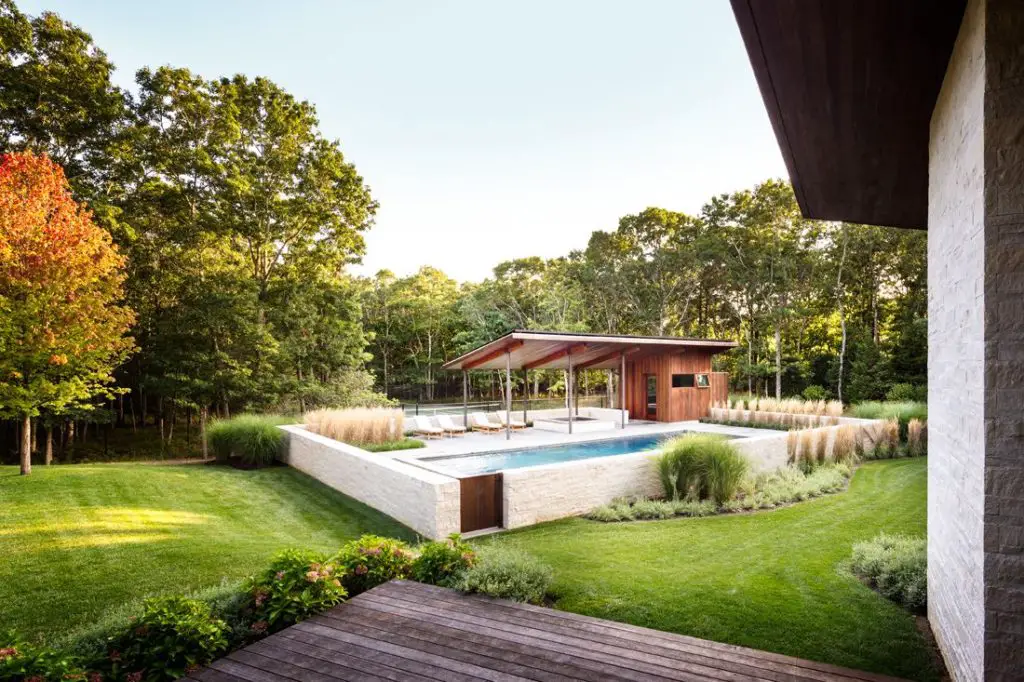 What was the overall vision – look, feel and functionality – for this landscaping project?
Few architects understand the importance of the connection between landscape and architecture. Working with Khanna-Schultz, the architects on this project, was a pleasure because they understood the importance of the relationship between the house and the landscape, so I was brought in very early in the process to make that connection with them. The end result of such a collaboration is that it actually serves to elevate your experience of both aspects of the project.
What inspired you during the project design process?
The house is a series of three volumes arranged around a courtyard. The volumes are connected in ways that create residual 'room-like' spaces. Each view from the house creates a frame onto these rooms in the landscape that are oriented differently and vary in scale.
The land itself, a gently wooded lot presented as somewhat of a neutral canvas, lending itself to a design of choreographed connections of layered spaces with focal points within each frame, which made the design process feel a bit cinematic.
In your opinion, how does this office celebrate the midcentury modern principle of integrating the outdoors with the indoors? What details were added to make spaces relate to one another?
The view from the house out onto the landscape was always considered primary, so you really feel the landscape within the house. As the architecture is modern and airs towards minimal, we kept the forms and lines of the landscape simple and clean. A plant palette was selected that varied in scale and subtle color, that is repeated throughout the project so it isn't busy.  The materials within the house – cedar and limestone – are chosen for a sense of continuity with the outdoors. 
How does the landscaping tie in with the architecture of this home? 
The house is arranged around three-sides of a man-made mound built from excavation fill.  The slope of the mound gives privacy to the house from the road and acts as a fictive 'found object,' anchoring the house to an otherwise neutral site.  With the mound as starting point, the rooflines inflect in unexpected ways, creating shifts in scale as you move around and through the house.
The house interior was developed in tandem with the landscape design, so that each room is associated with a programmed outdoor space. The pool and pool house sit on an elevated platform framing views back toward the main house. The pool house roof hides a 12 kw photovoltaic array, which works in tandem with other energy saving features such as passive solar design and high performance glazing and insulation.
How does the landscaping fit into the surrounding natural environment? why?
We were careful to select plants that do well on the East End of Long Island, so plants that like and are tolerant of sandy soils like Miscanthus, Rudbeckia, Calamagrostis, Yarrow, Grey Birches, Hydrangeas, Red Maples, Crepe Myrtles, and Liriope are all plants that thrive and require little maintenance.
In the wooded area we ran a 6' deer fence, and interspersed Cedars with Hollies and Viburnums where we wanted additional screening within the fenced area, and around the the edge of the woodland we planted Highbush blueberries shrubs in a sort of transitional zone between the grass and wooded zone to make it feel more natural blurring the boundary to the existing surrounding landscape.  
How long did the landscaping project last? Any major setbacks, and if so, what?
The installation took a few months, and there were no major setbacks. I attribute this to a fantastic landscape contractor. Summerhill Landscapes installed the project, and it was a pleasure to work with them.
What is your favorite detail of the landscape and why?
There's a small garden off one of the rooms that initially had been conceived as a walled garden with a small water feature. When the water feature was eliminated from the project, it forced me to think of something a bit more economical yet something as a focal point to offer a sense of scale. We used a steel edge and densely planted calamagrostis grasses in a square volume, that functions as a sort of kinetic sculpture in space. The grasses look like wheat and sway with the wind. It's simple and much more economical and lower maintenance than a water feature.
What advice/recommendations would you give to someone looking to renovate their yard?
I'd say that sometimes perceived challenges or liabilities can be used as opportunities for problem-solving mixed with an aesthetic benefit. I also always favor quality over quantity. So if you can only afford so much, spend it on a material or object that will last, rather than spreading your budget out over materials and elements that will not weather well over time.
Lastly, I think editing is important–and the ability to use restraint is harder than it may seem. But I think if you are able to pare things down, it can often create a  more powerful experience, and therefore appreciation of a space.