Maria and Lloyd are the proud owners of this mid-century family home in Vancouver.
As so often happens with mid-century houses, the couple immediately fell in love with the property and knew from first viewing that it was going to be their home.
When beginning the delicate process of restoration, they spent time researching the architect and the original construction materials used, in order to keep the design as close as possible to the architect's original vision.
Now they have decided to sell their beloved mid-century home and have chosen us to help to spread the word. In doing so, they hope to find new owners who will continue to love, maintain and respect this house for years to come. Read more about what it feels like to own and love a mid-century home and check at the end of the interview for more details about the property.
First of all, could you tell us a little bit about you?
We are both self-employed professionals who were born and raised in Vancouver. We have two school-age children.
Following on from that, what brought you to living in your house and what drew you to the mid-century style?
Mid-century architecture has always appealed to both of us. As soon as we walked into this house, we fell in love.
It's on a quiet cul-de-sac on a large lot (both very rare for Vancouver) and yet minutes from shopping, restaurants, schools and the airport. And, as a bonus, we later learned from the seller that our house was featured in Western Homes and Living in the 1950's (1957).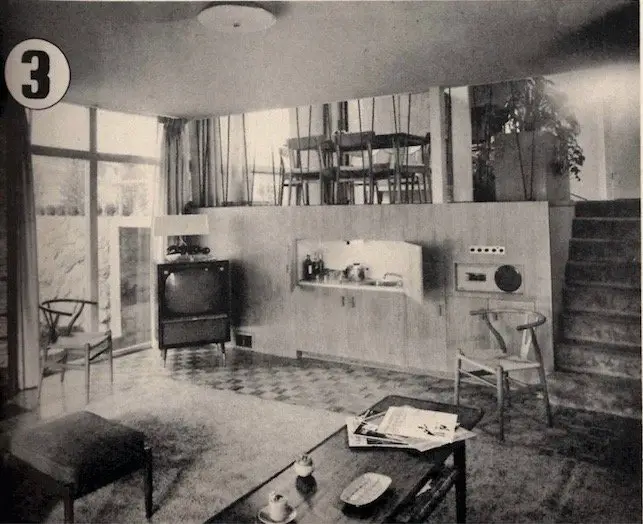 What do you think was special about this period in American design?
The angled roof lines, lots of windows to let in plenty of natural light, simple, open-concept interior, exposed beams and in our case, beautiful indoor/outdoor continuous stone floors and unique fireplace design.
What do you know about the architect who designed your house?
Kenneth McKinley enjoyed a prominent career as partner in West Vancouver's Underwood, McKinley, et al, starting as a registered architect in 1950. He passed away in 2005 and was an active contributor to Vancouver's architectural landscape.
What aspect of this house made you decide to buy it?
It simply felt like "home" and our children at the time loved it immediately, affectionately calling it our "forever home".
The formal living room is very large, as is the kitchen; being the sort to entertain often, we really loved those two aspects.
Have you had to renovate any part of the house, if so, what area?
Yes, unfortunately the 80's were hard on this house. We've done what we could afford, new lighting and carpeting, doubled the backyard space, added air-conditioning, rebuilt the back deck and updated the roof. We also expanded the laundry room, created a retro feature wall in the family room and landscaped the entire property.
Having said that, we did bring our architect in to draw up a set of expansion plans, in case we ever decided to go beyond landscaping and updating the fixtures.
Many mid-century house owners struggle between updating the original fittings or replacing them. What is your view on that, what would you recommend?
We prefer the original fixtures but where we live, they can be hard to find. In lieu of that, we do a lot of research to find new versions of the originals and stay as true to the 50's as possible. It's a labour of love but well worth the time and effort, we believe.
In addition, period furniture, reproductions and new, retro-designed furniture all help in enhancing the original architecture.
The extensive use of floor-to-ceiling windows is a distinctive element of the house. Have you encountered any problems in maintaining them?
No. That's one of the original features that we still have. The only challenge was finding window coverings that would work.
We opted for cordless blinds that match our paint colour. Each one can be raised or lowered so that we can let the light in or block it out day or night. A long-handled squeegee helps with washing the top windows!
Last but not least, what is your advice for people interested in buying a mid-century house today? What they should pay attention to and why?
Make sure you find sellers who share your passion for this beautiful architecture! They will be a wealth of advice and tips on getting the most out of the house. Understand that the lines of the structure are everything to what pleases people about this style of architecture.
If the house doesn't seem "big" enough, partner with an architect who can help design an addition or expansion without ruining the lines of the house. Finally, be prepared to host a lot of your friends. There is a magical element in the mid-century style and it really grows on people.
Personally, we found many of our friends gravitating toward "hanging out" at our place and we were always thrilled to oblige!
From the seller:
"Any historical analysis of Vancouver real estate proves land only appreciates and with a character mid-century home built upon it, this is the ultimate investment!"
For sales enquiries and more info on the listing, click here.
House Specifications:
4 Bed | 3 Bath | 2 Vehicle Carport
Lot size: 11,638 sqft | Home size: 2,869 sqft
Nearby Schools:
Crofton House Private School
Kerrisdale Elementary
Point Grey Secondary
Brought to you by:
Photos by Angus Macgillivray