When looking for a (mid-century) house to buy, many of us look for a lifetime investment or perhaps a house for our growing family.
However, many are also just looking for a quiet retreat, preferably not too far from their main city dwelling. The owner of this mid-century house in Falls Village, CT, did just that.
The property fits perfectly into its surrounding natural landscape. Not only because of the floor-to-ceiling windows which flood the interior with sunlight, but also because of the perfectly preserved wood panelling covering almost every wall and ceiling.
Coupled with the affordable price tag, these features make this house a real hidden gem.
See at the end of the interview how to ask for more details.
First of all, could you tell us a little bit about your background?
We are floral designers with bespoke clientele in New York, the Hamptons and beyond.
How did you come to live in your house and what drew you to the mid-century style?
A friend owned the property and when he relocated elsewhere we jumped on the opportunity to own this beautiful house. We always played with the idea of living surrounded by nature, outside the city, and what better than living in a glass encased home? Clear lines, unobstructed views of the rolling hills within a ten acre property.
What do you think was so special about this period in American design?
The departure from enclosed and cluttered living achieved with smart architecture. We love how functional mid-century homes are and the inside-outside connection.
What are the advantages/struggles of living in a mid-century house?
Mid-century houses have a beautiful design from every angle: clean and minimal yet functional living.
However, the design is what it is and can not be altered or changed easily without ruining the house's pure intentions. Everything has a place and purpose thus making it hard to expand.
Mid-century houses are known to be smaller in size than average modern houses. However, in recent years more and more people are looking to downsize and live in a sustainable way. After all the years you spent in a mid-century house, what's your view on this?
Space can be challenging but the layout is generous and rooms practically flow into each other: the space seems and feels much larger than it actually is.
The extensive use of wood is definitely a distinctive element of your house. Have you encountered any problems with maintenance?
We have not experienced any problems or issues. It is actually quite amazing at how durable the wood is on in the interior. Today, it can be very expensive to have such beautiful, clean and super hard wood. All we do to maintain is dusting. We never used wood polish or cleaners.
What do you think is special about your house and why?
Living 'green' with the seasons. The large expanse of glass allows you to practically partake with the outside at any given time.
Also, the simple and open floor plan spoke to us when we choose this property.
What is your favourite part of the house and why?
The large glass walls. Living feels light and uncomplicated.
Last but not least, do you have any tips for people interested in buying a mid-century house today? What should they pay attention to and why?
There are not many left and most buyers seem to want to tear them down, which is a shame. They are an important piece of history and were way more future forward that most houses built in the last 60 years. I suggest to grab one when you see one.
Specially our house, as a get away less than two hours from bustling New York City, is the ideal respite.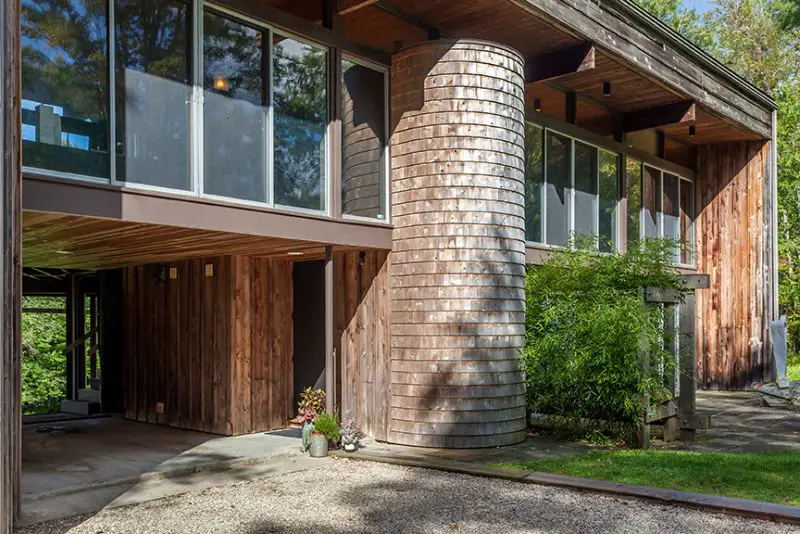 House Specifications:
Town: Falls Village, CT
Price: $465,000
Rooms: 5
Bedrooms: 2
Baths: 2 Full, 1 Half
Acreage: 10± acres