Text from Northern Edge Studio
We had the opportunity to beautifully restore this midcentury house built in the foothills of Adelaide. The principal focus of this project was to restore this classic midcentury house built in the foothills around Adelaide in 1962. The original design intent of the house was relatively sound, it was oriented to maximise the spectacular views and the extensive use of locally quarried bluestone, combined with pink sandstone was truly unique.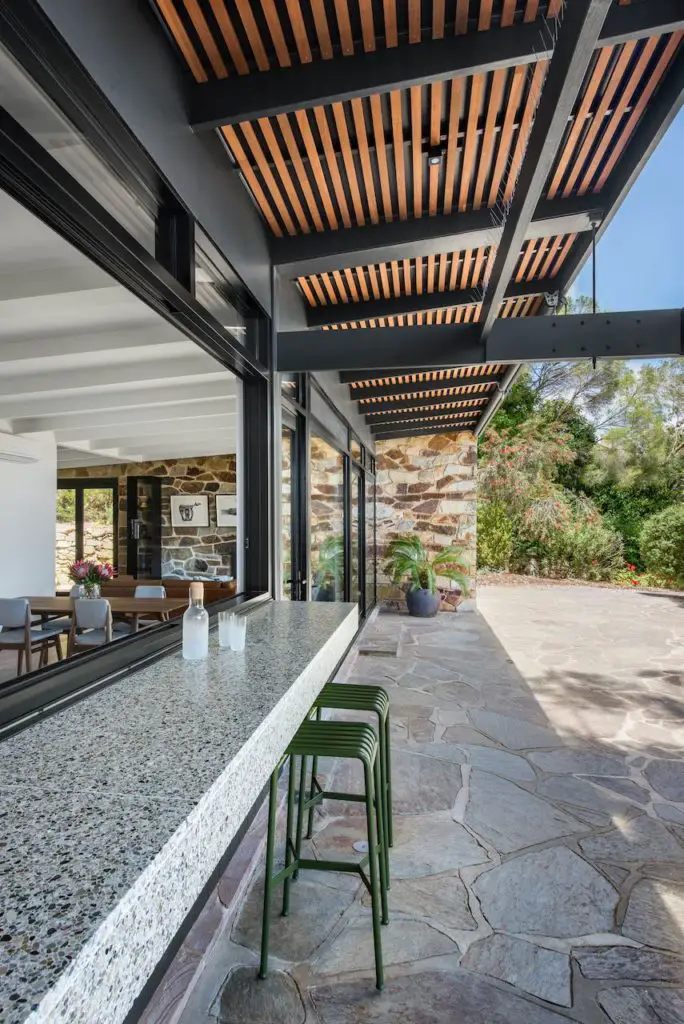 Our Clients came to us with an appreciation for the house's architectural and historical value and their initial brief was simply to modernise the windows to insulate against the extreme Adelaide weather and take better advantage of the panoramic views.
Our approach was to work within the original footprint, combining the existing three small bedrooms into two larger bedrooms, a walk-in wardrobe, generous storage and a light-filled study with a better connection to the open plan kitchen and dining. The cold and segmented midcentury windows were replaced with contemporary modern glazing to fill the home with light and greatly improved thermal performance. We also increased the opening to the main bedroom to capture the northern aspect with a box window that also created additional space within the bedroom.
In conceiving the palette and design details for the project, we were conscious of maintaining restraint. We worked with materials and colours that accentuated the link between inside and out and complimented the existing features, such as the stone blade walls. One of the most rewarding aspects of this process was in the rapport that we developed with the client resulting in entrusting us to create a holistic connection from architecture through to selection and curation of furniture and accessories throughout.