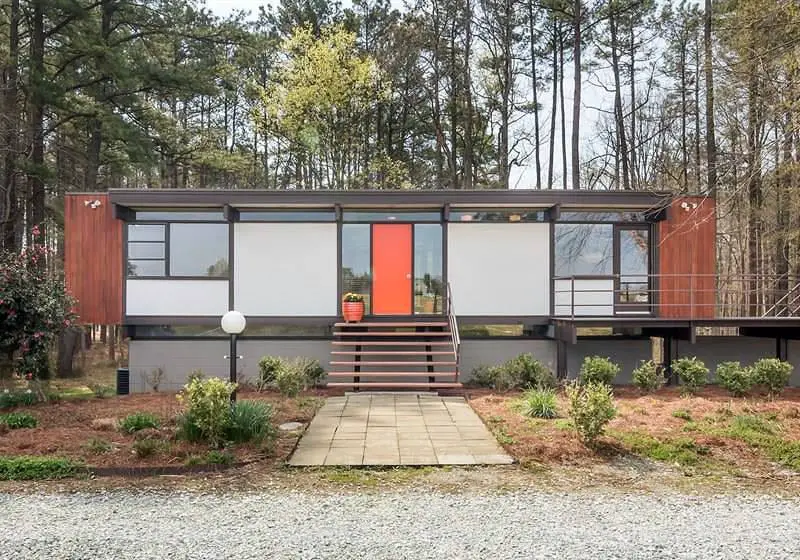 Designed in 1954 by prominent Japanese-American architect George Matsumoto, the Poland-DeFeo house is a showstopper. Known for his modernist style, this midcentury home could very well be a contemporary construction, which points to the brilliance that defines Matsumoto's craftsmanship.
The Poland-DeFeo house was initially located in Raleigh, NC but faced the threat of demolition during the late 1990's as a result of rapidly growing development in the area. After being donated to Preservation NC, under the supervision of Don DeFoe, the home was transported to Bahama, NC.
Word has it that the 30 mile journey took four hours, luckily arriving on site in one whole piece. Here, the home was restored thoroughly to all its splendor by architect Ellen Cassilly. Various alterations were made to the construct, however, Cassilly remained considerate to the original composition.
Elegant stairs lead up to the Mondrian style facade, enhanced by its bright orange door. In addition to multiple windows, large shōji-style screens bring a delicate Japanese-influenced element.
Resting on a 23 acre lot, the two story home utilizes space to its fullest potential. Each cantilevered end of the house is wrapped in cypress siding, providing a refined contrast to the horizontal middle bit as well as otherwise black beams on the exterior.
The interior of this midcentury treasure is as much graceful as it is resourceful. Unobtrusive shelves make up an entire wall at the end of the open plan living space while assertive post and beams provide the space with a beautiful mahogany glow.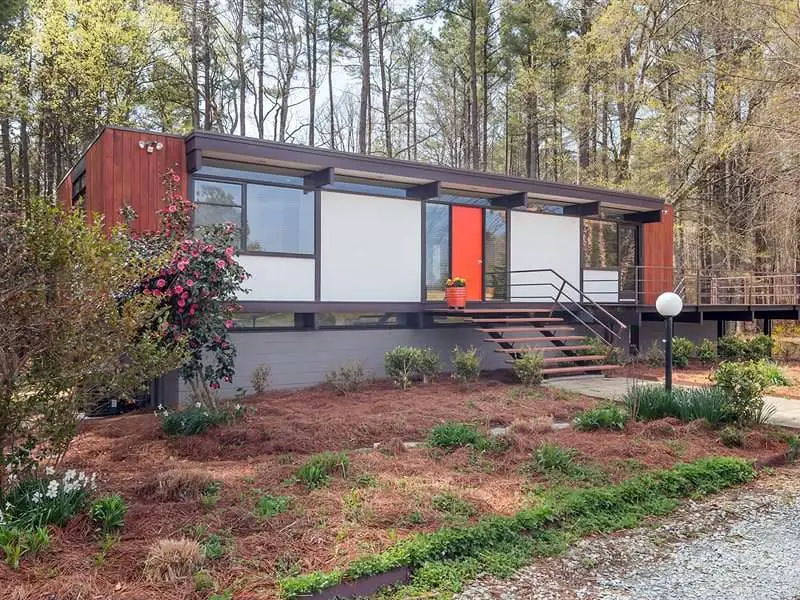 At the back, the house transitions from indoor to outdoor through a stretch of floor to ceiling windows, maximizing the flow of natural light to the inside as well as providing views of the surrounding landscape. Doors open to a glazed balcony, which hangs cantilevered over the main block of the building. This balcony bit is the only 'corridor' in the building, a trademark of Matsumoto.
A basement apartment was added to the original floorplan. Here too, floor to ceiling windows draw in natural light and a pair of doors permits easy access to the yard.
This stunning house was listed on the National Register of Historic Places in 2004 in addition to winning a reputable Merit Award from AIA North Carolina.