This midcentury modern gem is the stunning produce of prolific American architect Edward Fickett's craftsmanship.
Built in 1954, the iconic home has since undergone a few minor alterations but overall remains on par to modern standards. Recognized by the city of Los Angeles, the Hollyridge Drive house was allocated as a "Historic Cultural Monument".
Seeing the house online at first, homeowner Frank was in love with the midcentury home before having the chance to set eyes on the live version.
Excellent care for the house in combination with a Southern California lifestyle have given this property its gorgeous, tenacious midcentury character. We caught up with Frank to find out particularities of the house, which is now listed on the market for sale. More details at the end of the article.
How did you come to live in your house and what drew you to the mid-century style?
It was love at first virtual sight. We actually made an offer before physically seeing the house.
Los Angeles is the epicenter of mid-century modern design, and this house epitomizes the style. We love the clean open lines and relationship of inside and outside.
What do you know about the architect who designed your house?
Edward Fickett, AIA, is perhaps best known for his Eichler homes, but he also was a prolific designer of custom houses (including for celebrities in the day, e.g., Chaplin, Groucho, numerous others), especially in the Hollywood Hills and Beverly Hills.
He is less well-known but in the same school as Schindler and Neutra. The architectural significance of our house has been recognized by the city of Los Angeles which has designated it a "Historic Cultural Monument" with special tax benefits.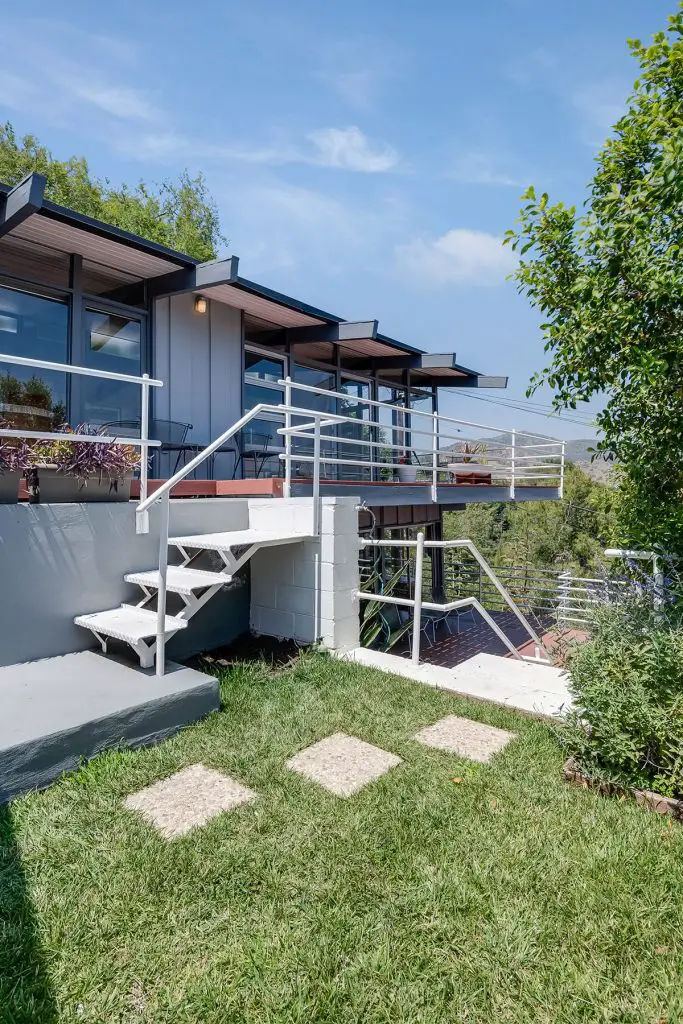 Have you had to renovate any part of the house? If so, which area(s)?
The house was designed as a pied-a-terre. Subsequent owners added a downstairs bedroom and bathroom and further opened up the main living/dining area.
We made some minor changes in the attached garage. Even though the house was built in 1954, the design has stood up remarkably well to modern lifestyles.
What do you like the most about living in a midcentury house and why?
We like the open floor plan, indoor/outdoor living, and expansive views afforded by wall-to-wall glass.
The streamlined open kitchen makes entertaining easy. Simple features like roof overhang and clerestory awning windows allow open-air living much of the year.
What's your favourite part of the house and why?
The main living-dining-kitchen area flows naturally to the outdoor deck with fabulous downtown, Hollywood, and Griffith Observatory views.
This, and the small yard/flower garden oasis, are our favorite features.
The house features stunning views and in many rooms feels like there's no separation between inside and outside. How much of a difference does this make compared to a more traditional layout?
In a more traditional house, outside is outside and inside is inside. In our house, the two meld, accommodating a truly Southern California lifestyle.
Some midcentury houses don't age well. Have you encountered any problems with maintenance of your house? Would you share some best practices?
If you do regular common-sense maintenance, like we did, maintenance never becomes a big issue.
Last but not least, do you have any tips for people interested in buying a midcentury house today? What should they pay attention to and why?
The midcentury style has proven its durability; find one that has been lovingly cared for, and it will last you a lifetime.
A word from the real estate agent:
"This Edward Fickett designed home features walls of glass, affording for some of the best views in Los Angeles"
Jay
Tremaine, Douglas Elliman Real Estate
House Specifications:
2 Bed | 2 Bath | Mills Act  |  Panoramic Views 
Lot Size: 6778
Price: $1299000