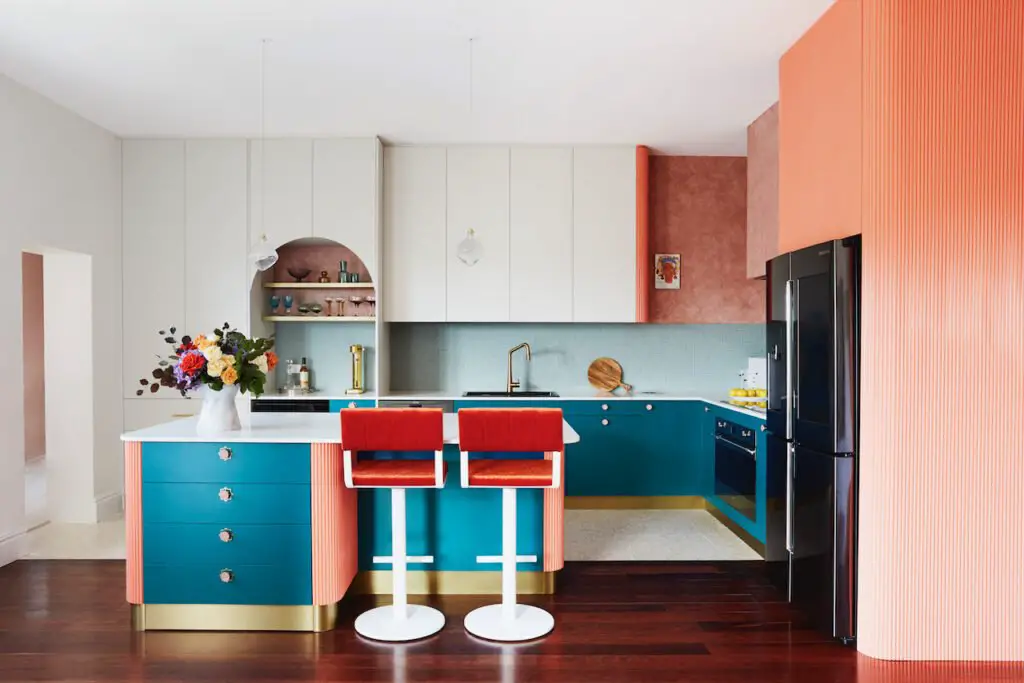 In a delightful home renovation project, the goal was to breathe new life into a house with a small, lackluster kitchen and an underused bathroom. 
To achieve this, designer Lara Ette and her team knocked down the wall that separated the kitchen and the bathroom, creating a larger, more functional space. The objective was clear: the new kitchen should mirror the client's exuberance.
However, the project came with its set of challenges. Renovating only a couple of small spaces can be an inefficient process, often extending beyond the expected timelines. The joinery component was particularly demanding, leading to compromises in finish selections due to high costs. 
Before the renovation, the kitchen and laundry areas were rather lackluster, featuring a monochrome scheme with stainless steel highlights. The ceiling design was both busy and confusing, as it lowered over the kitchen without any apparent reason. 
The bathroom, which was rarely used, was situated next to the kitchen, leading to an impractical layout due to a swinging door that obstructed both the fridge and the kitchen entrance.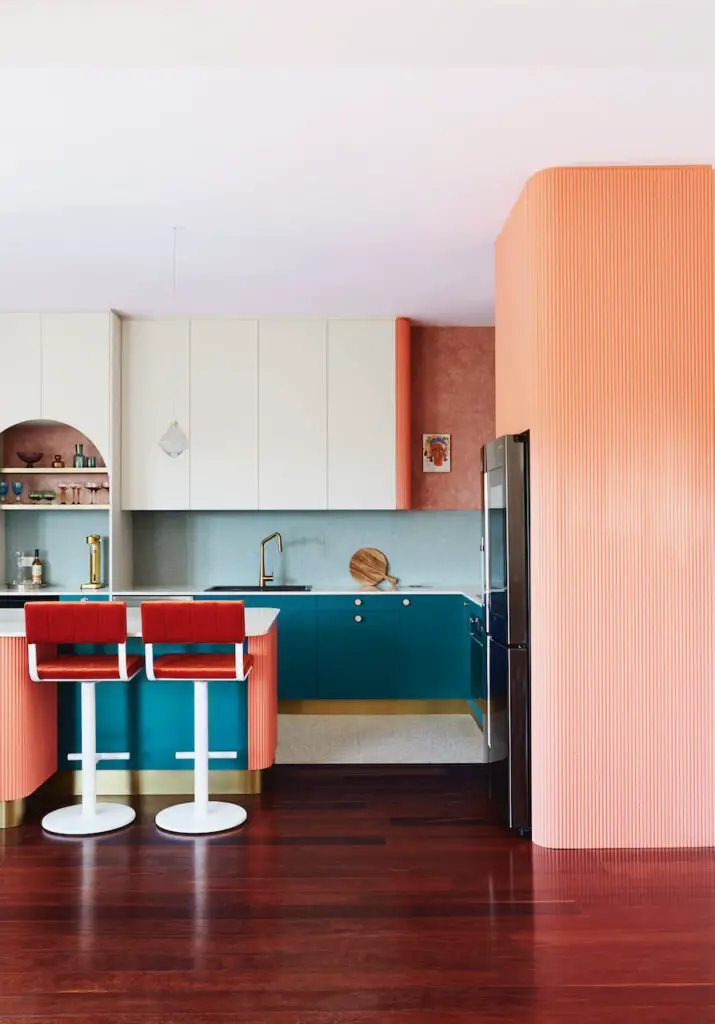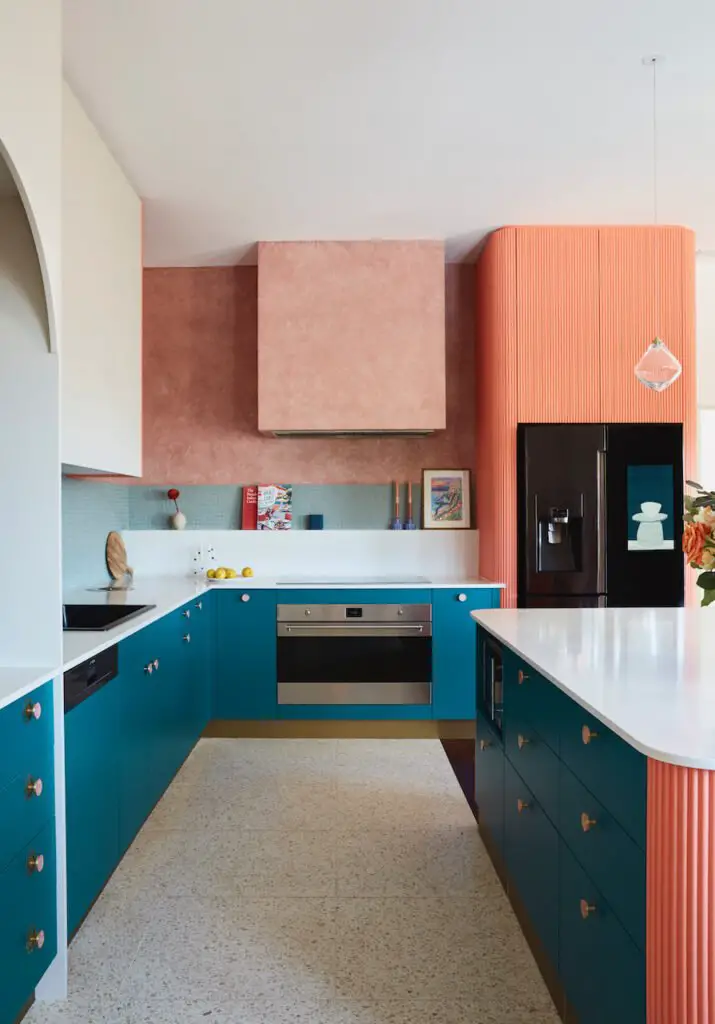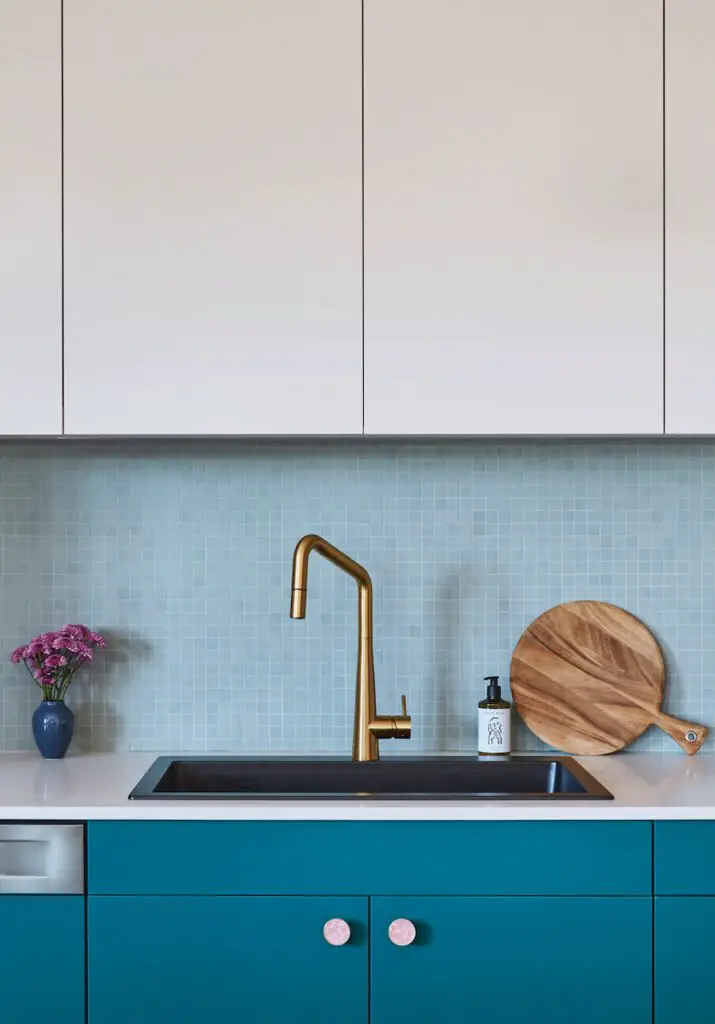 The highlight of the renovated home was the unique and bold design, where functionality was the core focus. The choice of terrazzo for the flooring was a nod to cultural memories, while the deep sea-blue teal color of the cabinets was a tribute to the client's love for the ocean. 
Brass accents added a touch of playfulness and elegance, and the wall's "flowerpot" color and ombre effect created a vibrant atmosphere. Curved elements were introduced to balance the home's rectilinear architectural shapes, resulting in a harmonious blend of form and function.
Midcentury design played a pivotal role in this project, as it provided a timeless and functional aesthetic. It allowed the freedom to mix materials, combining organic elements like brass, rich velvets, and acrylic handles with geometric shapes and textures like the terrazzo floor tiles. 
The design style evoked nostalgia, offering a connection to the past while inviting visions of the future.
For those interested in midcentury design for their homes, the Lara advices to play with color and embrace the freedom to create a nostalgic atmosphere. Always prioritize functionality in your design choices. Don't be afraid to mix forms and materials, and most importantly, have fun throughout the process.