This contemporary home design in Palo Alto, California, aspires to 'experience the outdoors from within'. The strong and clean cut composition was completed by Ehrlich Yanai Rhee Chaney Architects (EYRC) as a study with an emphasis on craft. The Waverley Residence was designed for a young couple and covers a whopping 5,000 square feet of space.
Matarozzi / Pelsinger Builders, Kristy Will Design (interiors) and Blasen Landscape Architecture each played a role in dreaming up this modern style home, custom designed to fit the needs of the clients.
The home is split into three main sections, which include the first floor, second floor, and basement area. The first floor accommodates the open plan living, dining and kitchen areas as well as the private rooms on one end, all wrapped in an elongated hand-fired brick. The bricks are laid out horizontally, emphasizing the lines and shape of the architecture.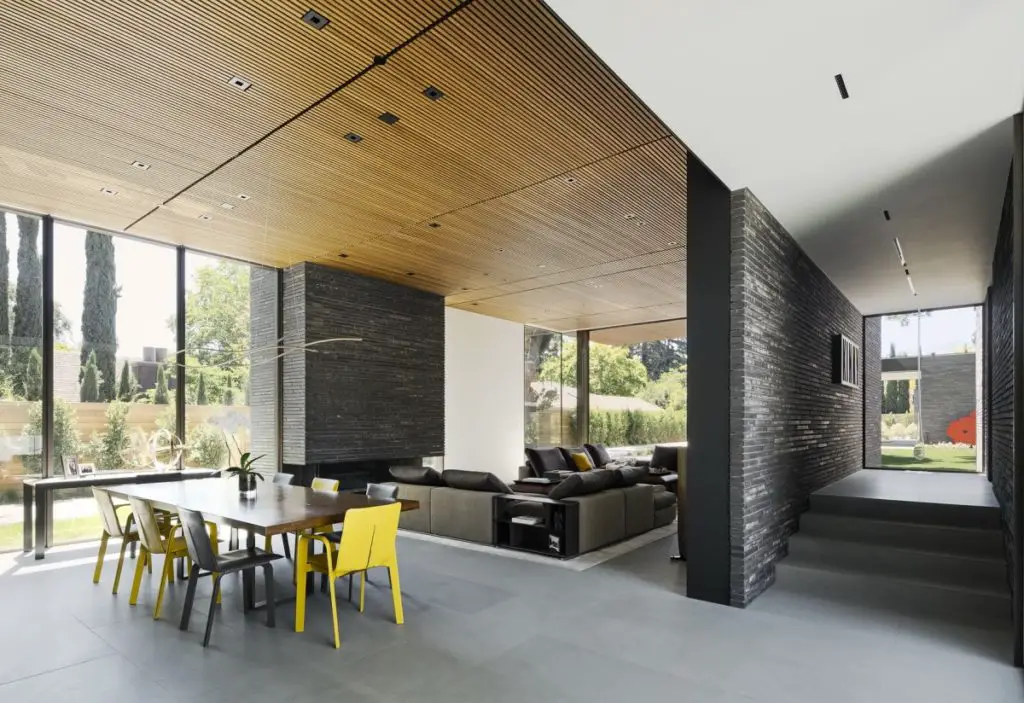 While the facade of the home is designed to hide the interiors, the other sides of the building make use of floor to ceiling windows, inviting plenty of natural light to flood in while strengthening a connection between the indoors and outside.
The other end can be entered by way of an exterior trellis, which connects the main house to a freestanding fitness and yoga studio. Next to this, the area also makes room for a backhouse for guests, which comes equipped with a kitchenette.
The studio is formed by a dramatic mass of stone that opens up to both sides, creating an indoor space that completely ties to the landscape and the outdoors. Whether it rains or shines is not an issue and the landscape of native Californian greenery is at hand at all times.
The surrounding trees prodive this home with privacy from street view. Only the second floor, which features walls of glass, allow a glimpse inside the Waverley Residence. Inside, this segment of the home contains a study as well as a walk-in closet. So as to truly make use of all the spaces the building offers, the study opens to a rooftop area featuring a wooden deck. A fire pit surrounded by chairs provides an additional space for cosy evenings among friends and family.