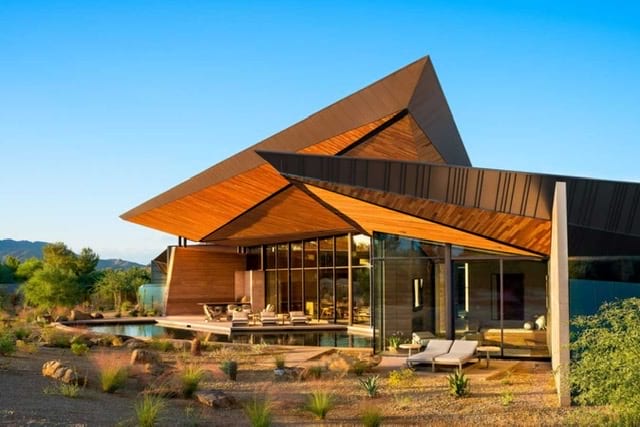 In between the desert and mountain views, The Dancing Light Residence is a spectacular sight. Defined by its dramatic floating roof canopy, the impressive one storey residence was built to serve in the hot, dry climate of Arizona's Paradise Valley.
Completed in 2016 by Arizona firm Kendle Design Collaborative, The Dancing Light Residence spans over 5,600 square feet. In addition to contributing to its theatrical appearance, the far-reaching angled roofs offer protection and shade from the extreme heat. 
The local geology as well as monsoon cloud formations are the inspiration behind the roof's design. Because of the angled position of the pieces which form the roof, the interior living spaces remain low, ascending towards the surrounding mountain views.
Kendle Design Collaborative have carefully calculated the positioning of each indoor and outdoor area with regard to the hot, dry desert climate of Arizona. Various 
Several lounging areas surround the pool, which, at certain times of the day, reflects light from the water over the surrounding textures of glass, wood and broken patches of desert. This flickering of water-reflected light, the pouring in of natural light in addition to embedded lights for night time use characterize The Dancing Light Residence.
The outside continues in through massive glass doors, which slide open from the poolside to the inner dining, living, kitchen and kitchen areas. This central part of the house is the atrium, around which two wings on either side accommodate private bedrooms.
The interior color palette is in tune with the geology and climate of the Arizona Desert; sandy, grey and wooden tones embellish the living areas with accents of black here and there, providing a sleek contrast.
Inside and out, this contemporary home design is ultra modern including multiple striking features. Back in the kitchen, the kitchen equipment is stationed inside a space behind cabinets sided with an L-shaped industrial coffer, resulting in a tidy, semi mechanical demeanor.
Every room of the house enjoys generous views of the surrounding landscape, including the two bathrooms. In one wing, two bathrooms with floor to ceiling glass lookout over the desert terrain while in the other wing, a master suite with its own bathroom includes a glass-enclosed garden.