This gorgeous midcentury modern home is a nature lover's utopia. Settled in the thick of Bainbridge Island's woodlands, the post and beam waterfront residence basks in stunning views toward Washington's Olympic National Park.
Completed in 1965, this forest retreat was originally designed for structural engineer Jack Christiansen. Thanks to mindful maintenance, it appears untarnished, the building's earthy exterior harmoniously blending into the surrounding landscape.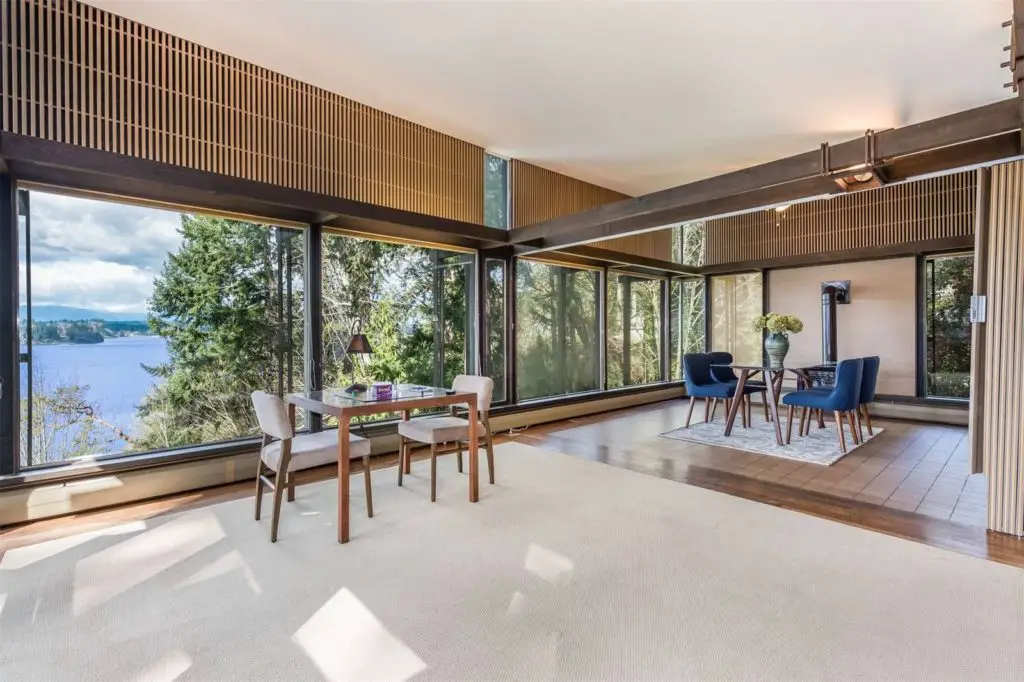 The two-story main building entertains two living spaces; upstairs, the larger living rooms bountiful glass windows reveal breathtaking views of the surrounding nature, initiating an enchanting indoor to outdoor connection. Glazed doors lead the way from inside to a sizeable wooden deck, from which the view toward Olympic National Park can be enjoyed in open air.
In addition to three bedrooms inside the main building, a master suite is found to the left, connected by a glazed hallway. The aforementioned wooden deck also reaches the master suite, connecting the two buildings. In addition to its own pair of glazed doors, the stylish master suite gets its fair share of natural light and views of the surrounding scenery through plenty of large vertical windows.
Back in the main building, Japanese-inspired beams adorn the homes interiors, above the windows upstairs as well as dressing up a wall of the smaller family room downstairs. A brick wall fosters a cosy fireplace and earthy tones from wooden flooring to sandy hued furniture emphasize a natural vibe.

The natural vibe flows throughout the entire building; natural wood cabinetry in the kitchen, clean tones of white and cream on walls and furniture give the interior a fresh and pure feel, fitting to its location.
With plenty of sitting areas spread through the two stories, this midcentury modern home offers plenty of freedom and open space even when accommodating larger groups of people. Space friendly shelving units incorporated into the walls of the bedrooms and living areas are a clever way to keep the home clutter free.
Spanning over three acres with two lots and 175 feet of private beach access, this amazing home was offered at $1,375 million.