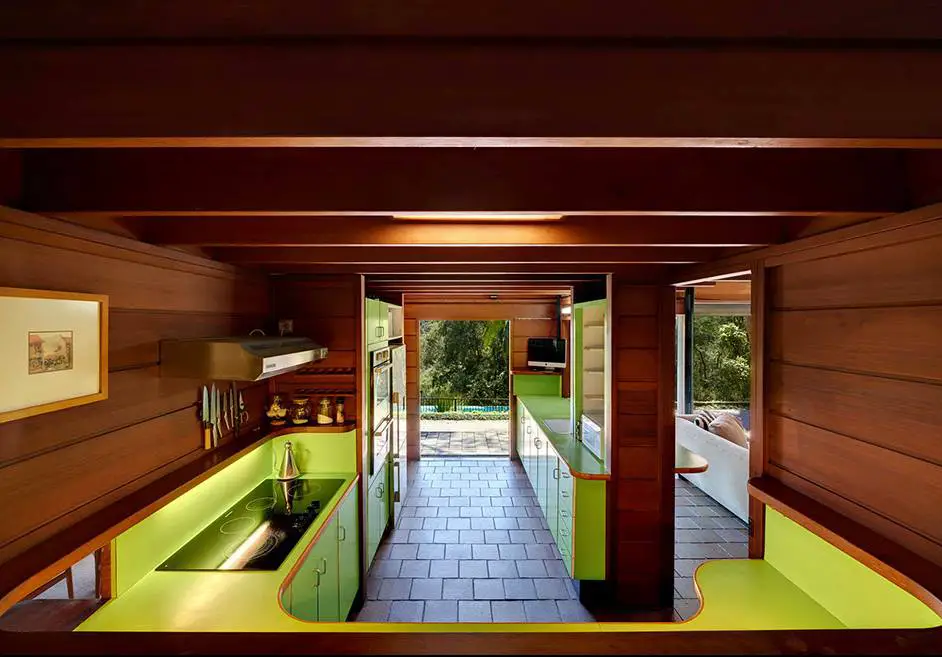 It brings us great pleasure to see brilliant homes carry on throughout the years, living on untarnished thanks to the love and care that is put toward their wellbeing. This architectural masterpiece by Richard Leplastrier is a perfect example of a shipshape modern house overflowing with personality. 
Nurtured by the mild climate of Bayview, a suburb in Sydney's Northern Beaches region, the home's green vaulted roofs and wooden exterior hide the home into the beautiful surrounding nature.
Designed in the early 1970s, the home was built for a large family, stretching over 4,078 square meters of land. The blueprint of the home displays bedrooms to the left from the entrance, the spaces linked by long, narrow corridors. The living and entertainment areas of the house are found to the right, from which similar narrow corridors lead further into office space and garages.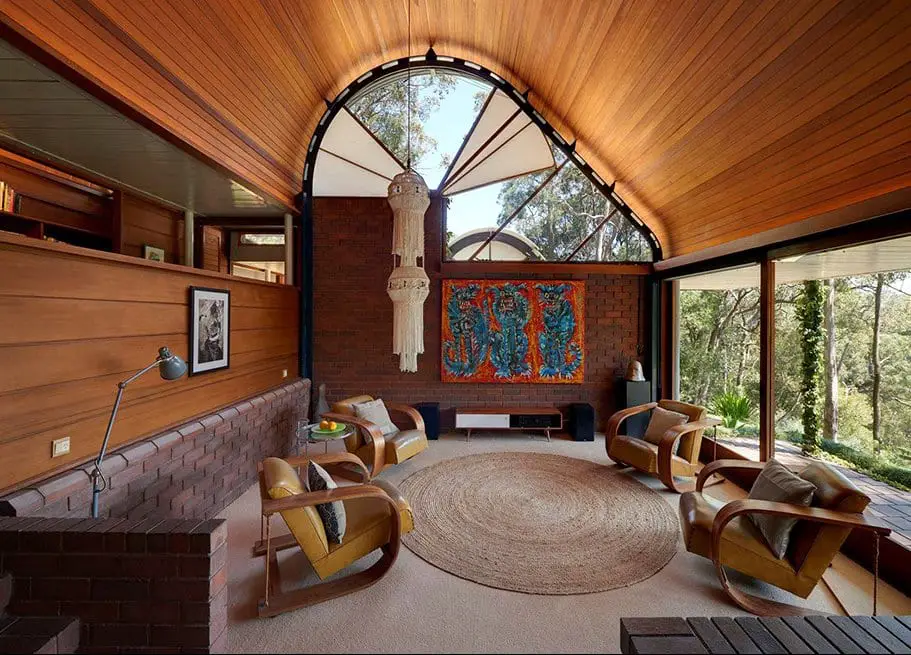 This home has countless unique details, for example, the living rooms open fireplace met with passive ventilation, the kitchen's eccentric lime green outfit, not to mention the dramatic layout of the gardens and pathways surrounding the building.
With soaring five meter ceilings, this home embraces a lofty feel. Ladder style stairs lead up to a higher platform from the main living room space. Up here, skylights and laid back sunbeds create an ideal spot for laying back, relaxing and fully taking in the surrounding environment. Typical to midcentury modern style, lines between indoor and outdoor become blurred, where a sensory connection to the surroundings outside is created inside. 
While on the topic of sensory connection to the environment, this home has plenty more to offer on that front. High ceilings and skylights follow throughout the home's interior, allowing heaps of natural light to flow in. Thanks to the vaulted ceilings and placement of the skylights in the bedrooms, laying in bed comes with views of treetops and starry nights.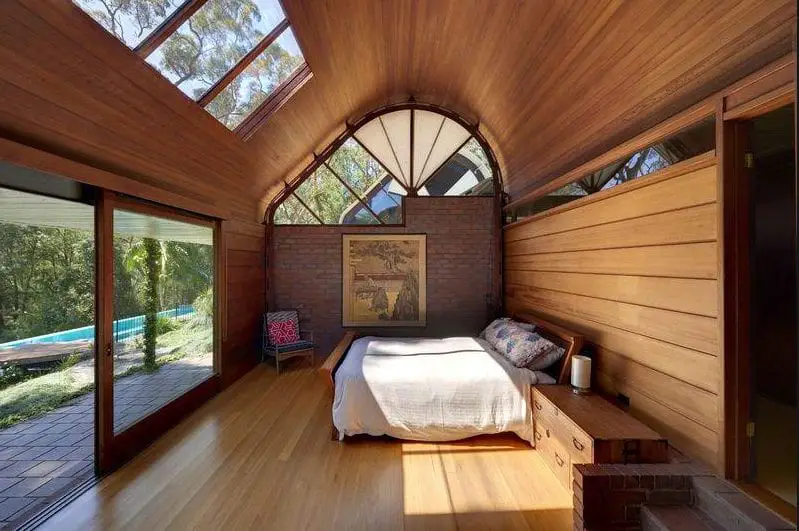 Large glass sliding doors open up to the backside of the house from bedrooms as well as baths, overlooking a long terrace running adjacent to the homes side. Beautiful views of Pittwater open far and beyond. 
If this doesn't already evoke a sense of paradise, the generous mosaic tiled infinity edge pool is sure to do so. With a spacious wooden deck to the side and pure nature in front, the indoor/outdoor living and deep immersion with nature is exquisite. 
This timeless design by Leplastrier is a masterful work of art!