We recently featured two works from Nonzero Architecture, a newly built house in the historical neighbourhood, filled with iconic mid-century houses designed by A. Quincy Jones, of Crestwood Hills and the renovation of an original Richard Neutra house.
Today we'll have a chat with Peter Grueneisen, founder of Nonzero, about his approach to architecture, how much modernist values still influence contemporary architecture, Richard Neutra work and much more.
What made you decide to become an architect?
Growing up in a family of woodworkers in Switzerland I was exposed to building and construction from a young age. It was certainly fascinating, but I was more interested in the bigger picture and in modern architecture and designing my own things.
Did the reality live up to your original hopes of what it would be like?
In some ways yes, but of course it is hard to imagine everything that is involved in being a practicing architect at the beginning of a career.
I was aware of the wide variety of tasks that are part of architectural practice, but it turned out to be even more diverse than I had imagined. It certainly keeps things interesting.
The one thing most architects are probably frustrated with is the very limited amount of time they can actually dedicate to design and I still find that to be a bit of problem.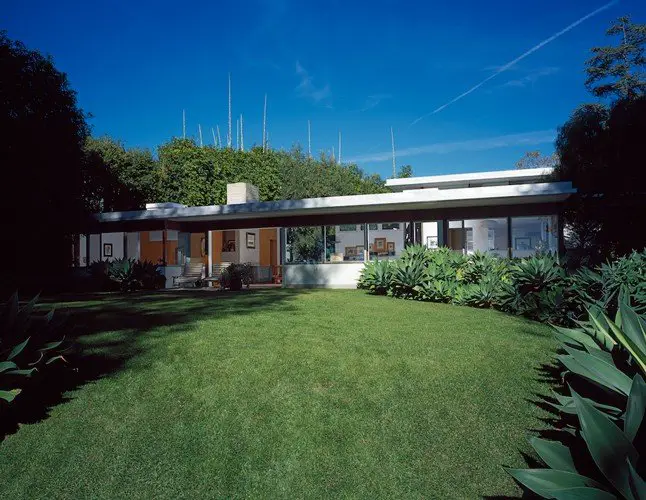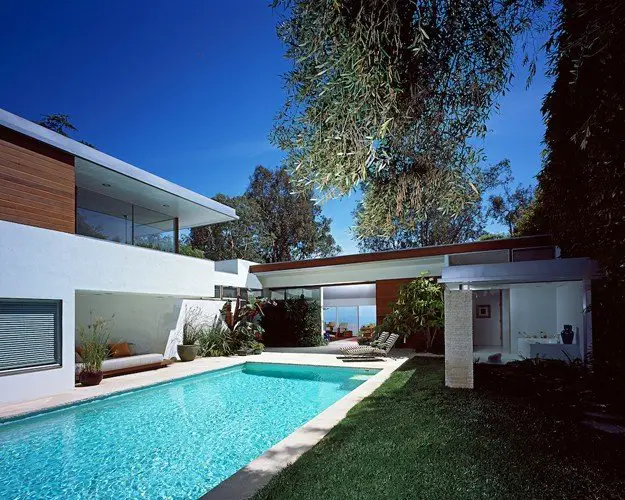 Your studio worked on restoring Richard Neutra's Freedman residence, what was your approach to the project? What challenges have you encountered during the restoration and which part/s of the process excited you the most?
We actually had two different clients throughout the duration of the project, which ended up taking many years.
The first round consisted mainly in improving the exterior surroundings, as well as bringing some elements back to a more original state by eliminating certain intermediate changes.
We really tried to imagine what the original intentions might have been and to work along those lines.
Photographs of the shed we designed and built were actually included in some publications later, and were likely assumed to be part of the original design, which we found quite interesting. We never meant to copy Neutra's work, but to emulate it and that seemed to have worked pretty well.
Both the first and the second owners were very sympathetic to the house and aware of its importance, so it was a pleasure working with them.
Once it was sold, the program included a more involved renovation, as well as the addition of a larger master bathroom and a second story. We struggled for a while with the question of how much we should try to blend it into the original building, or if we should make it quite distinct from it. In the end we again tried to emulate much of what was there by extrapolating it and by staying fairly close to the design approach we thought Neutra himself might have taken.
SEE MORE: Richard Neutra's Unassuming Freedman House Newly-Renovated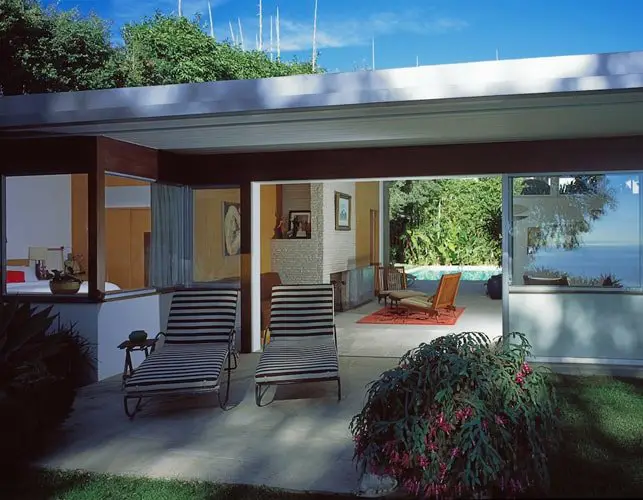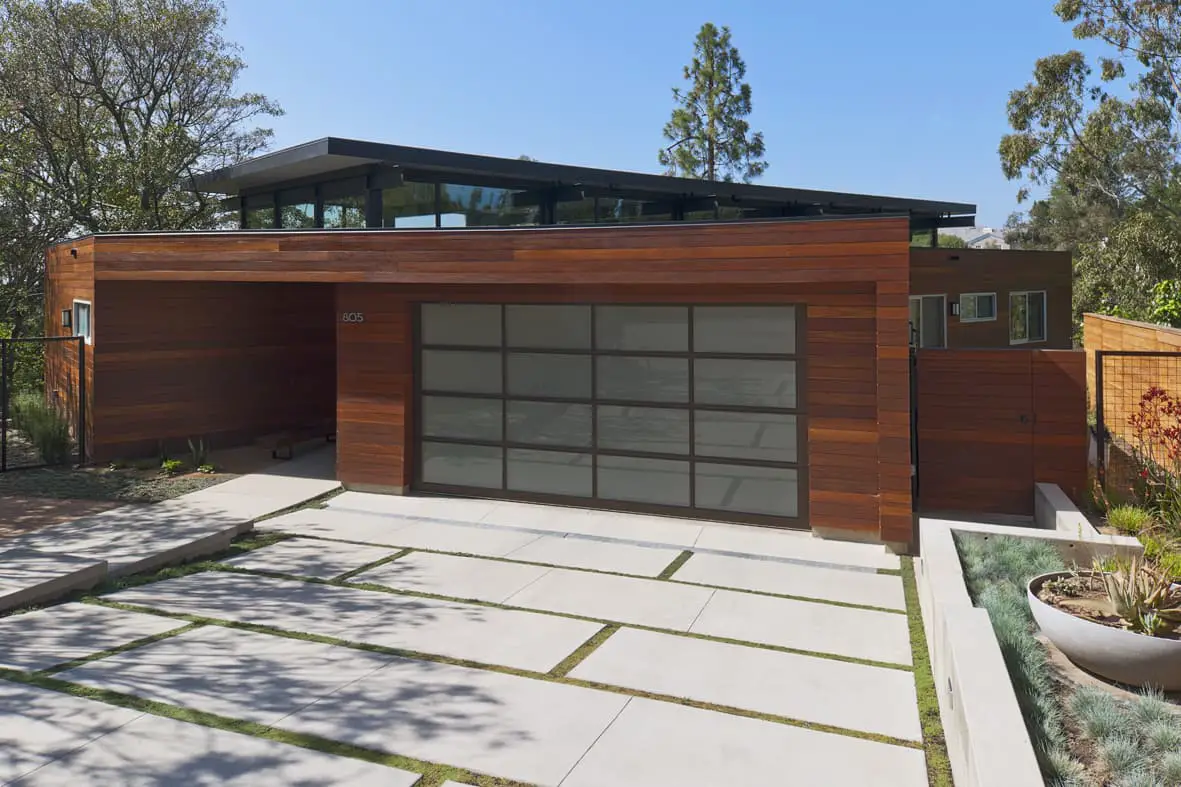 The Broom Way Residence you designed in 2011 sits in a famous, and strictly regulated, neighborhood: Crestwood Hills. Can you tell us about the approach you had for this project?
We actually live next door to the site and had been talking to our neighbors about their many attempts to have an addition designed by one of their out-of-town designer friends and passed by the architectural review board.
So, I had the chance to casually think about the project for several years, before the owners actually asked us to take a stab at a different design. It became clear very quickly that it had to be a new house and not an addition and that the existing house, which was not one of the classic designs and in pretty bad shape, had to be demolished.
Being thoroughly familiar with the area and the site helped to come up with an initial scheme very quickly and it never changed much from those first sketches.
It was always clear to us that the house had to be very much part of the neighborhood and fit in with the spirit of the houses there, but that it could not try to pretend and be one of the actual mid-century homes.
We fully agreed with the rules outlined in the Crestwood Hills guidelines, so that was less of a restriction and more of an inspiration for the design process. It seemed possible to take the guidelines and to use them to come up with a house that was both steeped in the original approach of the development and yet contemporary at the same time.
SEE MORE: Nonzero Architects Apply Modernist Principles to Contemporary Architecture
How does it fill to build in an area with so many houses designed by masters of 20th century architecture like A. Quincy Jones?
It really does feel great!
It is such a pleasure to walk around the streets and to observe what is still a very pleasant and exciting collection of mid-century houses and landscaping..
Many structures have now been protected and restored too and are in very good shape without being threatened by demolition or bad remodeling. Nonetheless, the area is being threatened by developers who are not following the rules and the means to fight back and enforce the guidelines are very limited it is up to the Crestwood Hills Association to watch out for them.
But in general the inhabitants are very much attuned to the idealistic lifestyle envisioned by the founders and many newer houses and remodels are built with that in mind.
What was the very first question you asked to yourself when you got the assignment for the Broomway Residence?
The first thing that came to mind was that it was really great to be asked and come up with a plan after hearing about our friends' battle to get something started for so long.
The main question was how to design something that would hold its own in that neighbourhood and be a contemporary interpretation of the values and the mid-century modern approach of the Crestwood Hills (at the time the Mutual Housing Association) founders.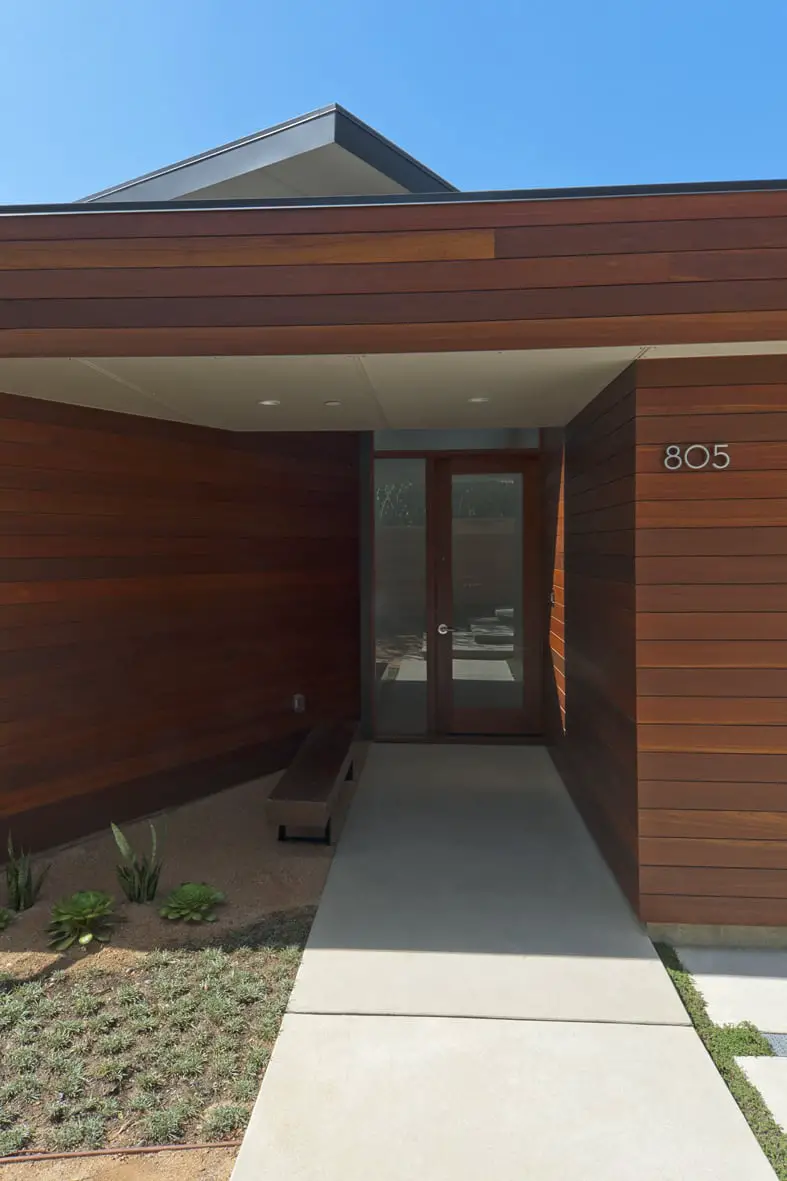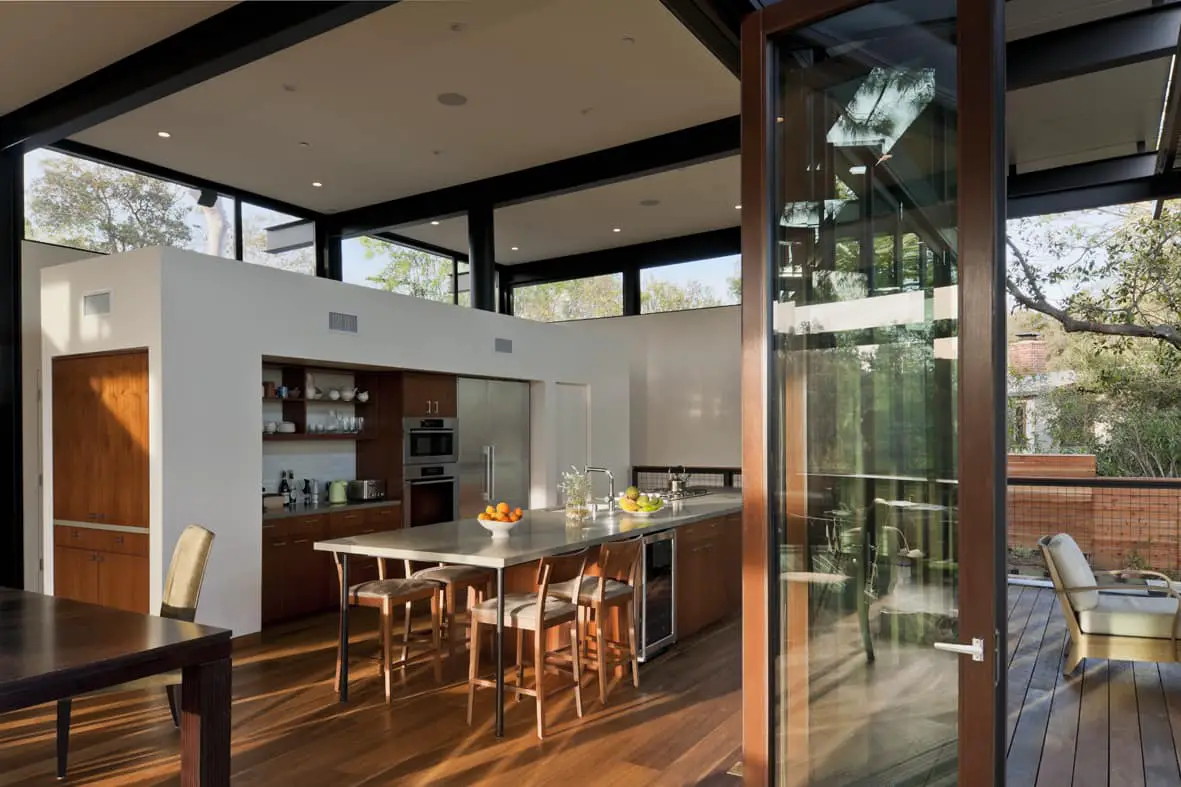 The modernist principles still inspire many architects, including yourself, what is your opinion?
I absolutely agree! I'm convinced that Modernist principles are the core of all good design to this day.
I think it is important to distinguish between Modernism as a movement and approach, as a philosophy, rather than simply a style. Being a century old or more by now, it has of course evolved as a style, or actually many different styles, but the important part are the principles behind it, not just the looks.
A progressive outlook is important, rather than a nostalgic longing for the 'good old times', that probably never existed as imagined anyway.
Why do you think it's important to continue producing houses/buildings that conform to modernist design principles?
At the core of many of the modernist design principles are values that are as valid as ever. They include rational problem solving as well as the creation of beautiful and delightful spaces and structures.
Modern buildings today can have an infinite variety of forms and looks, but the common thread is the deliberate approach that includes a social and environmental awareness in addition to design and construction issues.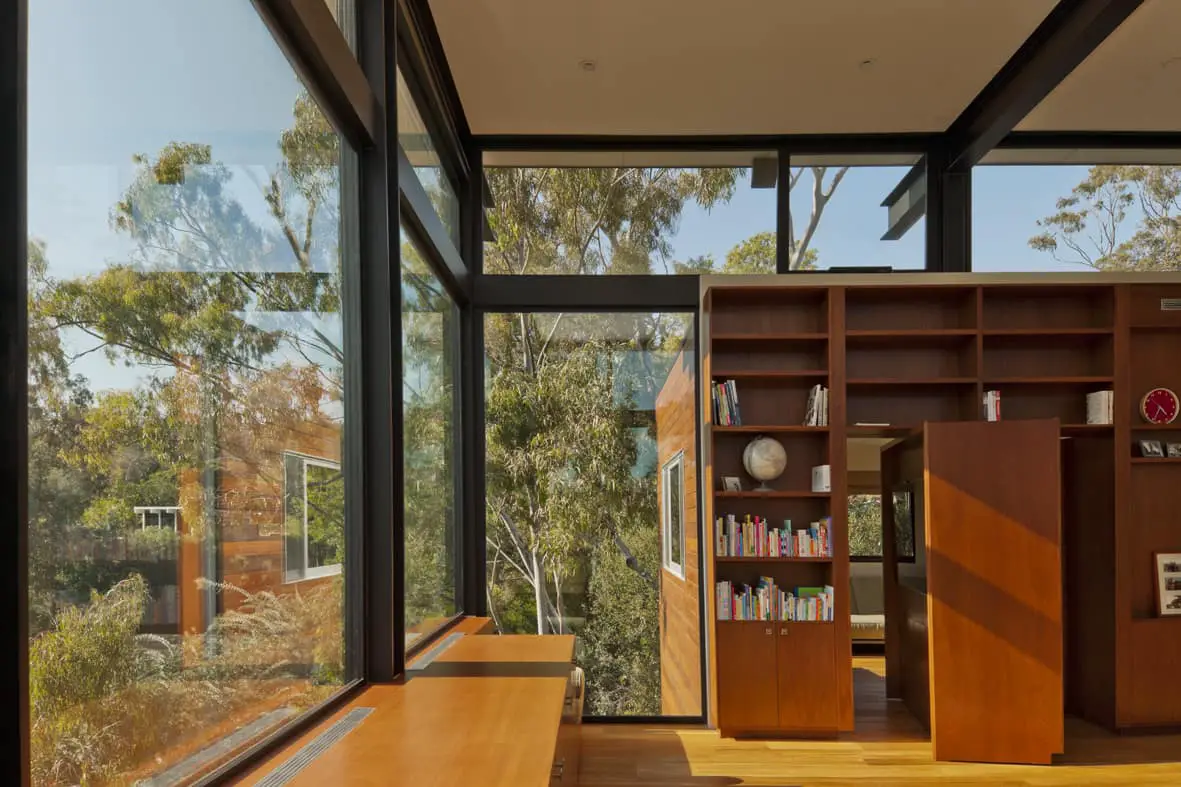 How did you build up your company, do you have any specific memories of when things started to fall into place?
After having worked on dense, but very high-quality housing developments in Switzerland for well-known firm, and after going back to school in California, I started our office in Los Angeles, initially with two partners.
In the early 90's it was rather difficult to find people who were willing to bet on modern architecture. It was easier to find opportunities for modern building in the commercial sector at the time. But in the meantime things have changed considerably and especially mid-century modern houses and the ideas behind them are front and center for many people.
What is the culture like in your office?
We try to work in a studio environment, rather than a more corporate setup. Since we usually have more projects than people, there is always a certain back and forth and it is a very dynamic process.