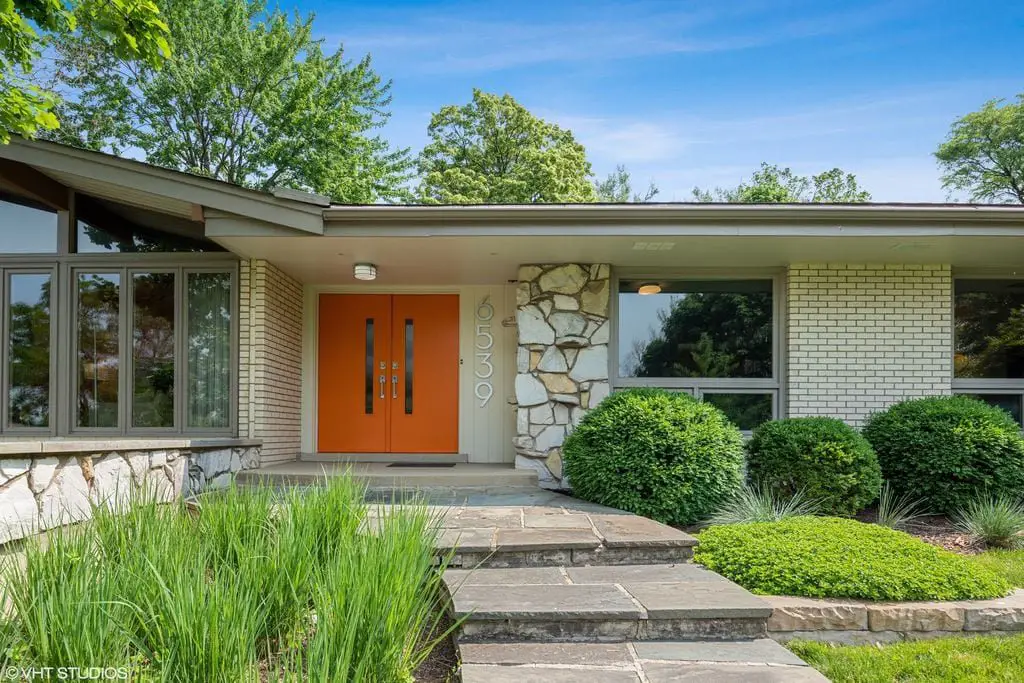 This iconic home for sale in Chicago's Indiana Head Park, Illinois, in the course of remaining true to its original 60's style, has been freshened up over the years to meet the comforts of modern living. Built in 1962 and covering 1,862 square feet of living space, every area of the home, inside and out, is plentiful in light and open space.
To the right of the home's car park area, including a garage fit for two, a slightly curved stone staircase leads up to the entrance of the home. To the right from the stairs, a massive lawn extends from the home's facade to the street. There's definitely no shortage of outside space, and there's more lawn to be found around the home's left side, which leads into a cute backyard area.
A bright pair of orange doors stick boldly out of the otherwise light facade, leading the way in through a neat, flagstone floored entrance hall. This entrance hall sets the color palette for the majority of the interior; the same dark grey flagstone floor is found in the open plan kitchen and dining areas and the sandy white brick wall separating the hallway from the living area mirrors that which is used on the home's exterior.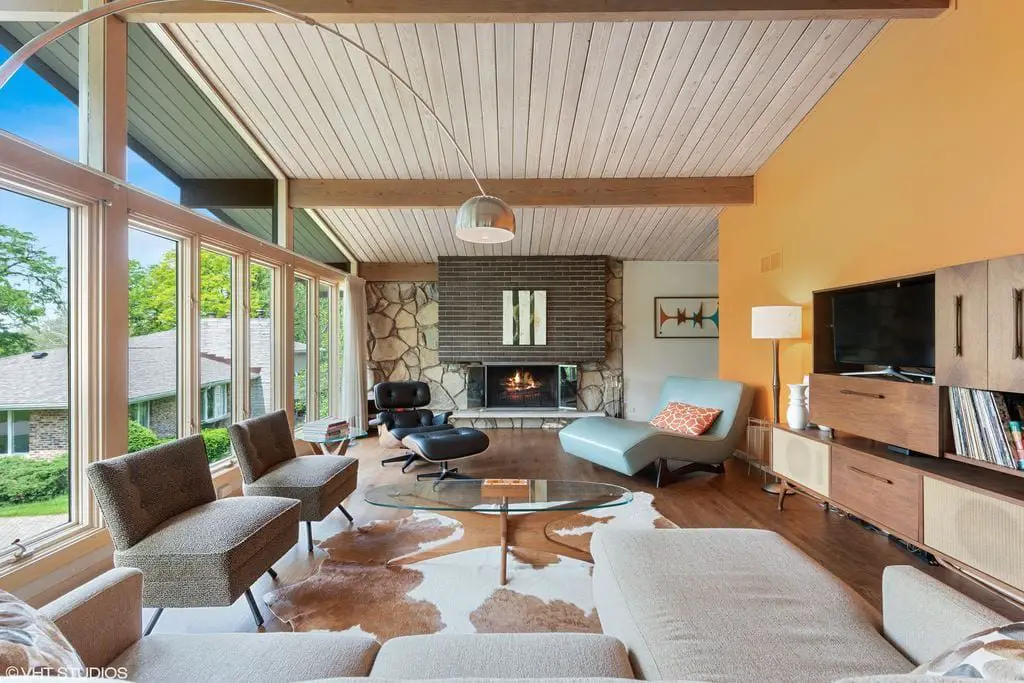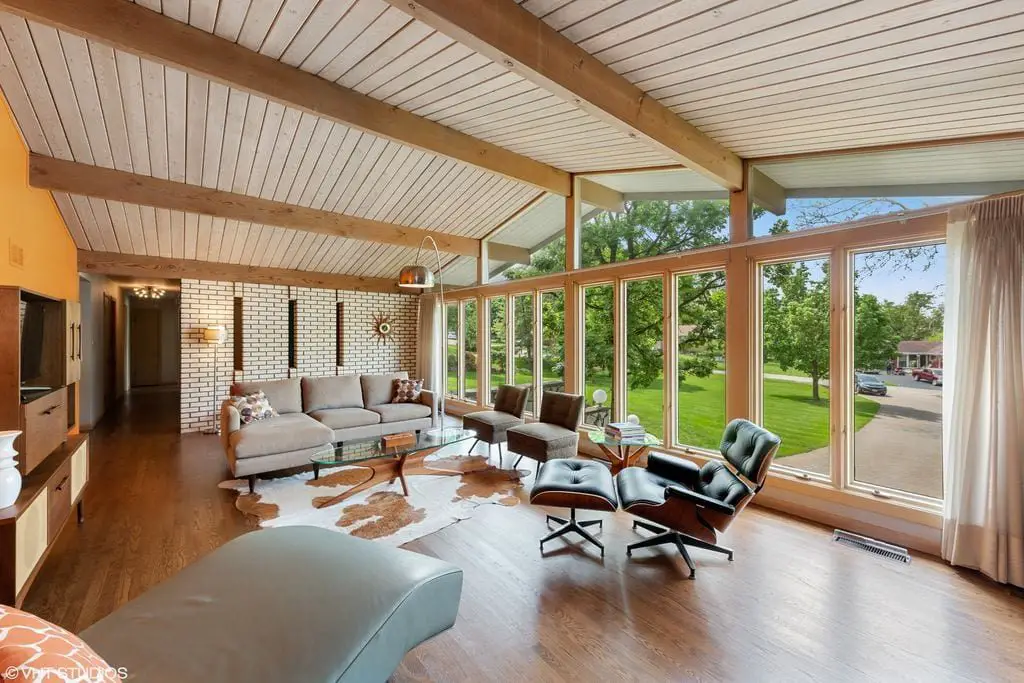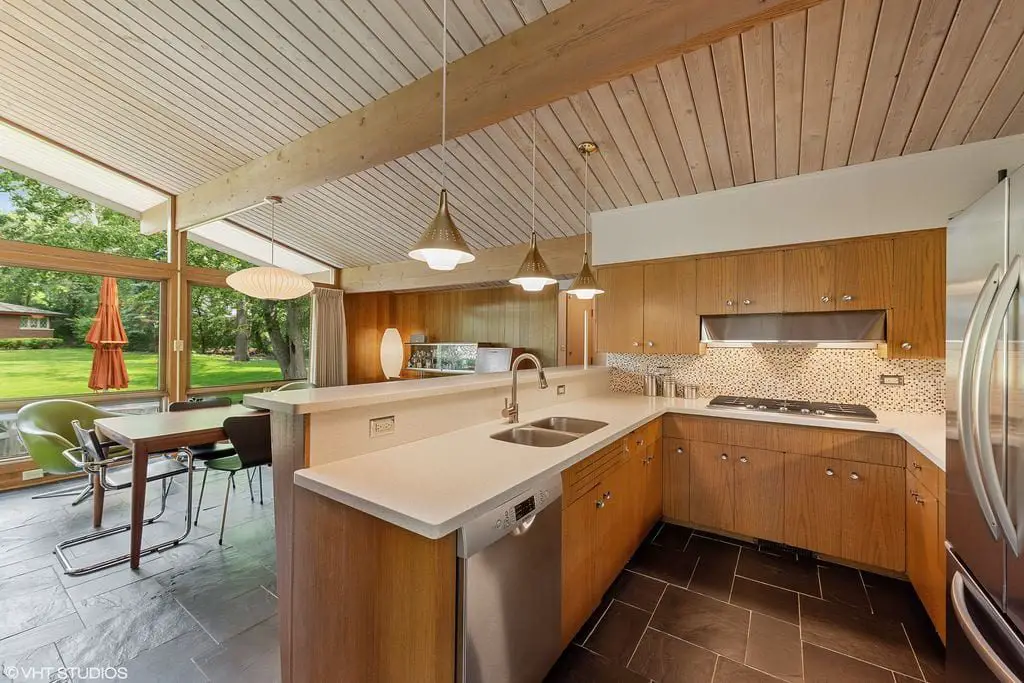 Dramatic wood beamed and planked ceilings stretch across the living areas in combination with hardwood floors. Large windows lineup throughout the space plus to clerestory windows allow further natural light to pour in.
Looking at the importance of flow within an open plan kitchen, a U-turn shaped island style counter sided with an elevated bar counter does the trick in opening up the space, comfortable making use of the kitchen while enjoying the company of family and/or friends.
The fully renovated kitchen is fully equipped with modern appliances as well as enough cabinets to keep everything neatly organized. The wooden cabinets blend harmoniously with the wooden beams of the ceiling and the dining areas wood panel walls.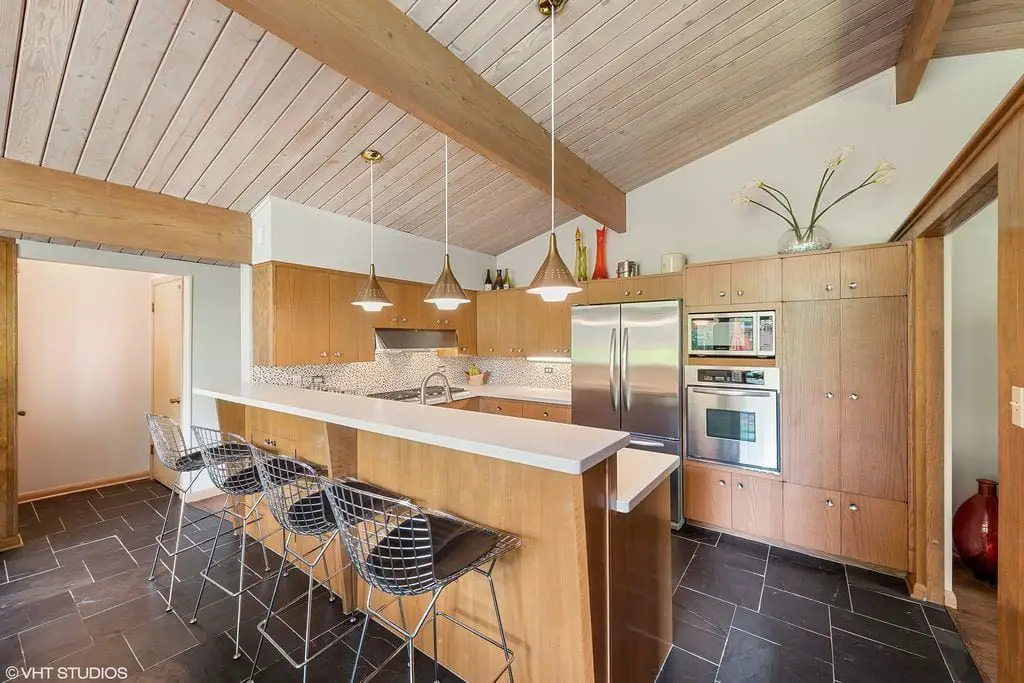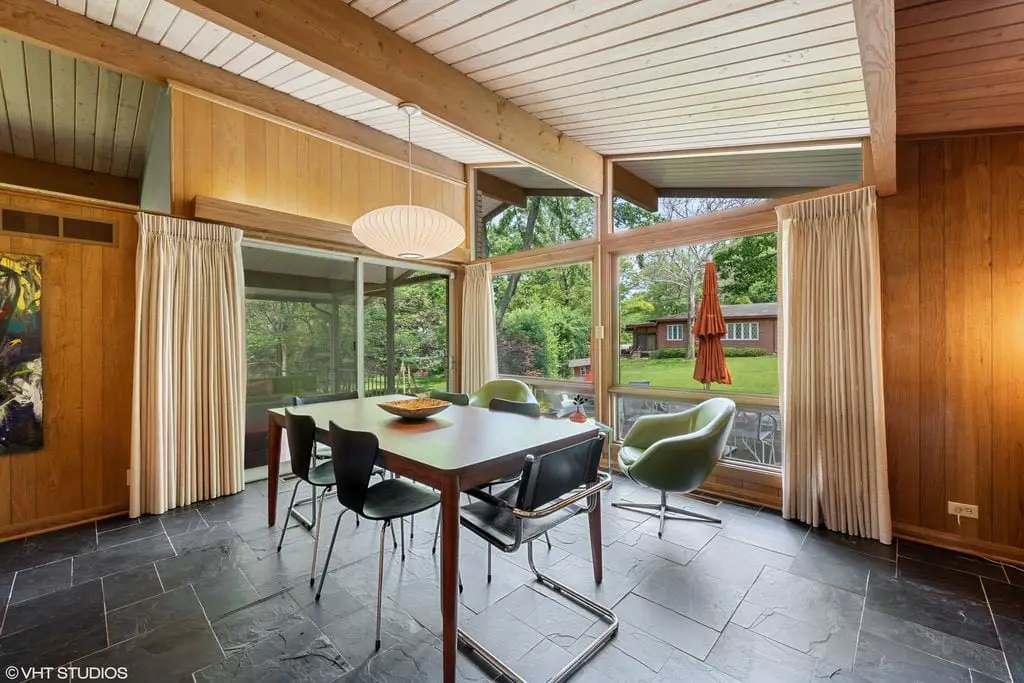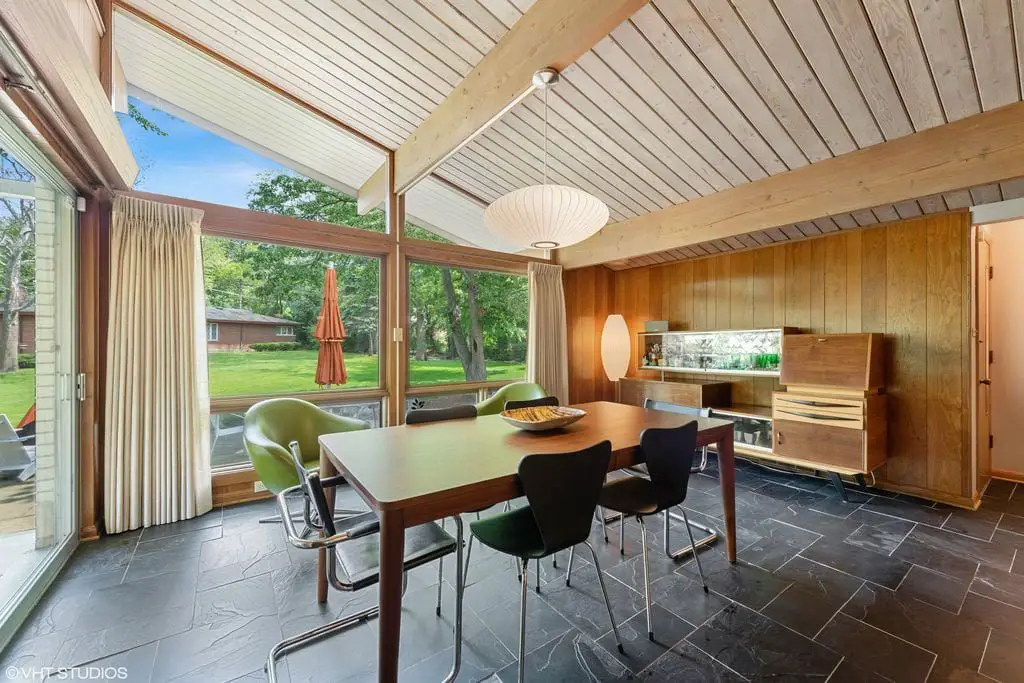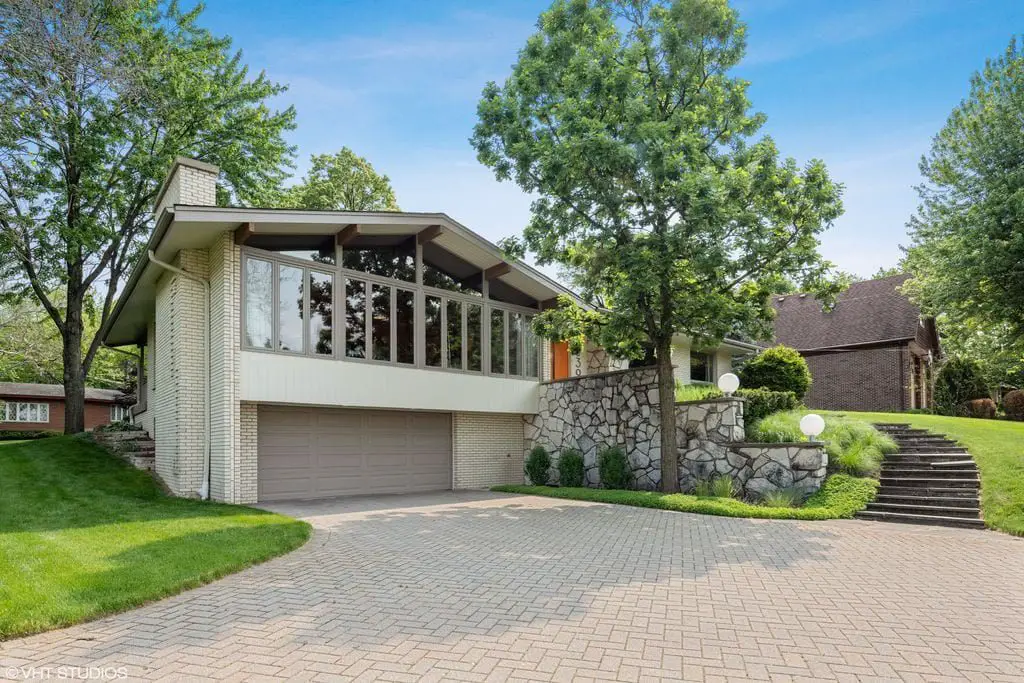 In addition to the open plan areas, this single family home accommodates 3 bedrooms and two baths. The same hardwood floors are found in each of the bedrooms and large windows ensure the inpour of natural light in addition to providing tranquil views.
Outside, another living area furnished by a large L-shaped couch makes room for lounging and entertaining. Large concrete tiles establish a zone for sunbathing and relaxing, beside which, a flagstone tiled area creates a space for dining. A gorgeous vintage fireplace is the cherry on top to the pleasures of outdoor living.