Text by Me Architect
The client was a builder who had previously not used an architect with a young family of four.
The original brief for Me Architect was for a four bedroom family home that was respectful of the existing dwellings character but improved the privacy and connection to the outdoors.
The predominant design strategy is to extrude the existing form of the dwelling to the east and north establishing a private north facing courtyard and reengaging the public components of the dwelling with the street and wider neighbourhood.
Ad hoc elements added to the existing 1960's dwelling were removed to reveal the original structure. A new master bedroom and laundry wing was added to the north providing privacy from the adjoining neighbours overlooking the site.
The new wing is punctuated with a series of planted courtyards to maximise access to natural light and ventilation whilst minimising heat gain to the west. It is complemented with a garden wall to the north and west reinforcing the edge to a new north facing courtyard and pool.
The excavated haha cum pool fence provides improved overland flow and drainage across the site. A new north facing outdoor room was carved from part of the existing living to improve access to natural light and ventilation enabling everyday living to be exposed to the elements.
Meanwhile the remaining area was reconfigured to establish a new dining space, clearer entry sequence, porch and improved access to natural light, ventilation and connection to the street. The existing kitchen was reconfigured to improve the connection to the new courtyard and outdoor room whilst a new study was added to the south overlooking the street.
The existing bedrooms and garage were retained and refurbished. Materials and detailing is sympathetic of the existing dwelling and coastal dwellings of the region. A new brickwork entry sequence, fence, planting and seating was established under the canopy of an existing poinciana.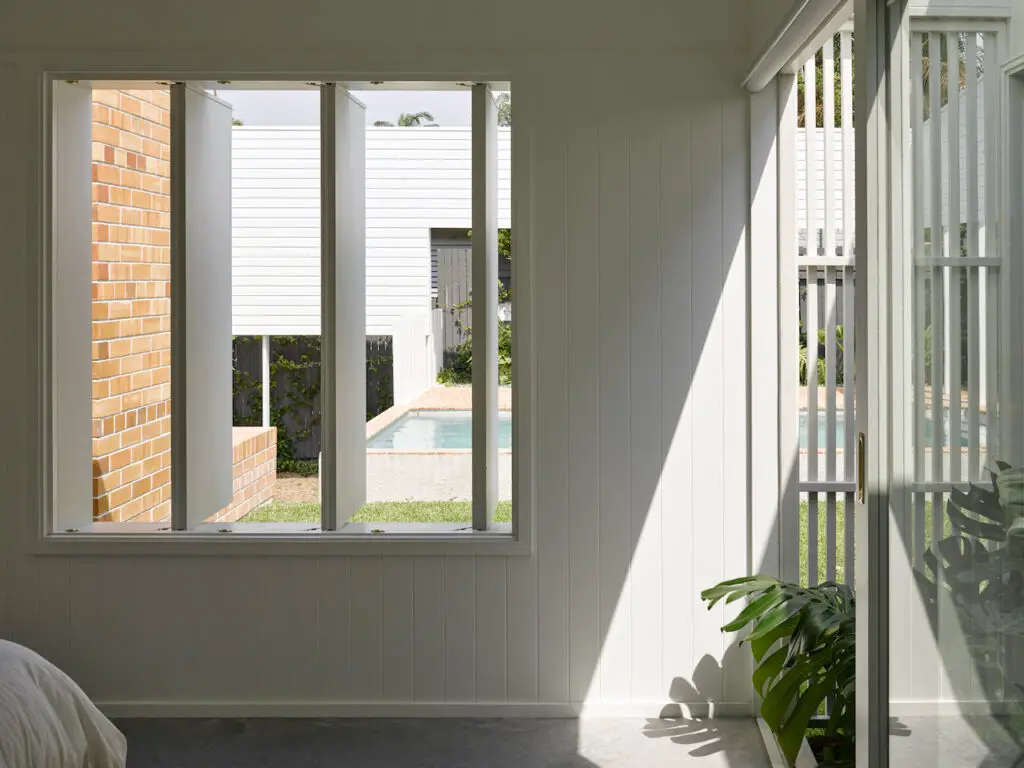 The insertions are intended as a gift to the neighbourhood – a miniature public space for the local neighbourhood to gather and sit and watch their kids play in the street. Design and detailing was carefully considered in collaboration with the Structural Engineer, Contractor and Joiner onsite.
Simple structural methodologies and cost effective materials offset costs associated with bespoke doors and windows and cabinetry. The new additions aim to celebrate the modesty, scale and detail of the existing dwelling in a contemporary manner.
There is something to work with in every existing home no matter what its bones are/history is. We really have to re-consider this attitude of constantly demolishing and rebuilding a new. The Gold Coast specifically has a really rich built history and we should celebrate it instead of constantly trying to be something its not.