Designed by Alvin Lustig in 1947, The Thomas House is a midcentury modern treasure and one of the only two residential homes created by the gifted architect. Located in California's Los Angeles, the flooring of the home spans over 1,153 square feet. Carefully designed with three bedrooms, a master, living room, sound studio and an outdoor bonus space, this marvelous home in the heart of Silver Lake is a prime example of the preservation of California modernism done right.
Typical to midcentury modern architecture, clean lines and an open layout characterize the home. The home open floor plan gives easy access from room to room. Floor to ceiling windows bring the outdoors in, the living room opening up to a balcony which extends to look out over the Californian landscape.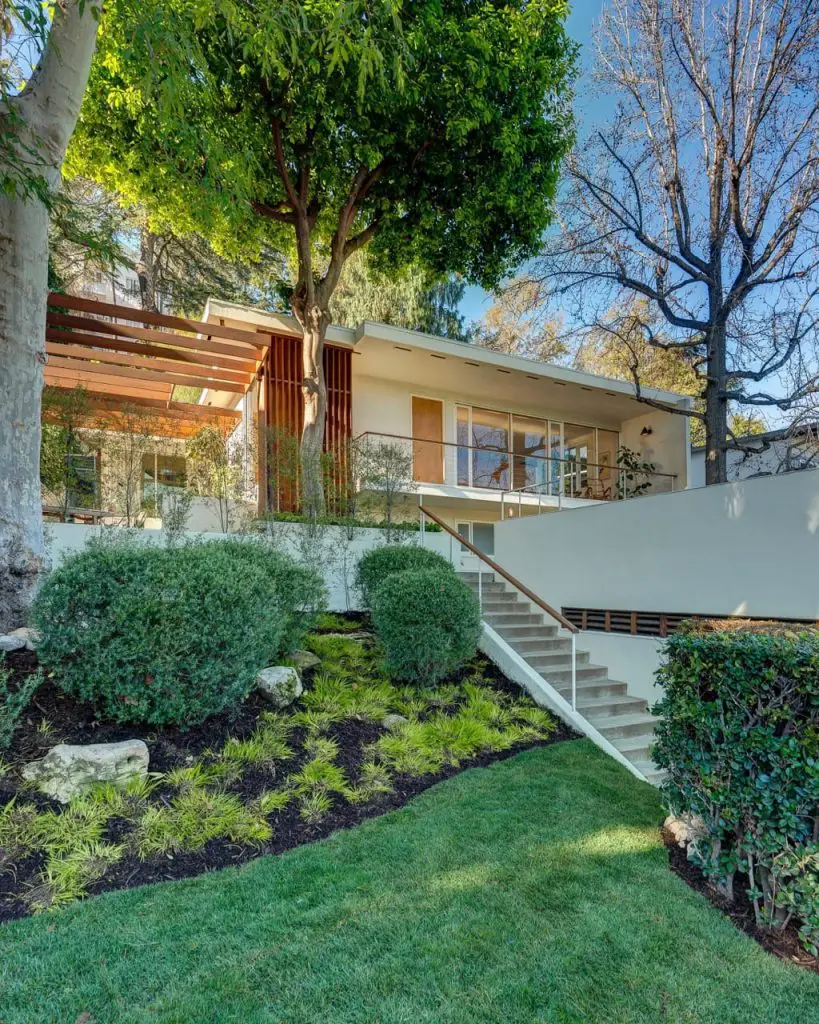 Wooden floors are paired with wooden furniture and details such as a strip of wood dividing the open plan kitchen from the living room space. Thanks to the 'glass box' feel of the living room, plenty of natural light can pour in throughout the day. Clerestory windows at the front of the home and extra windows to the side ensure light flows in from all sides. 
The interior decor is carefully curated and feels very organic. The color scheme is made up of natural wood tones, clean white walls and shades of beige. From artwork on the wall to vases containing plants, the decor remains faithful to the color palette. 

The home's kitchen has a very retro feel due to the brown tiles of the floor and all white cabinetry, while one room over, the larger electronic appliances of stainless steel seem almost futuristic. 
A notable feature of this home is the master bedroom. The bed is the rooms centermost piece of the all white room. Floor to ceiling windows on one side, large additional windows on the other, the space has an aquarium-like feel. Outside, views of the natural greens sprouting from the terrain are on either side and the floor to ceiling windows overlook the home's patio.
Below the house, an additional 300 square foot bonus space with its own separate entrance provides the perfect spot for entertaining guests during warm summer nights.