Only a stone's throw away from the Melbourne CBD lie the forested slopes of the Dandenong Ranges, a lush set of mountain ranges. It is here that Lucy Spartalis and Alastair Innes of She Takes Pictures He Makes Films stumbled upon their dream home. Keen on midcentury design elements such as the use of organic materials, large windows and a close connection to nature, the couple instantly felt at home. Today, Lucy fills us in on how they revised this down-to-earth Victorian dwelling fit their personal style.
First of all, could you tell us a little bit about your background?
I'm a professional photographer, and moved to Melbourne from South Australia eleven years ago. My filmmaker partner Alastair Innes is originally from New Zealand, and after a decade in Brisbane (having moved over to study film), he relocated to Melbourne around the same time as I did. We both lived in share-houses in the city's inner northern suburbs; on our first date we decided to form a photography and filmmaking duo (She Takes Pictures He Makes Films), and five years later we bought our home in the Dandenong Ranges.
How did you come to live in your house and what drew you to the midcentury style?
We'd been committed to moving to the coast of New South Wales for a couple of years, so that Alastair could be closer to the surf – but late one night, I thought I'd research the available homes in the beautiful Dandenong Ranges, a rainforest-filled mountain range fifty minutes from the Melbourne CBD. The next day we drove up to view a couple of homes, a few days later we placed an offer, and three weeks later it was ours. It all happened so fast, our heads were spinning slightly! But as soon as we'd stepped onto the property for the open house, we knew this was our home.
What do you think was so special about this period in American design?
Residential architecture from the mid 20th century was all about comfortable family living, with a connection to the outdoors; having enough space to not feel cooped up, but not so much that resources were wasted (unlike the enormous McMansions that arrived in subsequent decades); beautiful lines, big windows for taking in the natural surroundings, and plenty of organic materials – stone walls, timber cladding, exposed brick – features that bring a textured warmth to the spaces, creating a relaxed and tactile environment.
 What do you know about the architect who designed your house?
Our 1950s brick home wasn't architect-designed, it was a humble design popular throughout Australia during the post-war period of late '40s through to the '60s. The couple who built the house lived in it until their old age, when it was purchased and given a quick 'flip' renovation, and sold to us.
What are the advantages/struggles of living in a midcentury house?
I can't say we've had any struggles living in our home! We love so many aspects of the house. Although it doesn't have the striking lines of the modernist movement of the period, the practical size, charming features and leafy 1⁄4 acre property are all typical of homes from the era.. we love the many big windows that allow us to look out onto the neighbouring forest; the original Tasmanian Oak floors, nine foot ceilings, and the beautiful stone-clad fireplace hearth; we love the size of our block – a rarity in the age of cramming oversized homes into every square inch of available land.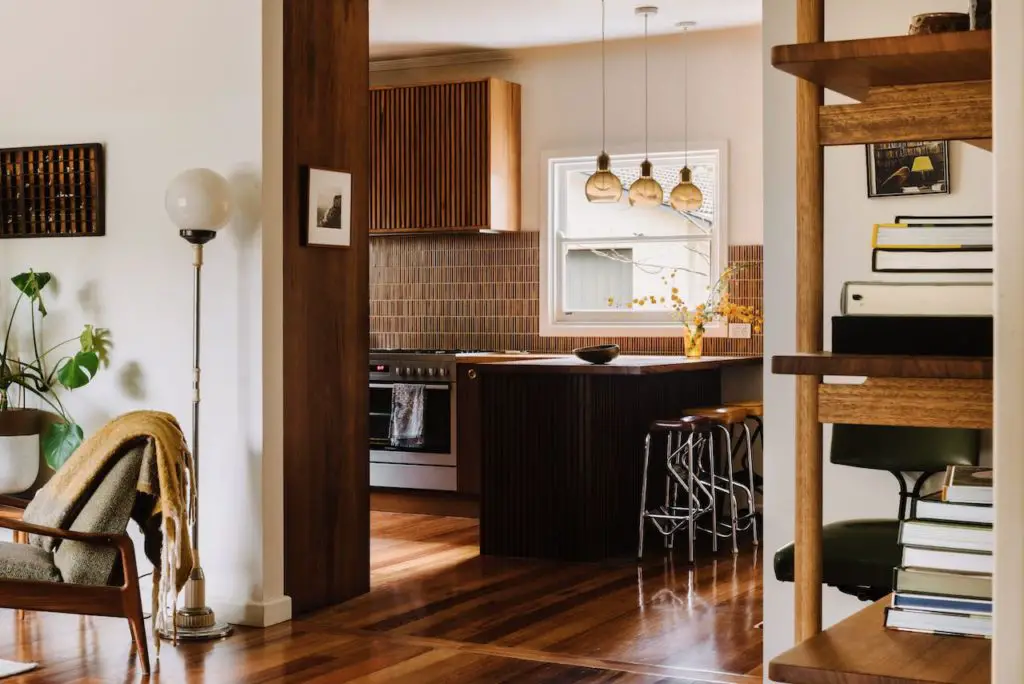 What's your favourite part of the house and why?
In late 2019 after many, many revised concepts, we settled on a modernist and Japanese style design for our kitchen, which was then brought to life beautifully by our friend Matt Ibbot of Sawdust Timber Furniture. It's our favourite room in the house – not only because of the calming feeling it creates while we cook and entertain, but also due to the passion and meticulous research we put into designing the space.
On a recent trip to Japan, I'd been inspired by the interiors of the traditional homes I'd stayed in throughout my travels – the harmonious use of earth-toned materials, the celebration of the natural texture present in the wood or stone, and the imperfect 'wabi-sabi' quality of the handmade tiles.
We'd discovered the beautiful mottled Inax finger tiles as part of multi award-winning 'Captain Kelly's Cottage' by John Wardle Architects; once we ordered them from Japan through Artedomus, the overall concept grew from there. We decided on a two-tone timber design using Mountain Ash (from the same type of trees as those we can see through the kitchen windows), with a section of bench top in spectacular multi-coloured terrazzo from Signorino to break up all of the earth tones, and aged brass hardware that has already developed some lovely patina.
Tilers: Chris Stenhouse and Ryan Cracknell (Trowel)
Terrazzo installation: Olympus Stone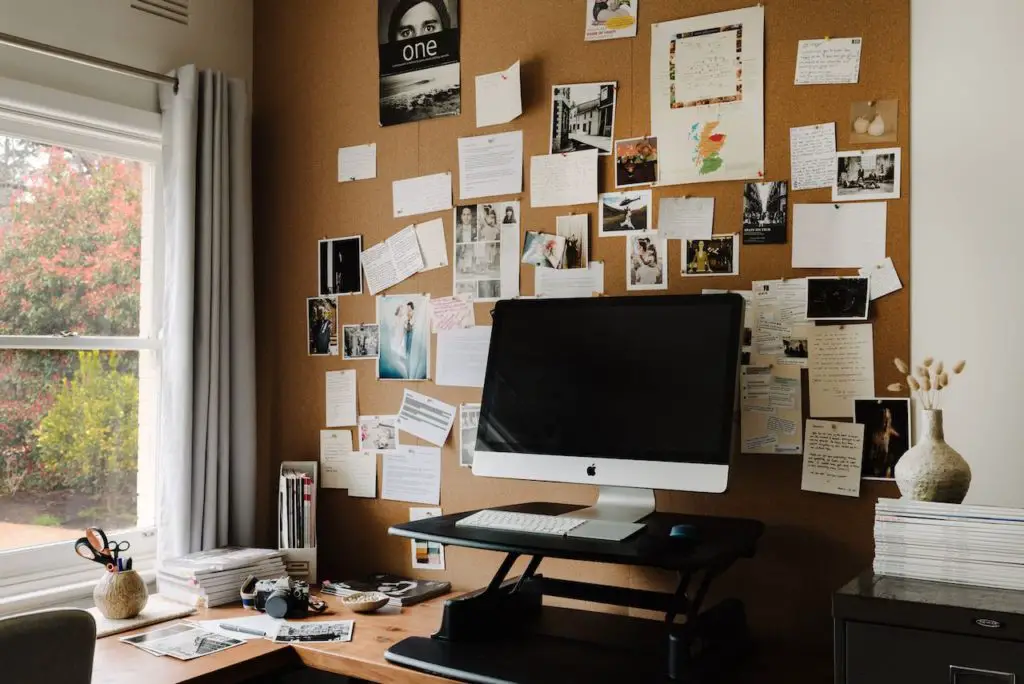 Have you had to renovate any part of the house? If so, which area(s)? (Can you also share the contractor/s you worked with?)
Besides the kitchen, we've added a modernist style pergola area to the side of the house (designed by our friend, architect Ben Gray, and built by Travis Rademaker of Timbervisions Carpentry), had stone cladding added to our front patio (by Stoneworx Australia), and landscaped a third of the property with the help of Cheeky Nature Landscapes.
We've hung custom burnt orange curtains in the lounge room (through Verve Designer Collections) replaced all of the hollow interior doors (installed during the flip renovation) with solid mahogany doors, and disconnected the many down lights (also installed during the flip) and replaced them with warm, era-appropriate central light fittings, including several Noguchi pendant lights.
We had Kelly Wearstler's wonderful 'Graffito' wallpaper hung in the hallway (with the help of PaperScissors Glue) – the screen printed design feels straight out of the 1960s, and we painted the bathroom walls a soft shade of apricot. I also designed some custom wall and ceiling-mounted record shelves, which hang above the hifi in the dining/entertaining area next to the kitchen.
Last but not least, do you have any tips for people interested in buying a midcentury house today? What should they pay attention to and why?
Our only tip would be to do it. To ignore the common misrepresentation of midcentury homes in real estate listings as 'Development Potential' and 'Land Opportunity', and to see these beautifully designed,well-built, long lasting homes for the gems that they are – the remnants of one of one of the most innovative yet practical periods of design in recent history. Until many of them receive the heritage-listed status they deserve, it's up to us to save them from the wrecking ball.