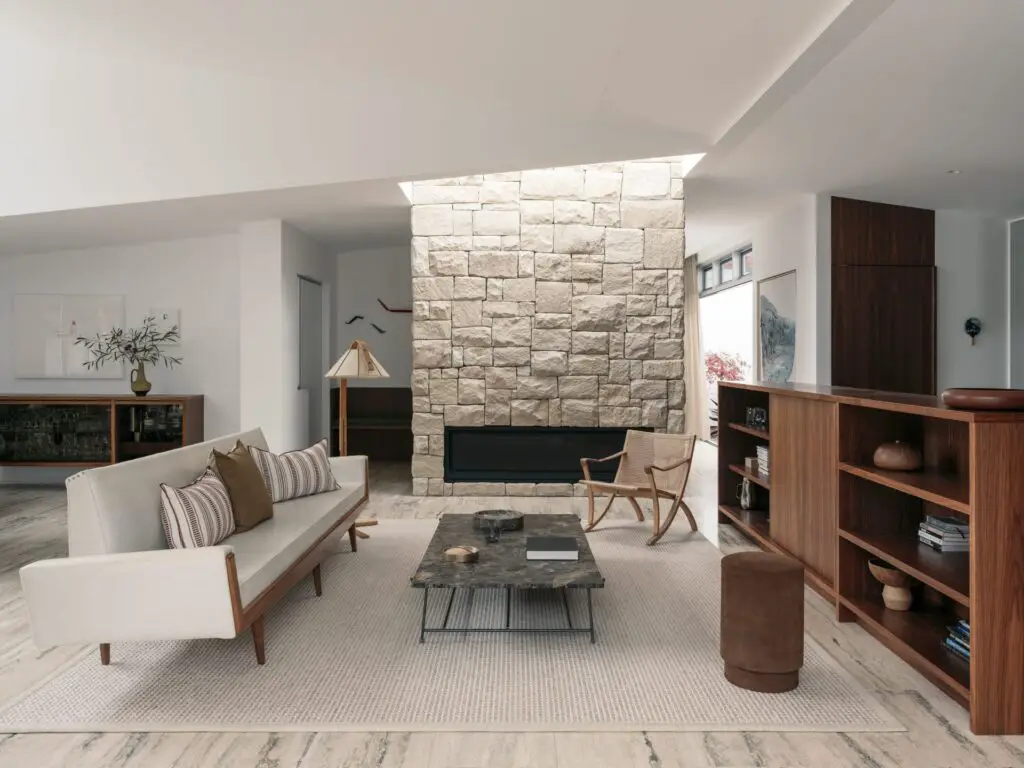 The task for Studio Prineas was to transform a three-bedroom, single-story brick house in Sydney's upper North Shore into a more functional and enjoyable living space. 
The focus was on creating a brighter, north-facing aspect and reconfiguring the layout to enhance the sense of Gezellig—a Dutch concept embodying ultimate comfort and coziness. This was particularly significant for the owners, who had spent time in the Netherlands.
The outcome of this transformation is a relaxed living. Drawing inspiration from Californian modernist architects like Craig Ellwood and Pierre Koenig, the renovated home celebrates the infusion of natural light, the intelligent use of space, and the calming influence of clean lines and natural materials. 
The new entrance, reached through a cozy pathway lined with graphic breezeblocks, sets the stage for a home that balances and anticipates the experience of indoor living.
Upon entering, the foyer, designed to showcase a contemporary art collection, immediately draws attention. 
The walls, adorned with vibrant colors, lead the eye to the warmth of sunlight streaming through an oversized dormer window and multiple skylights in the open-plan living area. 
Here, a cream stone fireplace, paired with the subtle gleam of silvery travertine floors, adds a natural, comforting element, echoing the solidity and reassurance of nature.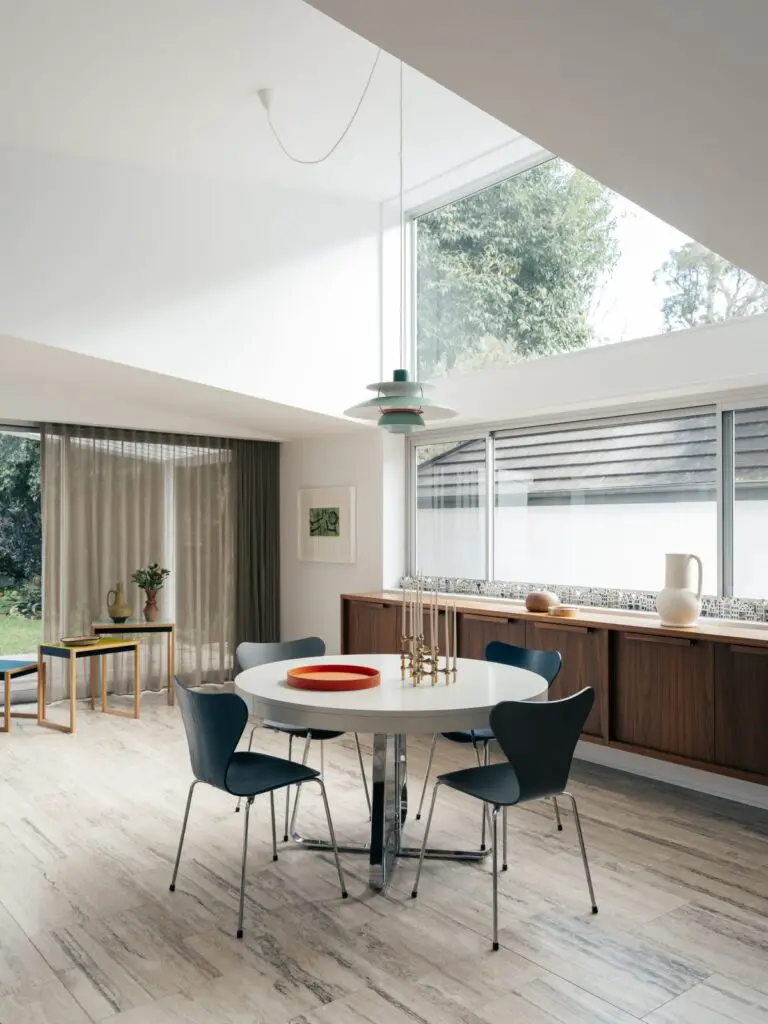 A corridor connecting the communal living space with the more private bedrooms and bathrooms is lined with heavy linen curtains. These curtains, when drawn back, reveal a cozy garden, blending aesthetic appeal with functional lighting. 
Throughout the house, crown-cut walnut paneling pays homage to mid-century design, while large windows and glazed doorways not only expand the living spaces but also strengthen the connection with the outdoors. 
In the living room, the decor focuses on creating a harmonious balance between modernity and comfort. Mid-century modern furniture, complements the natural textures of the stone fireplace and wooden accents. Perfect for relaxation and social gatherings.
The kitchen and dining areas continue this theme. In the kitchen, the harmony of wood and contemporary stainless steel finishes creates a functional yet visually appealing space. 
Open shelving allows for the display of colorful crockery, adding a lively touch to the heart of the home. The thoughtful blend of wood and metal, strategic placement of decor, and soothing color palette make it an ideal setting for shared meals.