It's not rare for us to hear about a sudden change of plans after stumbling upon the perfect midcentury home. When Bronwyn Labagnara, Director at Hannah & Co. Design, an interior design and decoration practise, visited this 1964 midcentury home by architect John Dalton in Chapel Hill, Brisbane, the decision to purchase the home was made at once.
Today, Bronwyn tells us about the extensive renovation project she took on together with local architects John Dalton to bring her midcentury infused with modern vision to life.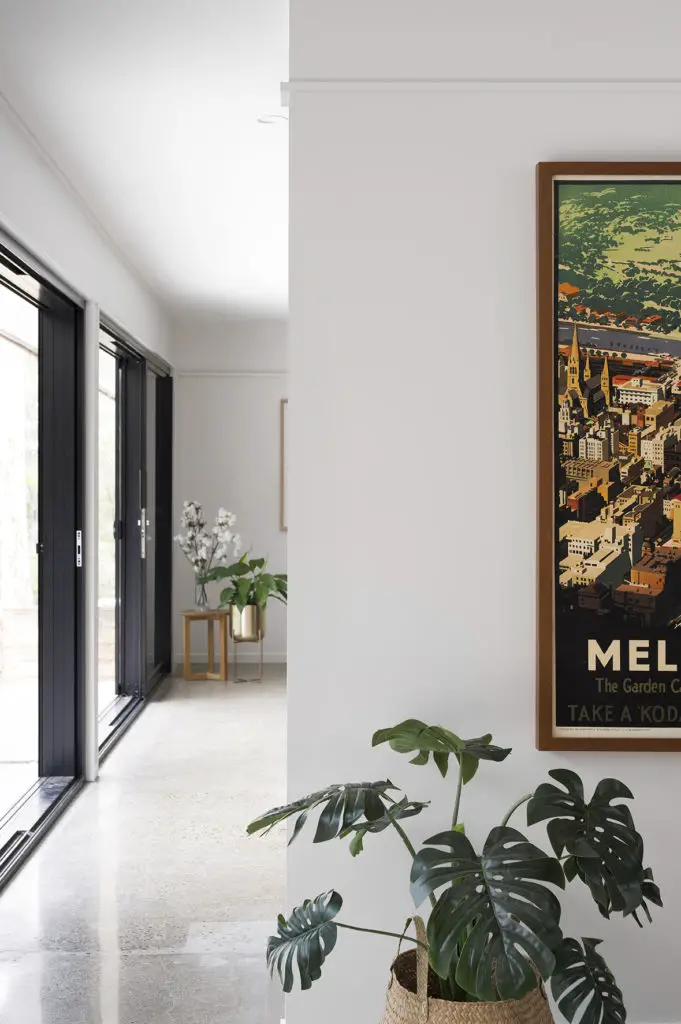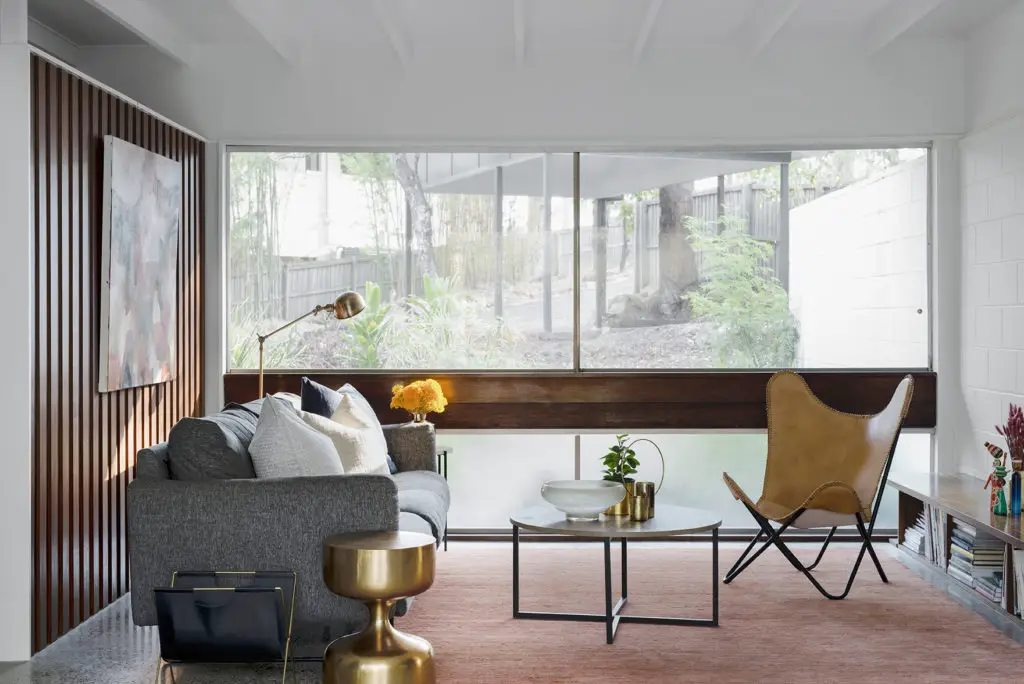 First of all, could you tell us a little bit about your background?  
I started life in Los Angeles and grew up in the leafy suburbs of Brisbane where I have now returned after many years working in London and travelling around Europe and the US, forever inspired by the architecture, design and people's lives of the places I visited.
After London, I spent 15 years in Melbourne further inspiring my interest in beautiful design and honing my own design skills. I now have my own interior design and decoration practice in Brisbane, Hannah & Co. Design where I live with my husband and three children.
How did you come to live in your house and what drew you to the midcentury style?
My husband and I have always had an eye on residential real estate and he spotted this house. We weren't looking to buy but I decided to view it anyway and I called my husband from the viewing, saying "you need to get here, we need to buy this house". We bought it within a week, against the advice of the solicitor and with no real plans to move to Brisbane as we were based in Melbourne at the time. But alas, as they say "the rest is history".
I love everything about midcentury styled homes for their ability to bring the outside in connecting you with nature as well as the endless clean lines, deep eaves, and shadow lines. They are the epitome of elegance.
What do you think was so special about this period in American design?
I think the midcentury modern period was so special in American design and continues to have an impact due to the shift away from overly ornamental and decorative design towards the celebration of the structure and the materials. It's a nod to paring back a simpler approach and this ethos holds true to the modern day. The period has created timeless design that is elegant and stylish.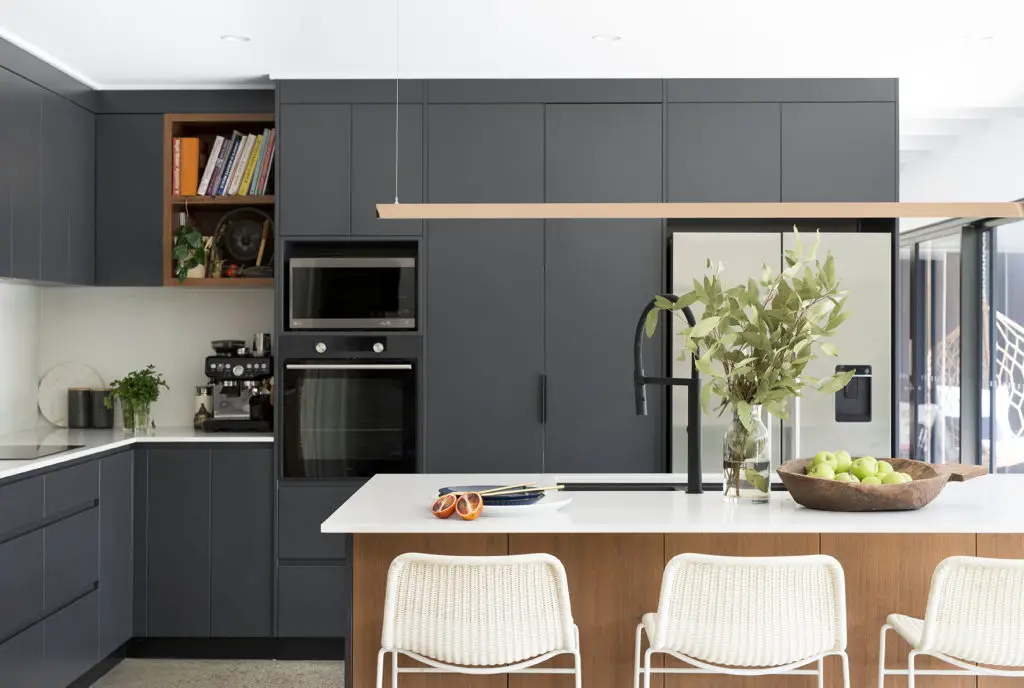 What do you know about the architect who designed your house?
John Dalton was an Englishman who moved to Brisbane, establishing an architectural practice where he focussed on 'designing for climate'. He utilised full height windows and sliding doors to maximise cross ventilation and emphasise horizontal 'expression' in his designs. We were told he oriented our home 5 degrees to the East of North for the 'perfect' aspect. He won a residential architectural prize for this home in 1964 with a submission titled 'A sense of place".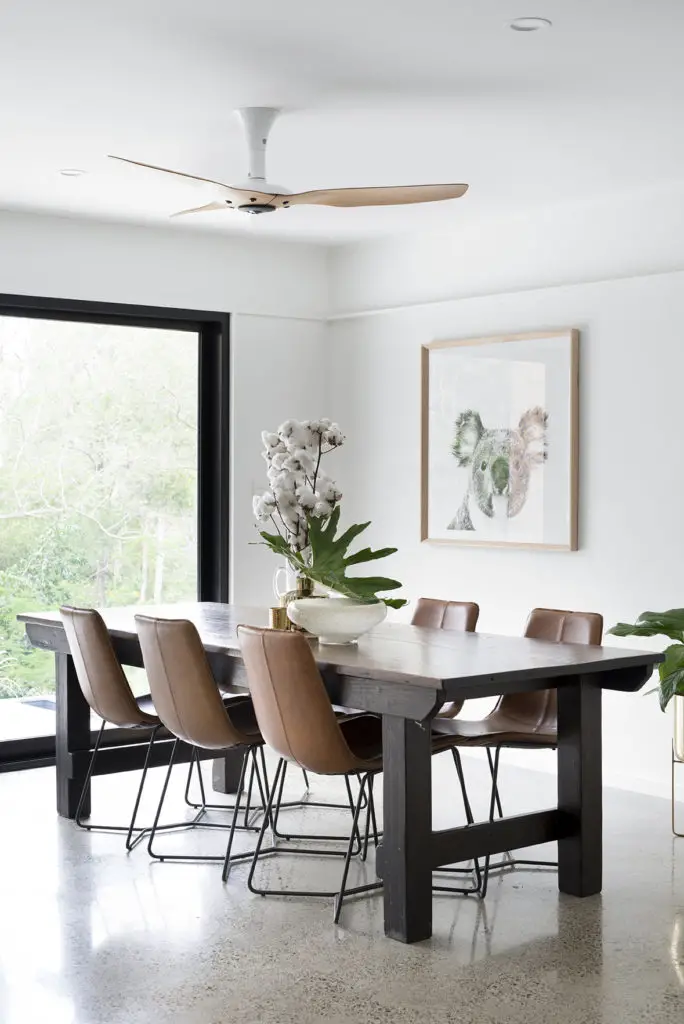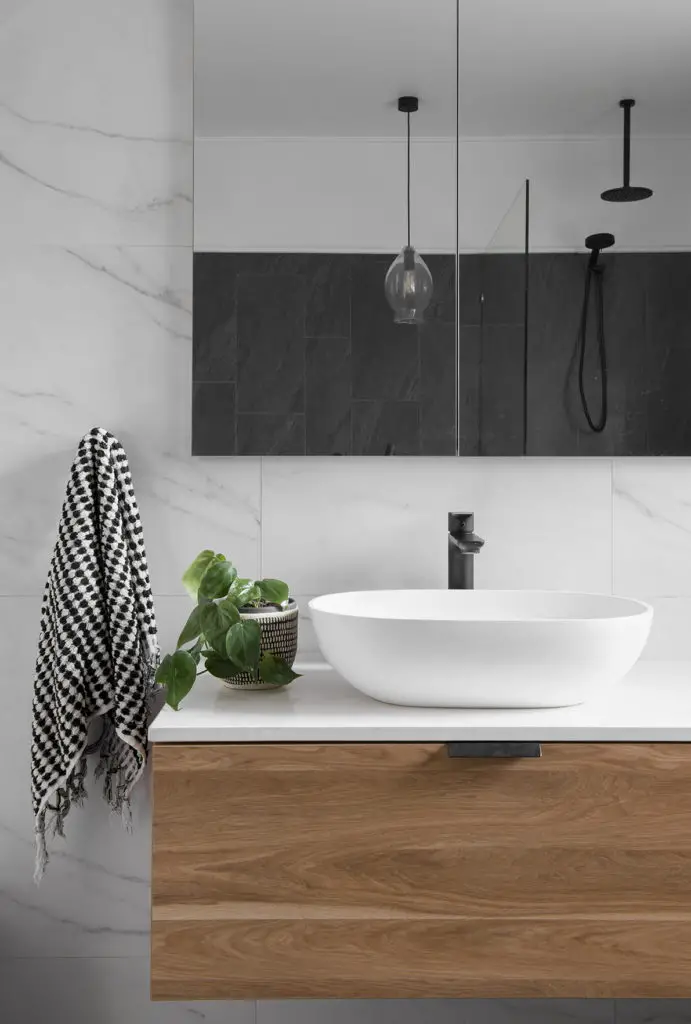 What are the advantages/struggles of living in a midcentury house?
As I see it, there are only advantages to living in a (this) midcentury house. As John Dalton designed to the climate, he had moved away from a flat roof design. The major advantages to me are that every room and every space is oriented to the outdoors, where a bushland setting awaits.
The home doesn't need much adornment as there is so much beauty in the original detailing, including timber clad feature walls, expansive use of glass, shadow line detailing in cabinetry design and the use of natural materials and colours in a palette of timber, black and white. The original design is elegant and simple, timeless and beautiful. It is wonderful to be surrounded by beauty and feel inspired daily by the home.
What's your favourite part of the house and why?
I love our new bedroom. With its vaulted ceilings and expansive glass, it is set out into the bushland so you can lie in bed and look out to the stars and the gum trees gently swaying in the breeze. I also love the original lounge room for its interior architectural details of floor to ceiling glass, timber panelled wall, painted brick wall and views either side to the idyllic surroundings.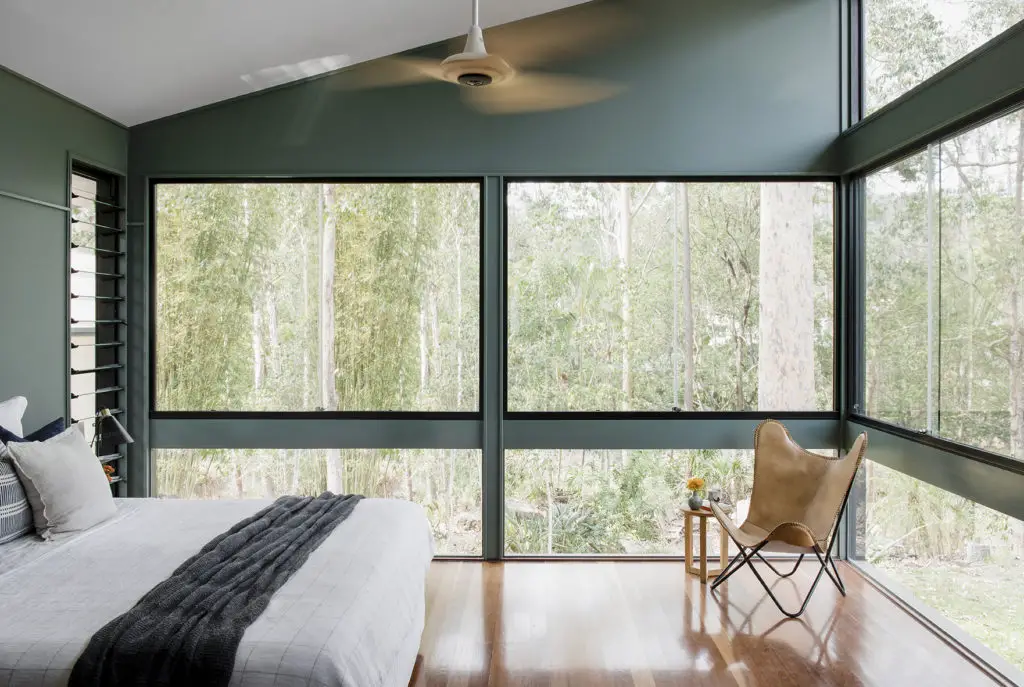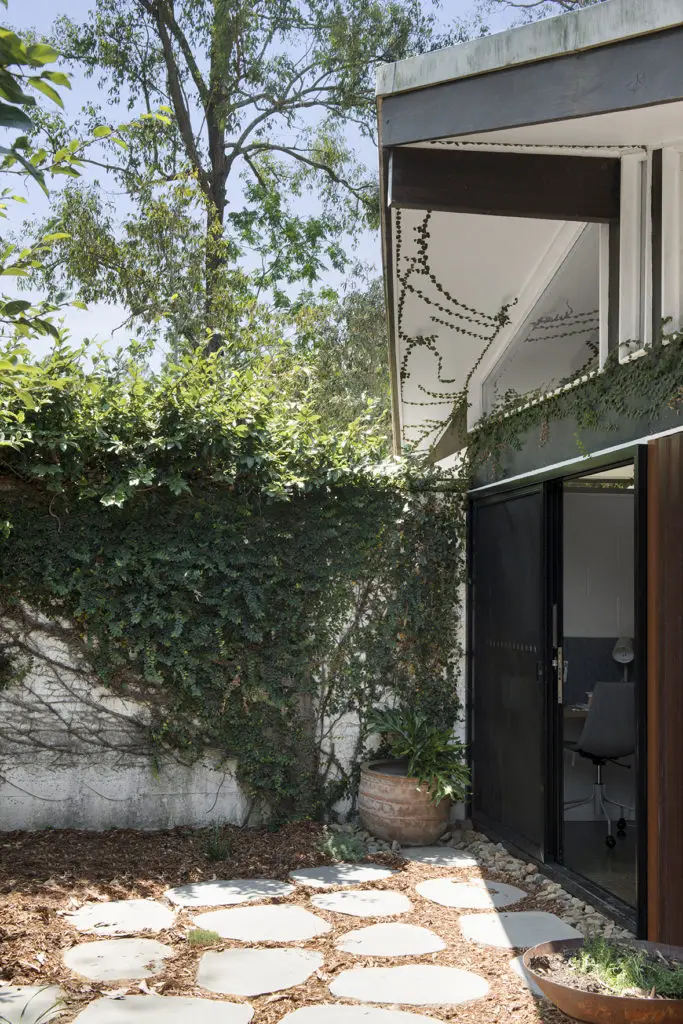 Have you had to renovate any part of the house? If so, which area(s)? (Can you also share the contractor/s you worked with?)
Interior design and decoration: Bronwyn Labagnara, Hannah & Co. Design 
Architect: Bruce Mason
Builder: Jon Tucker, Jon Tucker Constructions
Yes we have renovated the original house and have also extended it. As Director of Hannah & Co. Design, an interior design and decoration practise, this was my perfect project.
My vision was to keep the integrity of the original design and celebrate the elements that make that modernist period of architecture so great with a renovation that was sympathetic but relevant to modern day living. We engaged local architect, Bruce Mason who is experienced with John Dalton's designs to help bring this vision to life.
Structurally we added a master wing extension with bathroom, walk in robe and study, a pool and entertaining deck and a pool house that is multi-purpose and used for guests with a kitchenette and bathroom. The two additional buildings open out from the original building, on an angle, so as to not interrupt the view and also enable us to keep the integrity of the original house.
I designed a palette that reflected the beautiful gums that surround the home. Natural materials and colours of timber, raw concrete, white, grey, touches of green and some inky blue so the buildings sit into the environment, allowing the idyllic setting to still remain the hero.
In the master bedroom extension, we used expanses of glass to create the feeling that we were out in the bushland, amongst the trees. Internally we reconfigured the central part of the house to better connect the living spaces, improve the flow, and open everything out to the back vista by creating a walkway along that side of the house as well as opening up the kitchen so that our kids and friends could chat and be with us.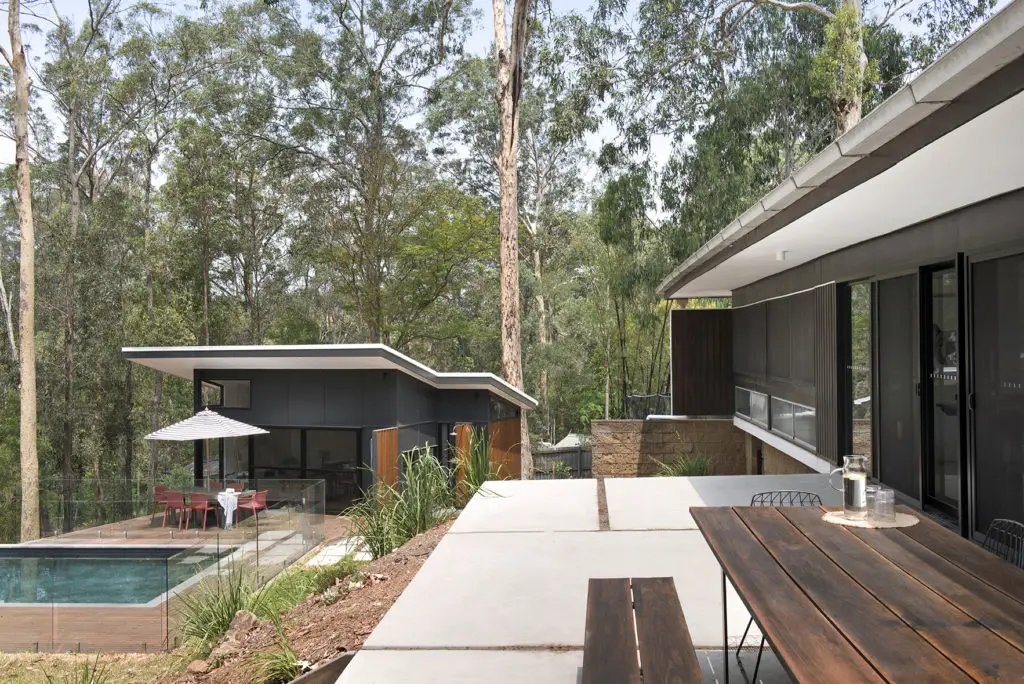 Last but not least, do you have any tips for people interested in buying a midcentury house today? What should they pay attention to and why?
Look at the bones of the home and the original architectural intent and do your research on the home. Then when you go to restore it engage an experienced and knowledgeable team to help and be prepared to invest in the restoration as with any older home, they require much work but the pay off is immense.
This home was complete with peach paint throughout, a very basic bright blue kitchen, a wild and woolly backyard with overgrown everything and was marketed to developers for the parcel of land but when you looked beyond all of that, it was still, at its core, so beautiful and elegant.