Tim is what we can certainly call a mid-century enthusiast. Attracted by the design of this Norman F. Carver Jr. designed house, he and his wife bought it in 2016 with the intention of restoring it to its original beauty while keeping as many original design features as possible. Tim tells us about the joy of restoring the house with his own hands and how it feels to live in a mid-century home today.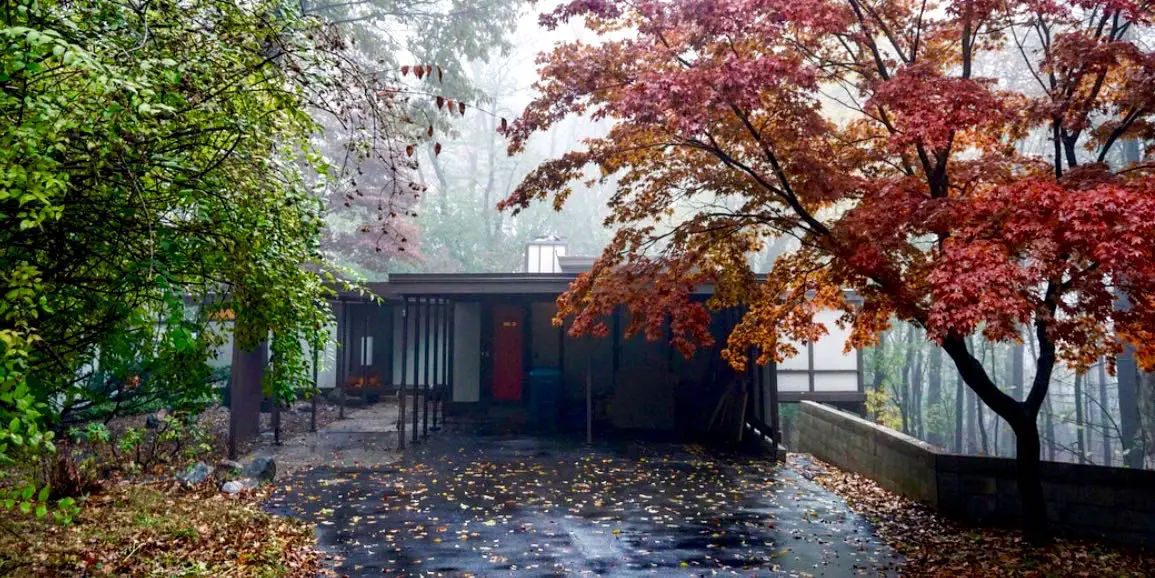 First of all, could you tell us a little bit about your background?
My wife Vanessa and I moved up to Kalamazoo, MI after restoring and selling a mid century modern home in Lakeland, FL. Vanessa is a technical writer and proofreader. I'm a mid-century modern furniture dealer for my business Trystcraft.
We both work from home so having a home that we love spending time in is very important for us.

Following on from that, what brought you to living in your house and what drew you tothe mid-century style?
We were ready for a move after living in Lakeland for 2 1/2 years and the distinct seasons of Michigan were very attractive.
When I saw the listing photos I was immediately struck by the Japanese influence and how the house was sited on a ravine in the woods.
The expressed structure in modern post and beam architecture is my ideal aesthetic. To me, mid century modernism stands for the optimism of the post war period expressed creatively through architects and designers exploring new ideas, new materials and taking risks, challenging old norms.
What do you think was special about this period in American design?
I think the emphasis on affordability at the time allowed the average person to be involved in their own house design more so than ever before.
Designers and architects alike appreciated the challenge of creating great but affordable design. Less restrictive building codes and cheaper materials allowed architects to express themselves more freely as well.
What do you know about the architect who designed your house?
Our house was designed by local Kalamazoo architect Norman F. Carver Jr. He designed approximately 160 homes, mostly in the SW Michigan area.
He was initially very influenced by Frank Lloyd Wright and even spent one summer while at High School digging the basement for the Eric and Ann Brown home Frank Lloyd Wright designed here in Kalamazoo.
Carver was inspired by the traditional folk houses of Japan to develop an affordable post and beam building system here in Kalamazoo. Our house is one of three designed and built at the same time (1960) for Western Michigan University Faculty.
Three subsequent homes designed by Carver were built on the remaining lots so our culdesac is like a little Japanese village.
Have you had to renovate any part of the house, if so, what area?
The largest project was restoring the flat roof which had been modified by the second owner, who added a complex pitched roof. Not only did this completely change the house's appearance but it blocked the high clerestory windows that were essential in letting light into the main living area.
We also restored trellises which were cut off to add the pitched roof. They are an essential design element, extending and emphasizing the horizontal lines, giving that modern look.
We have done interior work including installing new cork flooring in the dining room and kitchen, new carpet in the living room and study and new white Formica counter tops in the kitchen.
I also removed a section of wall between the dining room and kitchen creating a pass-through. We think this was original but had been blocked off by a previous owner.
What are the advantages, and struggles, of living in a mid-century house?
Advantages are design, location and cost. We couldn't afford to build a house like this from scratch now.
The location is ideal being close to town yet on a 1.4 acre lot in the middle of the woods surrounded by mature trees and a community of deer and turkeys, among other wildlife. Some elements of the design are not to current codes but changing them would mean destroying the proportions so important to the design.
All the windows – the light and views they provide are amazing. On the other hand they are old windows and not particularly energy-efficient.
There is also limited insulation in our walls so we obviously pay to heat. We do, however, benefit from solar gain as most of the large windows face due south. Personally I enjoy the 'quirks' of living in an old house.
Do you feel constrained in your interior design choices because of the house heritage?
I like to think the house guides our choices. If you are sensitive to the design you'll figure out what works best.
Obviously you shouldn't be totally restricted – it's your house after all. Being an mid-century modern furniture dealer I'm lucky to have my pick of pieces to try out at home.
Last but not least, do you have any tips for people interested in buying a mid-century house today? What should they pay attention to and why?
My advice would be to try to see the essence of the design, behind any updates or modifications over the years. A house with great bones may be under there and it can be stripped back and restored.
Secondly, know that there will be projects and I feel it's best to be involved so you know what you're dealing with and how to handle it if it becomes an issue again.
Personally, I prefer cheaper, 'project' homes that will come alive with a lot of sweat equity. The sense of achievement gained from completing these projects is so rewarding.
Do you think it is important to have original home décor? If so, why?
Yes, if you can find it and afford it. Familiarize yourself with your space and see what original pieces would best fit there. Get to know designers whose work you like and find that perfect piece.
Generally, original mid century furniture was very well made and made to last. It also continues to hold its value 60 years on, so buying original decor should be seen as a wise investment.