Originally constructed in the 1950s, this La Jolla home in California was in dire need of revision; while the second floor of the home remained in great shape, major circulation issues, the lack of air conditioning and storage space on top of restricted backyard access made the lower living area unfit for use.

By 2008, the homeowners had decided to bring the property to its full potential by taking down the back half of the house. Architect Heather Johnston carried out extreme renovations from mid-November until completion in July, 2009.

With three key words in mind – cool, clean and green – Heather Johnston had work cut out in the extensive renovation, from the kitchen to pantry and from master suit to patio. Cool, indicating the refreshing flow of air throughout the house. Thanks to energy-efficient windows, the home could now enjoy natural ventilation and cross-breezes. Formaldehyde-free, Eco-batt insulations and highly reflective roof shingles were installed to steer clear from heat absorption.

READ ALSO: 5 Books To Help You Live Your Best Scandinavian Life

Clean is the aspiration for a crisp and contemporary look throughout the home. Clear cut lines are visible in every space of the home, from the bathroom cabinet's sleek wood veneer to the kitchen's cabinets.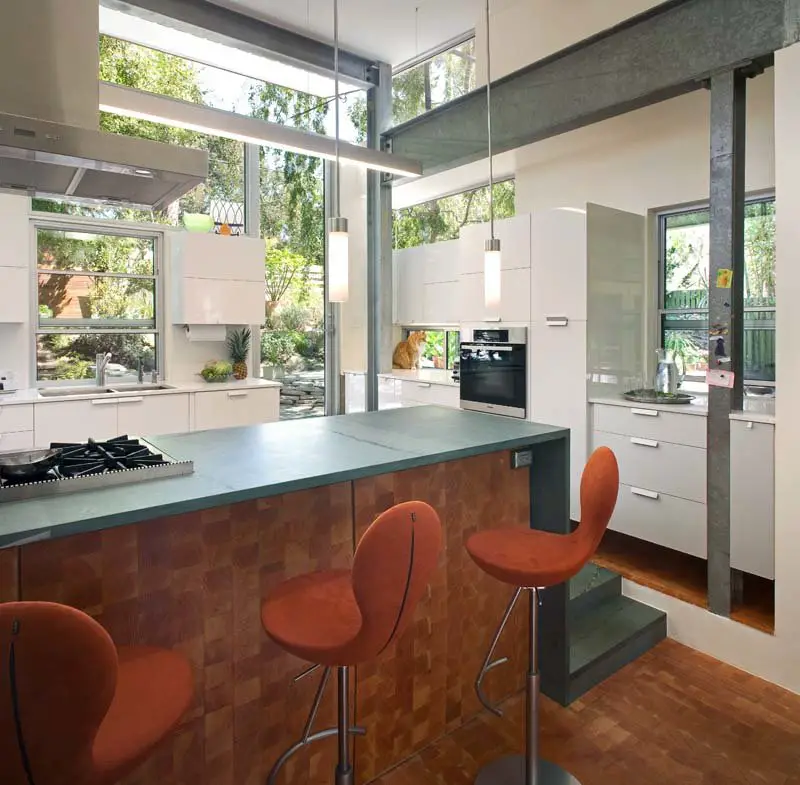 Recycled wooden flooring made from off-cuts from a wood window factory in Oregon is fittingly aligned with clear white cabinets. While the kitchen makes use of multiple hues, including white, grey, natural wood and a shade of blue atop the open kitchen island, each part is clearly cut out to serve its own purpose while adding to the glistening contemporary home design.

Last but not least, green refers to nontoxic and renewable materials and measures taken during the project's realization. An outdoor garden, equipped with water conscious-plants and the vibrant paint on the home's exterior add another, quite literal layer to the keyword.

An arrangement of windows at the home's end, one of which is a door leading inside, allow plenty of natural light to pour in. From inside and out, the building is a delightful combination of natural hues with splashes of brighter tones, and inside, stylishly functional pieces with a modern twist furnish the home.

Completed just in time to assess whether the home without air conditioning could actually ward off the summer heat, the renovations proved positive results – to the comfort and delight of the homeowners, the temperature inside never rose above 71 degrees!