Respecting the legacy of Valley House's heritage, Superkül renovated this midcentury home to expand its existing square footage whilst preserving its modernist qualities. Resting on a deep lot on a reverse ravine in the residential area of Toronto's Hoggs Hollow neighborhood, the Valley House is an epitome of midcentury modern homes.
The design concept, rooted at an architectural language of courtyards and enclosures, is maximized to blur interior and exterior seamlessly. The motif not only emphasizes the house's programmatic planning but also serves to play on an idea of progression.
The renovation architects intervened the expansive landscape area with elements and gestures to diversify the spatial experience of the Valley House outdoors. Shallow planters and paved pathways provide a procession to the front door. A sheltered carport, a memento from the original house, extends into the street side elevation to create connections between plot and property.
The Valley House renovation retains the original building footprint; the addition of space catered by the partial second-floor expansion. The upper floor addition is set back in order to maintain the clean and modern elevation of the street-facing facade. Similarly, the facade respects the Valley House's heritage. Superkul opted to retain the white brick cladding, complementing it with concrete blocks, cement boards and deep mahogany plywood to catapult the Mid-Century home into a modern architectural style.
Modernist principles inform the interior spaces. The open plan creates a fluid and well-lit atmosphere. The stairs, flushed against the east-west wall, defines the circulation. The primary social areas, the living room, dining room and kitchen, are located at the rear to take advantage of the lush greenery from the rising ravine wall.
The living room extends into the outdoors through way of a wooden deck. The outdoor patio not only functions to connect the interior and exterior spaces of the house but also to emphasize the courtyard narrative that permeates Valley House's architectural motif.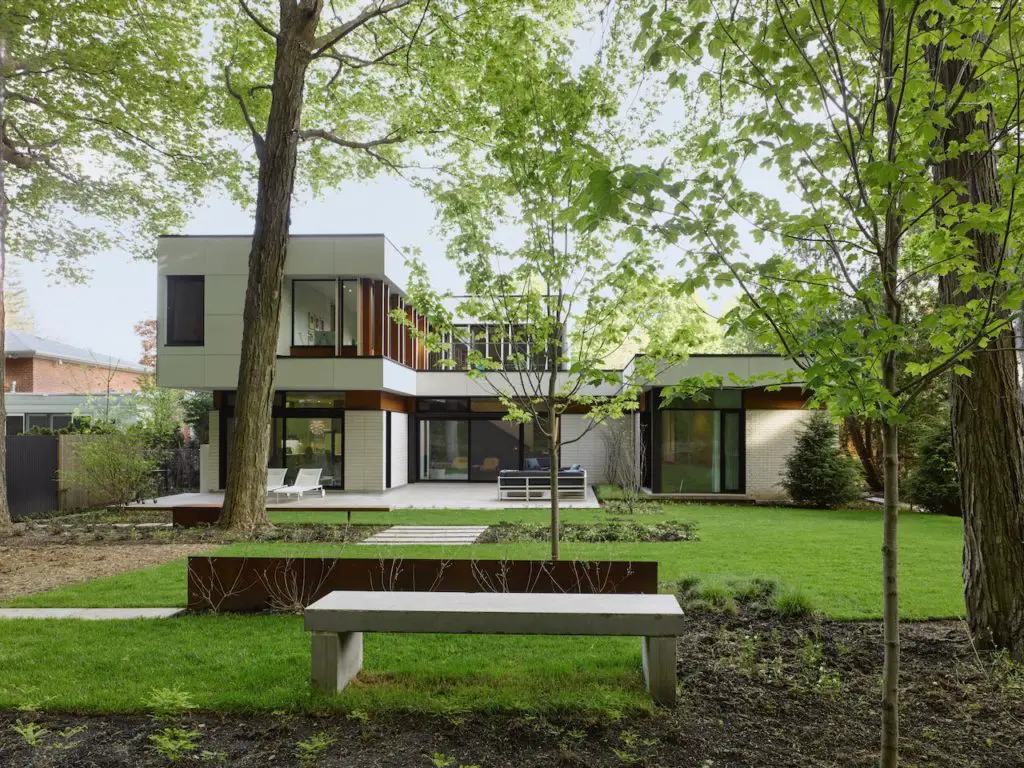 The clients were drawn to color and contrast, evidenced by the designers' decision to integrate a diverse and textured material palette. As such, the materiality is a complex combination of compatible wood finishes contrasted with dark steel plates. The exploration of materiality is most prevalent in the outdoor den, which is defined by its muted yet intimate ambience.
Natural light washes the walls of the interior rooms, highlighting the subtleties and nuances of thoughtful textures. Through these design decisions, Superkul has maintained a careful balance between preservation and renovation, creating a comfortable and intimate home for the family that resides in Valley House.