Harry Seidler's Rose House is the first and probably most known work of architect Harry Seidler. This great example of Mid-century Modern Australian architecture was built close to Sydney and had very special clients, Seidler's parents.
Two houses were built on the same property: the Marcus Seidler House and the Rose house.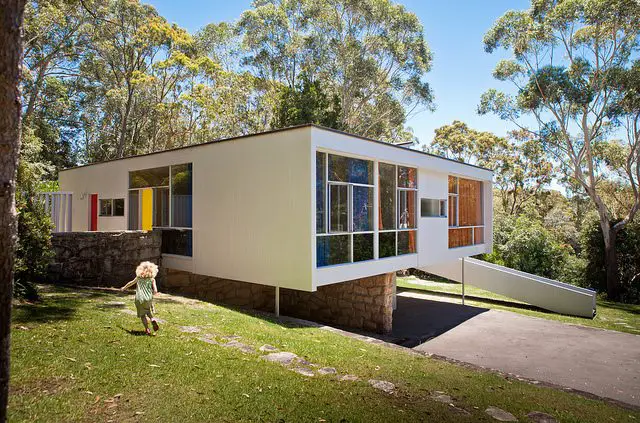 The design of the Rose Seidler House is a suspended and hollowed out cube with vertical space penetrating a central open well next to the open terrace, which has one wall covered with a mural by the architect.
This home features some of the typical architectural characteristics of many Harry Seidler's houses: a quadrangular volume, massive, closed at the sides, cantilevered from the ground, contrasting with slender pillars and rustic exterior wall segments functioning as 'anchor' to the ground.
The Rose Seidler House, cantilevers on a sloping ground, which is joined to the outer side by a long suspended ramp. The building has an empty part at the center -having a relief function- and an internal -wind-protected- open terrace  whose bigger wall is covered by a large painting.
The glass walls, open plan and flat roof that this house features, became Mid-century Modern Australian architecture principles and well represent the Modernist values that the architect probably absorbed by attending Walter Gropius' classes at Harvard in 1945-46.
In 1951, the Rose Seidler house also won -within many others over time- the prestigious Sir John Sulman Medal architectural prize.
SEE MORE: Mid-century Modern Australian iconic homes
Harry Seidler made use of sun light and space as any other Australian architect did before him, making them part of the layout itself. The Rose Seidler House certainly is an important architectural turning point for the identity-seeking Australia of the 1950s and a bright example of Mid-century Modern architecture outside the United States.