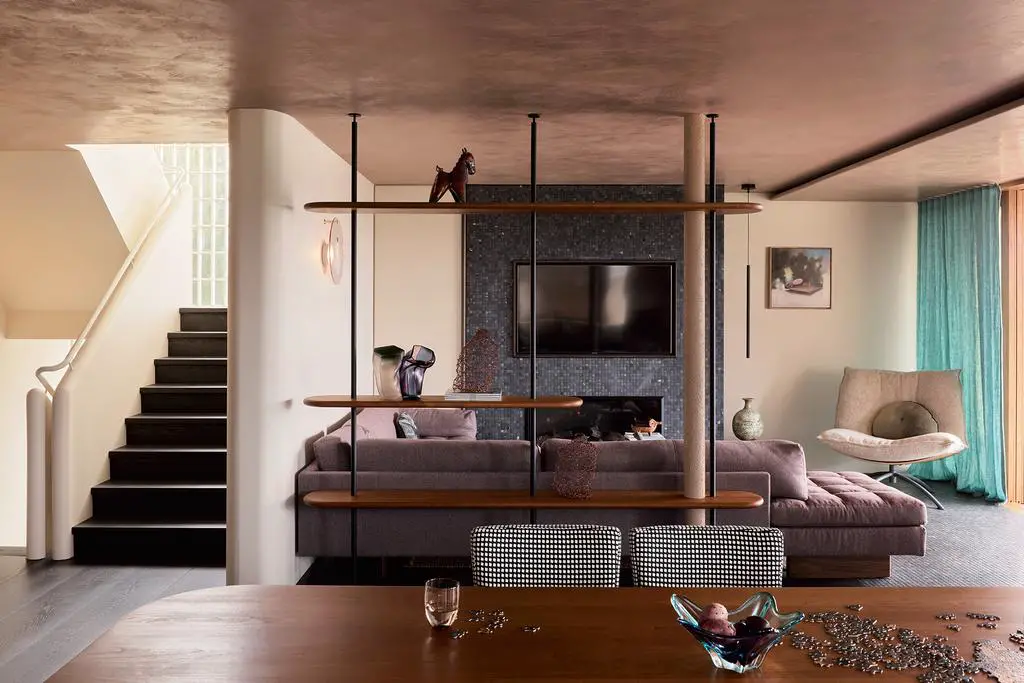 In the world of interior design, some projects are transformative, while others are truly transcendent. YSG Studio founder Yasmine Ghoniem's latest residential work in Sydney's Mosman falls into the latter category. 
For this project, the ordinary was completely reimagined into the extraordinary. The journey from a '90s coastal aesthetic to a boutique hotel-inspired haven is a testament to the power of thoughtful design and the art of hospitality. 
The homeowners' vision was clear: they desired a home that felt like a boutique hotel, an oasis of tranquility with a lavish yet understated tonal and textural intensity. Ghoniem, renowned for her expertise in blending color and texture, took on the challenge.
The heart of any home is undoubtedly the kitchen, and YSG's design elevated it to a level of grandeur. The monolithic island, likened to a black diamond, stands as a commanding centerpiece, not just for culinary endeavors but for life's gatherings and flows.
It effortlessly partitions the space while maintaining open sightlines and fostering conversations, making it an ideal setting for both intimate dinners and lively conversations.
One of the standout features is the glass brick wall in the kitchen and dining area, allowing filtered sunlight to bathe the space and offering a connection to the mesmerizing sea views. 
Ghoniem's keen sense of color and texture is evident in her choice to connect the two island zones with a vibrant turquoise, adding a playful touch and enhancing the island's functionality.
The project's scope was substantial, requiring a complete reconfiguration of the floor plan to make the most of the home's enviable waterfront location. 
The vision for this project, however, was not just about aesthetics; it was about creating spaces that people would genuinely use. YSG masterfully separated the island's functions, ensuring that it served not only as a cooking area but also as a welcoming space for conversation, tea, and connection.
Throughout the house, the palette of materials and colors creates a harmonious and cohesive atmosphere. From earthy tones in the middle living level to bold choices in the lower level, each space is carefully curated to reflect its unique character while remaining interconnected with the overall design scheme. 
The upper main suite, bathed in pure sand and plaster shades, captures the coastal contemporary style with a heightened tactile sensibility.
The transformation of this harborside property was not without its challenges, but Ghoniem's commitment to reworking the internal envelope, unearthing new possibilities, and creating a fresh narrative thread prevailed. She made every inch of the space count, ensuring that areas previously underutilized were brought to life.
In the end, the design achieved what the designer values most: the transformation of unused spaces into functional, inviting areas.